According to Custom Market Insights (CMI), The Global 5G Devices Thermal Management Technology Market size was estimated at USD 1523.11 million in 2021 and is expected to hit around USD 77,975 million by 2030, poised to grow at a compound annual growth rate (CAGR) of 78.11 % from 2022 to 2030. With 5G technology, more high-power components are packed into smaller places, including radio units and active antennas. Additional energy must be used to support this greater power, which results in more heat production.
The high-power component arrangement necessitates more energy, which raises heat generation. The rising heat might cause components to burn out, which would significantly impact the overall network.
To learn more about this report, 
Additionally, overheating these devices may result in decreased performance or device failure, resulting in network issues, outages, and downtime. Since this issue may significantly influence users' personal and professional lives, 5G devices must have efficient heat dissipation. Therefore, it is crucial for 5G technology to effectively dissipate heat to prevent performance degradation and device failure, whether it be for 5G antenna thermal management or smartphone thermal management.
Everyone is presently buzzing about 5G as the upcoming mobile communications standard. After all, it makes a large-scale promise of internet speeds that might be up to 100 times faster than those of the preceding 4G. This makes it especially intriguing for cities and the automated sector. Worldwide development of the technological requirements for a 5G network is now underway. Although 5G has a smaller range and better data rates, it uses higher frequencies. As a result, more transmission antennas are required to cover a region. Thermal management is a significant problem. This is crucial for 5G since the greater data rate will make devices heat up more quickly.
Browse the full "5G Devices Thermal Management Technology Market Size, Trends and Insights By Product (Thermal interface materials, Thermal gels, Coatings, Others), By Component (Hardware, Software, Interface, Substrates), and By Region – Global Industry Overview, Statistical Data, Competitive Analysis, Share Outlook, and Forecast 2022–2030" report at https://www.custommarketinsights.com/report/5g-devices-thermal-management/.
Market Dynamics
 Drivers
 Higher performance and quicker connections are necessary for 5G connectivity without increasing component or device sizes. Effective 5G heat dissipation solutions are more crucial than ever since increasing power densities provide a problem. Therefore, effective 5G thermal management materials must be simple to manufacture and apply to consumer devices for automated mass manufacturing lines.
Demand for thermal management technology is increased by 5g network expansion:
The upcoming mobile communications standard is 5G, which is now the talk of the town. Because it makes a large-scale promise of internet speeds up to 100 times faster than the preceding 4G standard (also known as LTE) for cities and the automated industry, it is especially intriguing.
The next significant development in mobile broadband is anticipated to be the rollout of fifth-generation (5G) mobile networks. Specialized jobs like remote precision medicine, linked autos, virtual and augmented reality, and a wide range of internet of things (IoT) applications will be made possible by peak download speeds of up to 20 gigabits per second. Moreover, the mobile-dependent consumers' ability to fully participate in the global digital economy will be determined by 5G, especially as smartphones, cell phones, and other wireless-enabled devices increasingly replace older means of internet access for some populations. The growing population of devices with updated technology is the key to the expansion of 5G infrastructure. The demand for 5G devices will increase the sales of 5G devices' thermal management technology globally.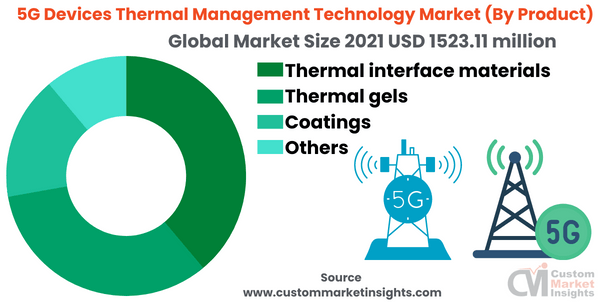 To learn more about this report, 
Investments in smart cities are rising:
The next generation of wireless infrastructure within a smart city is projected to be driven by small cell networks built on top of 5G technologies, which is anticipated to generate a profitable potential for the 5G technology over the forecast period. Furthermore, it is anticipated that 5G technologies would encourage innovation and the uptake of cutting-edge technology in smart cities. Cost savings in smart cities are projected to be driven by 5G technology. It is anticipated that increased expenditures on smart city infrastructure would present a substantial potential for the deployment of 5G technologies, aiding in the expansion of the 5G technology industry. Hence, the rise in 5G technology will increase the 5G devices thermal management technology market.
Restraints
 To prevent interference from 5G radio signals, the power supply unit (PSU) must be appropriately protected. When several signals pass through junctions made of different materials, such as faulty duplexers, dirty surfaces, weak cable connections, or old antennas, they can mix to generate a sum and difference signals in the same band, which can lead to interference. This may cause restrain in the market for 5G thermal management technology.
 Opportunities
 Every electronic equipment and electrical structure produces heat, including a basic circuit, a mobile phone, and an electric car. Thermal management, usually a cooling system or heat pump, can control this heat. Bringing the system's temperature down improves the device's dependability and prevents early failure. Many nations have propelled new research and developments in improving the performance of 5G devices while reducing heat-related drawbacks. This creates a new opportunity to research the materials and technology for reliable devices.
 Challenges
 Designing power solutions for 5G becomes more challenging due to the increased power design problems brought on by the architecture shift and other factors, including tight quarters, high temperatures, sealed environments, and the requirement for lightweight solutions. The fact that power amplifiers are often less efficient than power supply units makes the situation worse because the heatsink's temperature is now-shared, increasing the operating temperature of the power supply unit from 85 °C to 100 °C. Since heat is a major cause of component failures, the system's reliability could be impacted by this rise in temperature.
 ReportHighlights
Based on Product, the thermal interface materials category is expected to grow at the greatest CAGR and be in a dominant position in the future. All 5G networks aim to be reliable, and thermal interface materials perform well. Materials with good thermal performance are needed to increase heat transfer capabilities and qualities and ensure that they can meet ever-increasing reliability standards. Effective temperature management is crucial to maintain the dependability of 5G technology and increase component lifespans. Hence, this Product acquired the highest market share in the 5G thermal management technology market.
Based on Components, the hardware segment is the leading segment and is expected to make the largest contribution to the 5G thermal management technology market because the number of miniature microprocessors produced has increased. The rising use of heat removal technologies in high-volume commodity systems has benefited the hardware product market.
Regional Snapshots
 North America held a dominant position and was predicted to dominate during the forecast period in the 5G devices thermal management technology market. It is commonly known that North America adopts new, cutting-edge technologies quickly, including the Internet of Things (IoT), wearable technology, and autonomous and linked vehicles. 5G addresses the dependable and quick connectivity needed for these technologies. As a result, the market above in North America may anticipate significant growth prospects. This region is well developed and, with high investments in technology-driven topics, is expected to be in a dominant state during the forecast period.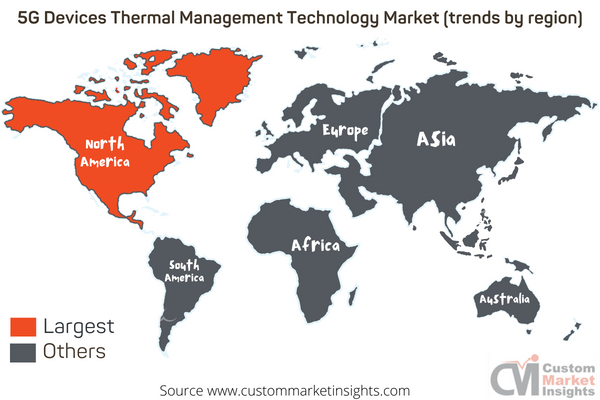 To learn more about this report, 
Report Scope
Feature of the Report
Details
Market Size in 2021
USD

1523.11

million
Projected Market Size in 2030
USD

77,975

million
CAGR Growth Rate

78.11

% CAGR
Base Year
2021
Forecast Period
2022-2030
Prominent Players
LairdTech, Pentair Thermal Management, Alcatel-Lucent, Honeywell International Inc., Aavid Thermalloy LLC., Vertiv Co., Momentive Performance Materials, Laird PLC, Henkel AG & Co. KGaA, European Thermodynamics Ltd., Master Bond Inc., Thermal Management Technologies, Heatex, Advanced Cooling Technologies Inc., Delta Electronics Inc., Dau Thermal Solutions Inc., and Others
Key Segment
By Product, Component, and Region
Report Coverage
Revenue Estimation and Forecast, Company Profile, Competitive Landscape, Growth Factors and Recent Trends
Regional Scope
North America, Europe, Asia Pacific, Middle East & Africa, and South & Central America
Buying Options
Request tailored purchasing options to fulfill your requirements for research.
Key Players
LairdTech

Pentair Thermal Management

Alcatel-Lucent

Honeywell International Inc.

Aavid Thermalloy LLC.

Vertiv Co.

Momentive Performance Materials

Laird PLC

Henkel AG & Co. KGaA

European Thermodynamics Ltd.

Master Bond Inc.

Thermal Management Technologies

Heatex

Advanced Cooling Technologies Inc.

Delta Electronics Inc.

Dau Thermal Solutions Inc.
 Recent Developments.
Honeywell has purchased Rocky Research, an industry pioneer in thermal, power, and power control systems, with headquarters in Boulder City, Nevada. The array of products offered by Honeywell, which already includes power production, power storage, and energy and thermal management systems, has been expanded by this acquisition.
Segments covered in the report
By Product
Thermal interface materials
Thermal gels
Coatings
Others
component
Hardware
Software
Interface
Substrates
On the basis of Geography
North America
Europe
France
The UK
Spain
Germany
Italy
Rest of Europe
Asia Pacific
China
Japan
India
Australia
South Korea
Rest of Asia Pacific
The Middle East & Africa
Saudi Arabia
UAE
Egypt
Kuwait
South Africa
Rest of the Middle East & Africa
Latin America
Brazil
Argentina
Rest of Latin America