North America to Dominate the Automatic Number Plate Recognition (ANPR) System Market in 2021
According to Custom Market Insights (CMI), The Global Automatic Number Plate Recognition (ANPR) System Market size was estimated at USD 2.5 Billion in 2021 and is anticipated to reach around USD 6 Billion by 2030, growing at a CAGR of roughly 10% between 2022 and 2030.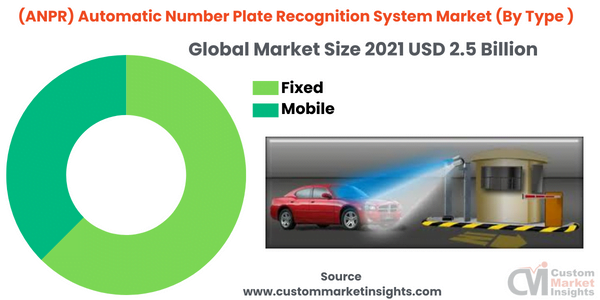 To learn more about this report,  
The global Automatic Number Plate Recognition (ANPR) System market research report offers an in-depth analysis of the worldwide market size, which is further segmented into the regional and country-level market size, and segmentation market growth. Also, it provides market share, sales analysis, competitive landscape, impact of domestic and global market participants, trade regulations, value chain optimization, recent key developments, strategic market growth analysis, opportunities analysis, product launches, and technological innovations.
Automatic Number Plate Recognition (ANPR) System Market: Overview
A technique known as an automatic number plate recognition (ANPR) system uses optical character recognition on photographs to scan car license plates and produce vehicle location data. The information gathered by the ANPR system can be matched to the database of individuals and vehicles kept by law enforcement organizations like the Police National Road Agency and the Vehicle and Driver Licensing Agency. The double-digit growth of the global ANPR market is primarily due to the law enforcement applications of ANPR systems in traffic management, toll collecting, parking time management, and speeding control.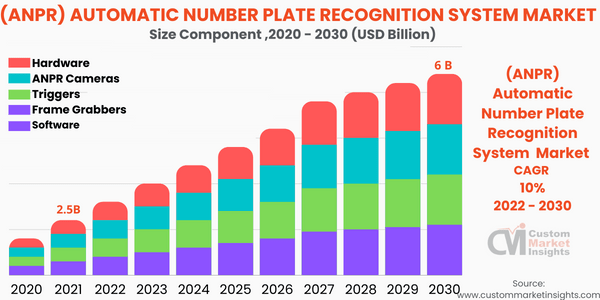 To learn more about this report,  
Browse the full "Automatic Number Plate Recognition (ANPR) System Market Size, Trends and Insights By Type (Fixed, Mobile), By Component (Hardware, ANPR Cameras, Triggers, Frame Grabbers, Software), By Application (Traffic Management, Electronic Toll Collection, Law Enforcement, Parking Management, Others), and By Region – Global Industry Overview, Statistical Data, Competitive Analysis, Share, Outlook, and Forecast 2023–2032″ report at https://www.custommarketinsights.com/report/automatic-number-plate-recognition-system-market/
Growth Factors
A key market driver is the expanding use of surveillance technologies on highways. Automatic number plate recognition is becoming more widely used on streets. These gadgets are being used due to increasing terrorism, unlawful activity, fraud, and criminal activity. Vehicle settlement cases are prevalent today.
These stolen cars are employed in unlawful activities. These tools monitor expired insurance policies and crimes involving toll collection. Automatic number plate recognition applications include compiling a list of automobiles connected to crimes. Furthermore, one of the leading market demand drivers is demand from developed countries. The US and the UK have made significant expenditures in ANPR systems. As a result, traffic enforcement and security are becoming more and more crucial in this region.
During the projection period, these nations will have a much higher demand. Another market driver is the advancement of technology in ANPR systems. These systems have undergone numerous changes recently. The introduction of security cameras, sensors, and alarms are further reasons that boost demand. Due to all of these causes, the ANPR market revenue is increasing.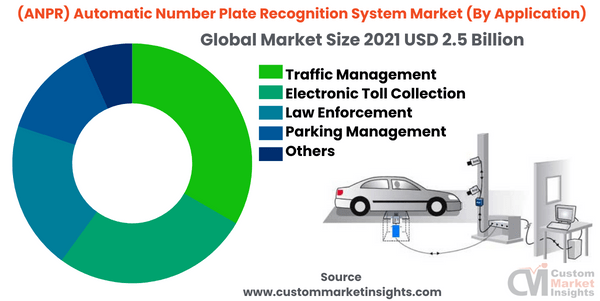 To learn more about this report,  
Segmental Overview
The (ANPR) Automatic Number Plate Recognition Systems market is segmented into type, component, and application. The traffic management segment led the application. Through the exchange of data, ANPR technology facilitates better traffic flow. Furthermore, the integration of the ANPR network with vehicle communication technologies, including Global Positioning Systems (GPS), Global Navigation Satellite Systems, and Vehicle-to-Vehicle networks, is emphasized by numerous automakers (V2V). Additionally, these frameworks provide data on traffic checks, travel speed, and the beginning point, all of which contribute to the segment's growth. Also, the growing need for these frameworks for applications like congestion charging is contributing to the development of the market. The congestion charge is a cost for motorists travelling through congested areas.
Regional Overview
Due to the widespread adoption of automatic number plate recognition systems for parking management applications like traffic surveillance, smart parking, and toll collection, North America now holds the most significant market share for these systems. Additionally, the commercial use of ANPR technology is expanding across Europe, East Asia, South Asia, and the Pacific due to the quick uptake of the system for parking vehicles.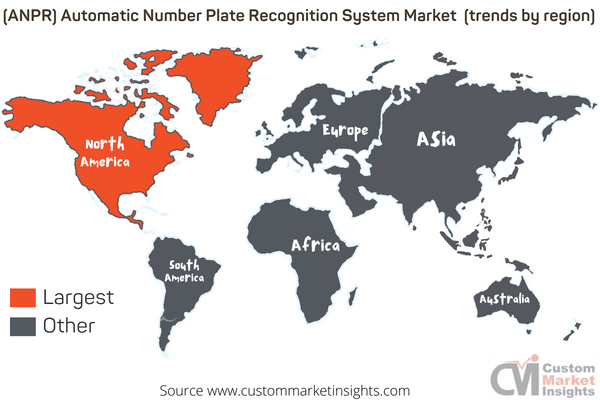 To learn more about this report,  
An increase in the use of ANPR systems by several government agencies, security agencies, and law enforcement agencies is changing the global landscape of these organizations. This is due to the Asia Pacific region's rapid and extensive economic growth and increasingly sophisticated security and surveillance technologies.
Report Scope
Feature of the Report
Details
Market Size in 2021
USD 2.5 Billion
Projected Market Size in 2030
USD 6 Billion
Market Size in 2022
USD

2.9

Billion
CAGR Growth Rate
10% CAGR (2022-2030)
Base Year
2022
Forecast Period
2023-2032
Prominent Players
Kasich TrafficCom AG, Siemens AG, Vigilant Solutions, Conduent Inc., Leonardo Company, Tattile SRL, Jenoptik Group, Neology Inc., Genetec Inc., Bosch Group, and Others
Key Segment
By Type, Component, Application, and Region
Report Coverage
Revenue Estimation and Forecast, Company Profile, Competitive Landscape, Growth Factors and Recent Trends
Regional Scope
North America, Europe, Asia Pacific, Middle East & Africa, and South & Central America
Buying Options
Request tailored purchasing options to fulfil your requirements for research.
Key Players Insights
Major corporations are introducing new services and creating cutting-edge technologies to remain competitive in the market. Mergers and acquisitions, as well as the introduction of new services, are other competitive strategies. 
2022: By the end of November, Jammu (India) will have a system for intelligent traffic management and city surveillance.

2022: A council from Nottinghamshire may invest at least £100,000 in new ANPR cameras for the exterior of a Travelodge hotel structure it owns in Doncaster.
Prominent Players
Kasich TrafficCom AG
Siemens AG
Vigilant Solutions
Conduent Inc.
Leonardo Company
Tattile SRL
Jenoptik Group
Neology Inc.
Genetec Inc.
Bosch Group
The global Automatic Number Plate Recognition (ANPR) System market is segmented as follows:
By Type
By Component
Hardware

ANPR Cameras
Triggers
Frame Grabbers

Software
By Application
Traffic Management
Electronic Toll Collection
Law Enforcement
Parking Management
Others
On the basis of Geography
North America
Europe
France
The UK
Spain
Germany
Italy
Rest of Europe
Asia Pacific
China
Japan
India
Australia
South Korea
Rest of Asia Pacific
The Middle East & Africa
Saudi Arabia
UAE
Egypt
Kuwait
South Africa
Rest of the Middle East & Africa
Latin America
Brazil
Argentina
Rest of Latin America