Skin Care Segment to Dominate the Anti-Aging Cosmetics Market in 2021
According to Custom Market Insights (CMI), The Global Anti-Aging Cosmetics Market was estimated at USD 60 billion in 2021 and is anticipated to reach around USD 120 billion by 2030, growing at a CAGR of roughly 8% between 2022 and 2030. 
To learn more about this report, 
Our research report offers a 360-degree view of the Anti-Aging Cosmetics market's drivers and restraints, coupled with their impact on demand during the projection period. Also, the report examines global opportunities and competitive analysis for the Anti-Aging Cosmetics market.
Anti-Aging Cosmetics Market: Overview
For many years, cosmetologists and medical professionals have been in charge of reviving youthful looks and, as a result, finding solutions to age-related issues. To help people look younger, new products and services are frequently launched in the anti-aging industry. Technological advancements and significant investments in research and development have led to the introduction of botulinum toxin injection therapies, breast implants, plastic surgeries, and other anti-aging treatments and products. In addition, the strict laws and regulations have forced manufacturers to develop faster-acting, safer, and more effective anti-aging products, increasing the market's growth potential.
Browse the full "Anti-Aging Cosmetics Market Size, Trends and Insights By Product (Skin Care, Makeup, Hair Care, Eye Care, Others), By Distribution Channel (Supermarkets or Hypermarkets, Online Stores, Cosmetic Stores, Others), and By Region – Global Industry Overview, Statistical Data, Competitive Analysis, Share, Outlook, and Forecast 2022–2030 " report at https://www.custommarketinsights.com/report/anti-aging-cosmetics-market/
Growth Factors
Throughout the projection period, consumers are anticipated to have more excellent knowledge of age-related skin issues such as fine lines, wrinkles, and skin dullness, as well as a greater tendency to spend money on items that allow them to advertise their skin's young. Globally, the COVID-19 outbreak decreased consumer demand for cosmetics, particularly anti-aging products. The United States, India, Brazil, Russia, and the United Kingdom are among the nations that have been most severely impacted. As a result, there has been a significant decline in sales in these nations. In addition, China has historically been a primary source of raw materials and completed goods for many manufacturers in the market, disrupting the manufacturing and distribution of many types of skincare cosmetics.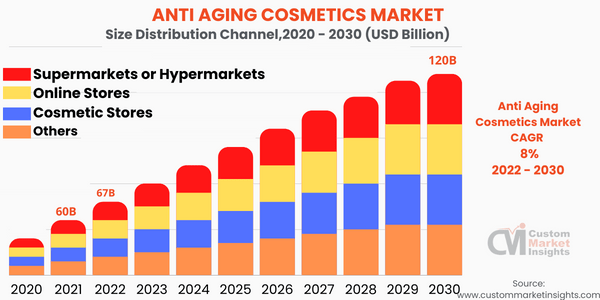 To learn more about this report, 
The young population, who are beginning to enter middle age and care about their skin, body, and hair to delay the aging process with their look, is also driving the anti-aging cosmetics market. Because of considerable environmental changes and a busy lifestyle, most young people have to be made more conscious of their attractiveness, health, and appearance. This has led to an increase in the number of difficulties. As a result, the aging population is one of the main factors driving the anti-aging cosmetics market.
Segmental Overview
The market for Anti-Aging Cosmetics is segmented into product and distribution channels. The need for skincare had the most significant share—more than 50.0%—in 2021, and it is anticipated that it will continue to lead during the forecast period. These products are carefully developed to aid in retaining moisture, firmness, and elasticity in the facial skin, reducing wrinkles and creases. People have a long history of being very concerned about their facial looks and are not afraid to spend a lot of money on such products, which is a significant driver driving the segment.
Many vital companies provide eye creams containing active pharmaceutical components, including ceramides, niacinamide, and alpha-hydroxy acids, to reduce or eliminate wrinkles, dark circles, age lines, and puffiness around the eyes. For instance, a well-known company in skincare and cosmetics like Estee Lauder offers a variety of eye products like concentrated recovery eye masks, eye balms, and night repair.
Regional Overview
In 2021, Asia Pacific held the most significant market share of more than 40.0%. Due to rising worries about acne, sunburns, melanoma, and the damaging effects of UV rays and pollutants, there is an increased use of skin care products and cosmetics in China and India, two emerging countries. This is projected to have a favourable impact on the market's growth.
From 2022 to 2030, Central and South America will see a sizable CAGR. This is because women now make up approximately 53% of the workforce in Central and South America, significantly increasing their employment rate. In addition, women now have more spare cash, spending more on high-end skincare and cosmetics, including antiaging products.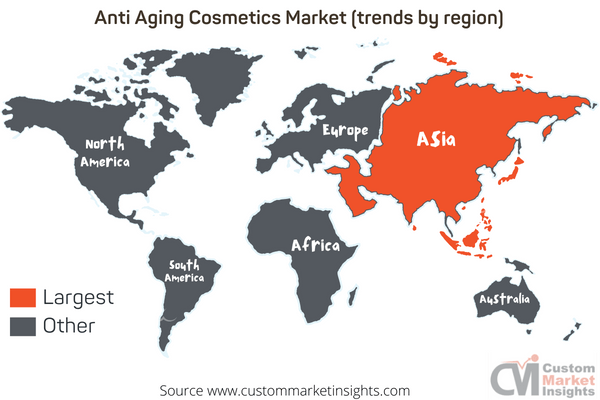 To learn more about this report, 
Report Scope
| | |
| --- | --- |
| Feature of the Report | Details |
| Market Size in 2021 | USD 60 Billion |
| Projected Market Size in 2030 | USD 120 Billion |
| Market Size in 2022 | USD (2022Value) Billion/Million |
| CAGR Growth Rate | 8% CAGR |
| Base Year | 2021 |
| Forecast Period | 2022-2030 |
| Prominent Players | Estee Lauder, Unilever Group, Procter & Gamble (P&G) Company, GALDERMA LABORATORIES L.P., Nu Skin Enterprises Inc., Hologic Inc., Shiseido Company Limited, Pierre Fabre S.A., Candela Corporation, Home Skinovations Ltd., and Others |
| Key Segment | By Product, Distribution Channel, and Region |
| Report Coverage | Revenue Estimation and Forecast, Company Profile, Competitive Landscape, Growth Factors and Recent Trends |
| Regional Scope | North America, Europe, Asia Pacific, Middle East & Africa, and South & Central America |
| Buying Options | Request tailored purchasing options to fulfil your requirements for research. |
Key Players Insights
Due to numerous domestic and global manufacturers in the market for anti-aging treatments, product pricing is quite competitive. In addition, many merchants in the cosmetics industry have expanded into marketing to meet rising consumer demand. 
The major participants in the worldwide anti-aging cosmetics market focus on obtaining regulatory clearances, developing technologically cutting-edge products, introducing new products, and partnering and acquiring other businesses. The worldwide anti-aging market is projected to expand due to these strategies.
2022: A clean, anti-aging body care line Shaklee Body has been launched, according to Shaklee, a well-known health firm. Shaklee Body is made to provide nutrition for the skin from the outside in and is supported by the company's heritage of nutritional innovation and its foundation of results that have been clinically validated.

2022: Chogongjin Skin Care Brand launched in the US by Able C&C. This includes a variety of products focused on anti-aging. 
Prominent Players
Estee Lauder
Unilever Group
Procter & Gamble (P&G) Company
GALDERMA LABORATORIES L.P.
Nu Skin Enterprises Inc.
Hologic Inc.
Shiseido Company Limited
Pierre Fabre S.A.
Candela Corporation
Home Skinovations Ltd.
The global Anti-Aging Cosmetics market is segmented as follows:
By Product
Skin Care
Makeup
Hair Care
Eye Care
Others
By Distribution Channel
Supermarkets or Hypermarkets
Online Stores
Cosmetic Stores
Others
On the basis of Geography
North America
Europe
France
The UK
Spain
Germany
Italy
Rest of Europe
Asia Pacific
China
Japan
India
Australia
South Korea
Rest of Asia Pacific
The Middle East & Africa
Saudi Arabia
UAE
Egypt
Kuwait
South Africa
Rest of the Middle East & Africa
Latin America
Brazil
Argentina
Rest of Latin America