Injection Grade Dominated the Chlorinated Polyvinyl Chloride (CPVC) Market in 2021
According to Custom Market Insights (CMI), The Global Chlorinated Polyvinyl Chloride (CPVC) Market size was estimated at USD 3 billion in 2021 and is anticipated to reach around USD 5.2 billion by 2030, growing at a CAGR of roughly 10% between 2022 and 2030.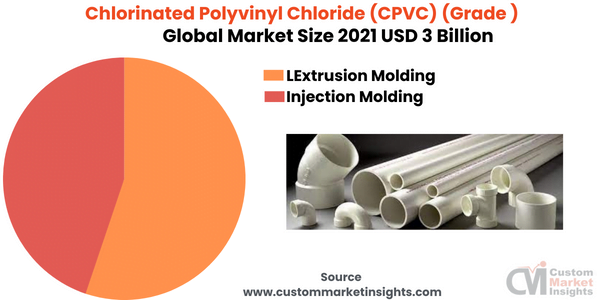 To learn more about this report, 
Our research report offers a 360-degree view of the Chlorinated Polyvinyl Chloride (CPVC) market's drivers and restraints, coupled with their impact on demand during the projection period. Also, the report examines global opportunities and competitive analysis for the Chlorinated Polyvinyl Chloride (CPVC)market.
Chlorinated Polyvinyl Chloride (CPVC) Market: Overview
A thermoplastic homopolymer known as chlorinated polyvinyl chloride (CPVC) is created when PVC is chlorinated using a free radical. The thermal performance and fire resistance of CPVC are both enhanced by the chlorination of PVC. Compared to conventional pipe materials, chlorinated polyvinyl chloride (CPVC) has several benefits, including high corrosion resistance and good strength.
Over the projection period, the increased utilization of chlorinated polyvinyl chloride in industrial pipes and fittings, hot water pipes and fittings, fire sprinkler pipes and fittings, films and sheets, and other applications is expected to positively impact product outlook.
Browse the entire "Chlorinated Polyvinyl Chloride (CPVC) Market Size, Trends and Insights By Grade (Extrusion Molding, Injection Molding), By Application (Pipes & Fittings, Adhesives & Coatings, Cables, Others), By End-use (Commercial, Residential, Industrial), and By Region – Global Industry Overview, Statistical Data, Competitive Analysis, Share, Outlook, and Forecast 2023–2032 " report at https://www.custommarketinsights.com/report/chlorinated-polyvinyl-chloride-cpvc-market/
Growth Factors
Most of the time, CPVC resins are utilized to make heat-resistant pipes. The growing use of CPVC in several applications across numerous industries is anticipated to fuel the expansion of the global Chlorinated Polyvinyl Chloride (CPVC) market during the projected period as it replaces copper-based pipes. The use of CPVC in fire sprinklers is among its most widespread services. The global chlorinated polyvinyl chloride (CPVC) market is anticipated to be driven by rising safety requirements and the increased use of fire sprinklers across the globe during the projected period.
Additionally, CPVC pipes cost less than metal pipes. As a result, more people are turning to durable, reliable, and reasonably priced CPVC pipes and fittings. However, it is anticipated that the brittleness of CPVC pipes and the comparatively higher cost of repairs related to leaking damages in the case of CPVC pipes will raise demand for substitute materials.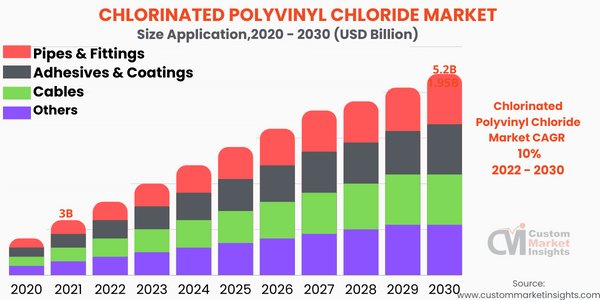 To learn more about this report, 
Segmental Overview
The market for Chlorinated Polyvinyl Chloride (CPVC)s is segmented into grade, application, and end-user. The injection grade dominates the market in terms of quality due to its many advantages over the extrusion process. When the plastic resin is added to the hopper during the injection grading process, the plastic pellets are subsequently sent from the feed portion into the compression section, where frictional heat is produced. Next, the plastic is pushed through an expanded chamber using a reciprocal screw. The nozzle forces the fluid-like plastic that has melted into a closed, heated/cooled mold. The required shape and size of the mold can be easily achieved with the melt.
Due to its solid and long-lasting qualities and increased use in plumbing applications, CPVC will be in high demand for pipes and fittings applications. The product is perfect for residential, commercial, and industrial plumbing and fire sprinkler systems because of its inherent dependability, chemical resistance, and robust ability to tolerate tremendous heat and pressure. The expansion of beneficial government programs would be aided by the rise in their number, particularly in India.
Regional Overview
Throughout the forecast period, the Asia Pacific market is anticipated to represent the largest revenue share in the global chlorinated polyvinyl chloride (CPVC) market, with China and India's needs expected to contribute significantly more revenue than those of the other countries in the region. Expanding the industrial and construction sectors in the area is responsible for developing the Asia Pacific market.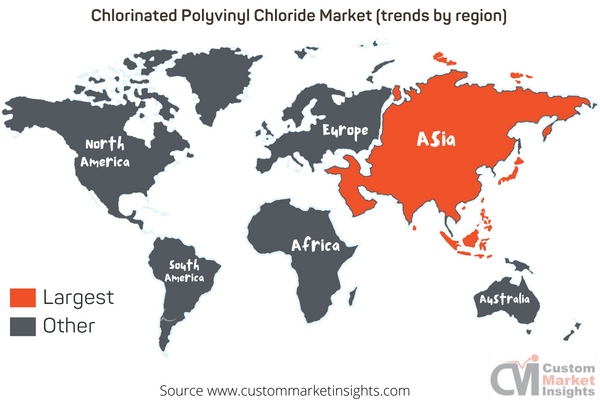 To learn more about this report, 
Report Scope
| | |
| --- | --- |
| Feature of the Report | Details |
| Market Size in 2021 | USD 3 Billion |
| Projected Market Size in 2030 | USD 5.2 Billion |
| Market Size in 2022 | USD 3.2 Billion |
| CAGR Growth Rate | 10% CAGR (2022-2030) |
| Base Year | 2022 |
| Forecast Period | 2023-2032 |
| Prominent Players | The Lubrizol Corporation, Kaneka Corporation, Kem One SAS, SEKISUI CHEMICAL CO. LTD., GEON Performance Solutions, Shandong Tianchen Chemical Co. Ltd., Hanwha Solutions, Novista Group, VIA Chemical, Sundow Polymers Co. LTD., Interplast Co, PolyOne Corporation, and Others |
| Key Segment | By Grade, Application, End-use, and Region |
| Report Coverage | Revenue Estimation and Forecast, Company Profile, Competitive Landscape, Growth Factors and Recent Trends |
| Regional Scope | North America, Europe, Asia Pacific, Middle East & Africa, and South & Central America |
| Buying Options | Request tailored purchasing options to fulfil your requirements for research. |
Key Players Insights
The major market participants for chlorinated polyvinyl chloride (CPVC) are eager to form alliances and partnerships to grow their businesses. 
2020: A contract was signed by Grasim Industries Limited and Lubrizol Advanced Materials for the production and distribution of chlorinated polyvinyl chloride (CPVC) resins in India.
Prominent Players
The Lubrizol Corporation
Kaneka Corporation
Kem One SAS
SEKISUI CHEMICAL CO. LTD.
GEON Performance Solutions
Shandong Tianchen Chemical Co. Ltd.
Hanwha Solutions
Novista Group
VIA Chemical
Sundow Polymers Co. LTD.
Interplast Co
PolyOne Corporation
The global Chlorinated Polyvinyl Chloride (CPVC) market is segmented as follows:
By Grade
Extrusion Molding
Injection Molding
By Application
Pipes & Fittings
Adhesives & Coatings
Cables
Others
By End-use
Commercial
Residential
Industrial
On the basis of Geography
North America
Europe
France
The UK
Spain
Germany
Italy
Rest of Europe
Asia Pacific
China
Japan
India
Australia
South Korea
Rest of Asia Pacific
The Middle East & Africa
Saudi Arabia
UAE
Egypt
Kuwait
South Africa
Rest of the Middle East & Africa
Latin America
Brazil
Argentina
Rest of Latin America