The Global Distributed Energy Generation Market size was valued at USD 296.78 Billion in 2021 and is expected to reach USD 334.11 Billion in 2022, and is estimated to reach USD 932.34 Billion by the end of 2030 at a CAGR of approximately 16.5% during the forecast period 2022-2030.
The phrase "distributed generation," sometimes known as "decentralized generation" or "onsite generation," refers to the production of energy for independent use onsite. It is mostly produced using environmentally beneficial, pollution-free means, such as solar, wind, and other comparable techniques. It mostly ignores the energy transmission necessary for a big, centralized power-producing facility, such as a coal-fired or nuclear power plant, to produce electricity via the electric grid.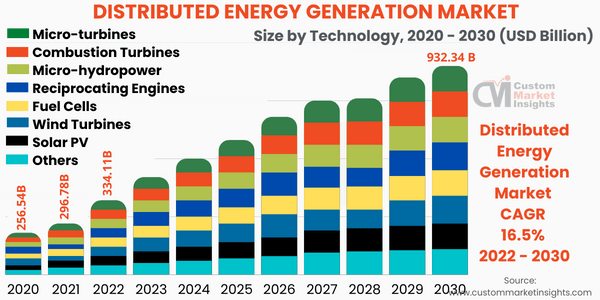 To learn more about this report, 
Promoting distributed generators to reduce and control centralized power loads is vital since global power consumption has significantly grown due to commercial, industrial, and residential applications. Additionally, the bulk of the developing world still lacks adequate power due to increased demand for distributed, environmentally friendly electricity production.
Browse the full "Distributed Energy Generation Market Size, Trends and Insights By Technology (Micro-turbines, Combustion Turbines, Micro-hydropower, Reciprocating Engines, Fuel Cells, Wind Turbines, Solar PV, Others), By End Use Industries (Residential, Commercial, Industrial), and By Region – Global Industry Overview, Statistical Data, Competitive Analysis, Share Outlook, and Forecast 2022–2030" report at https://www.custommarketinsights.com/report/distributed-energy-generation-market/
Market Dynamics
 Drivers
 The market is driven by increased greenhouse gas (GHG) emission reduction goals, government restrictions, and environmental awareness. Additionally, greater R&D efforts to create novel technologies will promote market expansion. DEG system demand is expected to be boosted by government programs and incentives, including feed-in tariffs in North America and the Asia Pacific. The installation of such systems in industrial, residential, and commercial contexts is encouraged by government programs
The fundamental attribute of distribution energy as a flexible technology, i.e., the potential of the Technology to generate power onsite, is the primary market driver. This Technology permits power production in any area, including homes, businesses, and industrial facilities. Distribution energy is eco-friendly, cost-effective, and offers superior power quality. In addition, it is a more dependable source of energy than oil, gas, and coal.
Restraints
The main barrier to the market's expansion is the refusal to invest in distributed generating technologies. Switching and transitioning from conventional centralized company models to decentralized business models requires much money, time, and effort.
Nevertheless, the fundamental factor impeding the market's development is a general reluctance to implement Technology that allows for decentralized energy production. This is because these systems take up a significant amount of space and are often situated closer to the end-user, an approach not supported by many users. In addition, these systems do not provide much in the way of aesthetic appeal and also raise questions about land use.
Opportunities
For many countries across the world, the supply of power in rural regions continues to be a serious challenge. Due to the limitations on the capacity to transmit power where and when required, the economic growth of already established or developing areas outpaces the extension of the electrical supply in rural areas and other regions experiencing the unavailability of energy. As a result, it was necessary to make local choices for power transmission available. As a result, there have never been better chances to implement distributed energy-generating technologies.
To learn more about this report, 
Report Highlights
Based on Technology, the fuel cells category had the largest market share in 2021, accounting for more than a third of the worldwide distributed energy generation market, and is anticipated to continue its leading position during the forecast period. This results from the high incorporation rates across the diverse industrial sectors. However, the solar photovoltaic (PV) category is anticipated to grow at the highest CAGR of 18.25 % between 2021 and 2030 due to the desire for a reliable and sustainable power source.
Based on the end-use industry, the commercial sector accounted for the greatest part of the worldwide distributed energy generation market in 2021, contributing one-third of the total revenue, and is expected to retain its dominance during the forecast period. In addition, this category is anticipated to exhibit the highest CAGR of 15.7% between 2022 and 2031, as the need for low-cost, sustainable energy is anticipated to increase substantially in the future years.
Regional Snapshots
2021 saw the Asia Pacific take the lead in the worldwide market, with a share of over 47%. From 2022 to 2031, the area will continue to increase at the quickest CAGR, maintaining its leadership position. The main driver of market expansion is projected to be the increased need for energy due to expanding population and fast urbanization in nations like India, China, Indonesia, and Malaysia. The nation's metropolitan centers play a significant role in meeting product demand, especially in China. The Chinese market is anticipated to be driven by the rising levels of disposable income in the nation.
To learn more about this report, 
Report Scope
Feature of the Report
Details
Market Size in 2021

USD 296.78 Billion

Projected Market Size in 2030

USD 932.34 Billion

CAGR Growth Rate

16.5

% CAGR
Base Year
2021
Forecast Period
2022-2030
Prominent Players
Rolls Royce Power Systems AG, Schneider Electric, Mitsubishi Electric Corporation, Caterpillar Power Plants, Capstone Turbine Corporation, Toyota Turbine and Systems Inc., Doosan Fuel Cell America, Vestas Wind Systems A/S, Siemens, GE, and Others
Key Segment
By Technology, End Use Industries, and Region
Report Coverage
Revenue Estimation and Forecast, Company Profile, Competitive Landscape, Growth Factors and Recent Trends
Regional Scope
North America, Europe, Asia Pacific, Middle East & Africa, and South & Central America
Buying Options
Request tailored purchasing options to fulfill your requirements for research.
Key Players
Rolls Royce Power Systems AG

Schneider Electric

Mitsubishi Electric Corporation

Caterpillar Power Plants

Capstone Turbine Corporation

Toyota Turbine and Systems Inc.

Doosan Fuel Cell America

Vestas Wind Systems A/S

Siemens

GE
Recent activity in Distributed Energy Generation Market
Rolls Royce said in July 2021 that it would serve as the corporate and employer brand and that the MTU brand would be strengthened as the exclusive product and solution brand. The "MTU Onsite Energy" distributed power supply system trademark will gradually disappear and be incorporated into the MTU brand on a product level.

Schneider Electric will unveil the Energy Center for Distributed Energy Enabled Homes in January 2021. The use of solar power, batteries, electric car chargers, and whole-home energy management is spreading.
Segments covered in the report
By Technology
Micro-turbines

Combustion Turbines

Micro-hydropower

Reciprocating Engines

Fuel Cells

Wind Turbines

Solar PV

Others
By End Use Industries
Residential

Commercial

Industrial
On the basis of Geography
North America
Europe
France
The UK
Spain
Germany
Italy
Rest of Europe
Asia Pacific
China
Japan
India
Australia
South Korea
Rest of Asia Pacific
The Middle East & Africa
Saudi Arabia
UAE
Egypt
Kuwait
South Africa
Rest of the Middle East & Africa
Latin America
Brazil
Argentina
Rest of Latin America