Hybrid Electric Aircraft Segment to Lead the Electric Aircraft Market in 2021
According to Custom Market Insights (CMI), The Global Electric Aircraft Market size was estimated at USD 8 Billion in 2021 and is expected to reach USD 10.77 billion in 2022 and is expected to hit around USD 33 Billion by 2030, poised to grow at a compound annual growth rate (CAGR) of 16% from 2022 to 2030. 
The report examines the Electric Aircraft market's drivers and restraints and their impact analysis. Also, the report mentions global opportunities prevailing in the Electric Aircraft market.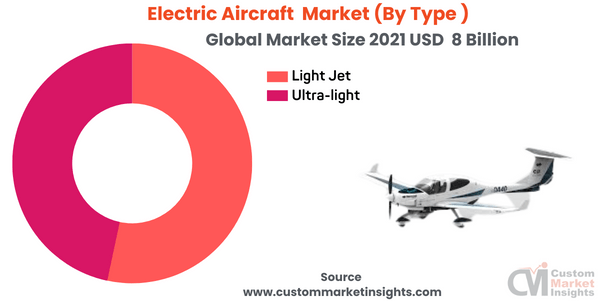 To learn more about this report, 
Electric Aircraft Market: Overview
Electric aeroplanes have the potential to change air travel by lowering their carbon footprint and fuel costs. The necessity for sustainable aviation and strict emission standards are the reasons for the strong demand for electric aircraft. However, it is anticipated that the need for adequate charging infrastructure and the expensive cost of electric aircraft will limit market expansion.
Using electric aircraft has the added benefit of producing less noise. Jet engines, which are quieter than conventional piston engines, are operated by electric aviation. This is a crucial reason why commercial airline operators worldwide are increasingly adopting electric aircraft. 
Browse the full "Electric Aircraft Market Size, Trends and Insights By Type (Light Jet, Ultra-light), By Component (Aircraft Battery, Electric Motors, Others), By Technology (All Electric, Hybrid), By Range (More than 500 Km, Less than 500 Km), and By Region – Global Industry Overview, Statistical Data, Competitive Analysis, Share, Outlook, and Forecast 2023–2032" report at https://www.custommarketinsights.com/report/global-electric-aircraft-market-2022-2030/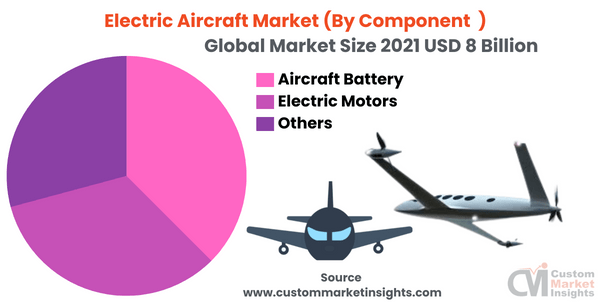 To learn more about this report, 
 Growth Factors
Fuel and gasoline are needed in significant quantities by the aircraft. This increases the cost of producing aeroplanes for the aviation sector. This element is propelling the widespread adoption and acceptance of electric aircraft. Additionally, the market for electric aircraft is expanding due to consumer preference for technologically advanced goods.
Escalating environmental concerns also fuel the market expansion for electric aircraft. The usage of electric aircraft contributes to a decrease in pollution. Additionally, this leads to a reduction in the harmful impacts of global warming. Additionally, electric aeroplanes are thought of as environmentally benign transportation options. Governments across various nations are attempting to reduce the consequences of greenhouse gas emissions and carbon emissions. Over the forecast period, this factor promotes the expansion and growth of the global market for electric aircraft. 
Technology advancements in the aviation sector are another element boosting the growth of the global market for electric aircraft. Numerous technologies are used in the production of aeroplanes. In addition, autonomous systems are being used with electric aeroplanes. Some electric aircraft are also used in the defence and military industries. These elements are accelerating the global market growth for electric aviation.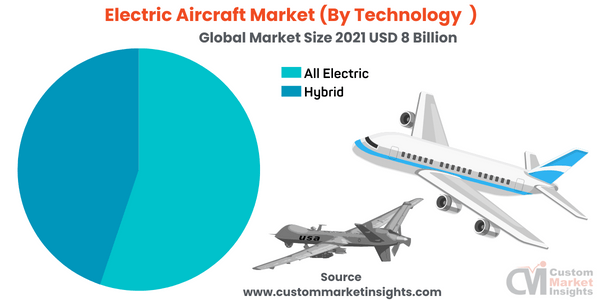 To learn more about this report, 
Segmental Overview
The Electric Aircraft market is bifurcated into type, component, technology, and range. Based on technology, in 2021, the hybrid electric aircraft segment represented a sizeable portion of overall revenue. Propellers, fuel-powered engines, and batteries are all used in hybrid electric aircraft. It occasionally combines traditional jet engines with electrically propelled propellers. This particular class of electric aircraft allows for a design that is not feasible with just fuel-powered machines. It provides for silent vertical takeoffs and landings. It also has many electric propellers, which aid in practical aerodynamics.
OEM and designers are driven by the urgent need to move the aircraft industry toward a power-driven future to market all-electric versions of aeroplanes. Additionally, it considerably lowers fuel costs, saving the aircraft sector money.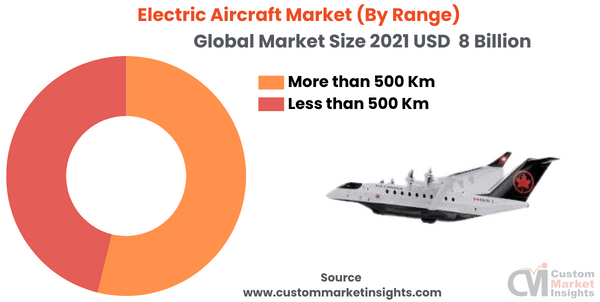 To learn more about this report, 
Regional Overview
Due to rising environmental concerns and expanding government initiatives, North America will account for the most significant revenue share in 2021, fueling the market for electric aircraft. Additionally, many individuals and business owners in the North American region travel extensively by business aircraft. Due to this aspect, the demand for electric aircraft is expanding in North America.
The Asia Pacific region's electric aircraft market is expanding due to numerous major market players and their rising expenditure in R&D activities. Furthermore, demand for electric aircraft is boosted by expanding commercial aviation in nations like India. Additionally, it is anticipated that China and Japan will contribute significantly to the region's revenue development.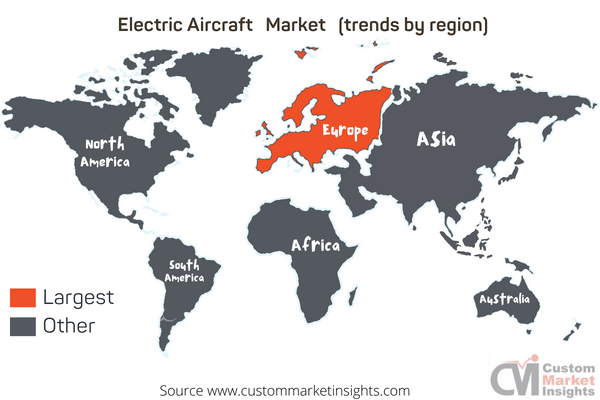 To learn more about this report, 
Report Scope
| | |
| --- | --- |
| Feature of the Report | Details |
| Market Size in 2021 | USD 8 Billion |
| Projected Market Size in 2030 | USD 33 Billion |
| Market Size in 2022 | USD 10.77 billion |
| CAGR Growth Rate | 16% CAGR (2022-2030) |
| Base Year | 2022 |
| Forecast Period | 2023-2032 |
| Prominent Players | Pipistrel Group, Bye Aerospace, Airbus, Aerospace Limited, Leonardo S.p.A., Yuneec Holding Limited, Faradair Aerospace Limited, Boeing, Groupe Gorge, Digisky S.R.L., and Others |
| Key Segment | By Type, Component, Technology, Range, and Region |
| Report Coverage | Revenue Estimation and Forecast, Company Profile, Competitive Landscape, Growth Factors and Recent Trends |
| Regional Scope | North America, Europe, Asia Pacific, Middle East & Africa, and South & Central America |
| Buying Options | Request tailored purchasing options to fulfil your requirements for research. |
Key Players Insights
Our market analysis includes a section specifically devoted to key players operating in the Electric Aircraft market. Our analysts overview each player's financial statements, product benchmarking, and SWOT analysis. In addition, the competitive landscape section includes key development strategies, market share analysis, and market positioning analysis of globally mentioned competitors. 
Prominent Players
Pipistrel Group
Bye Aerospace
Airbus
Aerospace Limited
Leonardo S.p.A.
Yuneec Holding Limited
Faradair Aerospace Limited
Boeing
Groupe Gorge
Digisky S.R.L.
The global Electric Aircraft market is segmented as follows:
By Type
By Component
Aircraft Battery
Electric Motors
Others
By Technology
By Range
More than 500 Km
Less than 500 Km
On the basis of Geography
North America
Europe
France
The UK
Spain
Germany
Italy
Rest of Europe
Asia Pacific
China
Japan
India
Australia
South Korea
Rest of Asia Pacific
The Middle East & Africa
Saudi Arabia
UAE
Egypt
Kuwait
South Africa
Rest of the Middle East & Africa
Latin America
Brazil
Argentina
Rest of Latin America