The Asia Pacific region to dominate the Electric Bus Charging Station market in 2021.
According to Custom Market Insights (CMI), The Global Electric Bus Charging Station Market size was worth around USD 2.2 billion in 2021 and is predicted to grow to around USD 19.5 billion by 2030 with a compound annual growth rate (CAGR) of roughly 31.5% between 2022 and 2030. 
The report analyses the Electric Bus Charging Station market's drivers and restraints and the impact they have on demand throughout the projection period. In addition, the report examines global opportunities in the global Electric Bus Charging Station market.
To learn more about this report, 
Electric Bus Charging Station Market: Overview
Establishing sufficient charging infrastructure is required to integrate the ecosystem of electric buses into the public transportation infrastructure. Two essential parts of the charging infrastructure are charging solutions and power infrastructure. Electric buses entirely rely on commercial charging infrastructure, unlike other vehicle categories like cars and two-wheelers that may have "home" charging infrastructure (charging points installed at domestic premises). The charging infrastructure mainly supports large battery capacity and high charging output ratings (100 kWh, 200 kWh, or more). In addition, the infrastructure includes charging software for demand management, grid communication, load balancing, and operation monitoring.
Browse the full "Electric Bus Charging Station Market Size, Trends and Insights By Charger (Off-board, Onboard), By Type (Depot Charging, Opportunity Charging, Inductive Charging), By Power (Less than 50 kW, 50–150 kW, 151–450 kW, More than 450 kW), and By Region – Global Industry Overview, Statistical Data, Competitive Analysis, Share, Outlook, and Forecast 2022–2030 " report at https://www.custommarketinsights.com/report/electric-bus-charging-station-market/
Growth Factors
The growing usage of electric buses in public transportation, the expansion of government funding programs, and the expansion of government plans for the electrification of public transport are the main drivers of the global market for electric bus charging stations.
Around the world, various governments are launching projects to transition the automotive fleet from petroleum-based to electric. Different nations offer incentives and set rules to encourage the use of electric vehicles. For example, governments in the European Union are launching significant measures to choose automobiles powered by green energy. Market expansion and technological optimization are the key objectives of EU policy regarding electric buses.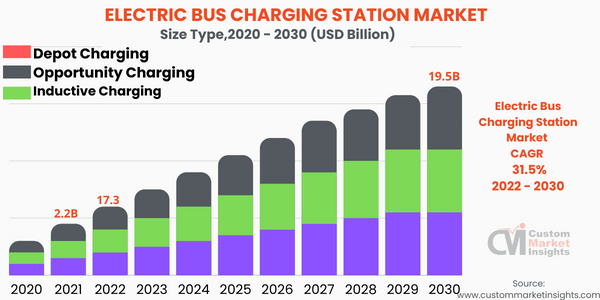 To learn more about this report, 
Segmental Overview
The Electric Bus Charging Stations market is segmented into charger, type, and power. The opportunity charging, depot charging, and inductive charging segments are included in the global electric bus charging stations market. In terms of sales volume, the depot charging category held the most significant proportion in 2021. This can be due to the growing demand for overnight charging stations for buses from both private and public transportation providers. Depot charging stations have more similar operational characteristics to diesel buses. 
The global electric bus charging stations market is classified into four segments based on power: less than 50 kW, 50-150 kW, 151-450 kW, and more than 450 kW. In terms of volume, the category with less than 50 kW had the highest share in 2021. The decrease in the price of these charging stations is the main factor driving the category's global expansion.
Regional Overview
The Asia Pacific region is anticipated to be the largest and fastest-growing market during the projection period. The Asia Pacific region includes China, India, Japan, and South Korea. Some of the economies in the world that are expanding the fastest are found in this region, including China and India. The governments of these developing nations have taken several steps to entice major OEMs to build electric vehicle charging stations in their domestic markets after realizing the potential for growth in the global electric bus charging station market. For instance, charging network providers for EV charging stations have partnered with several OEMs to advertise free EV charging for EV drivers.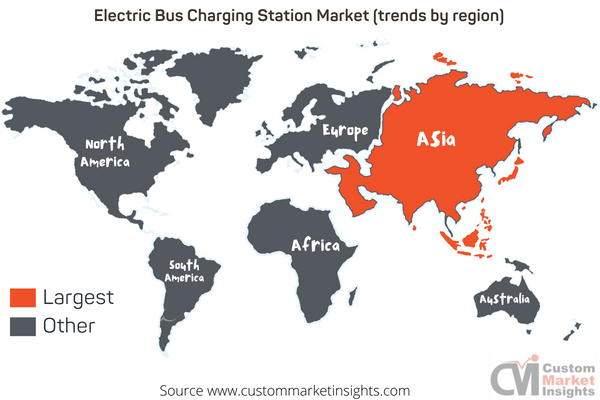 To learn more about this report, 
Report Scope
Feature of the Report
Details
Market Size in 2021
USD 2.2

billion

Projected Market Size in 2030
USD 19.5

billion

Market Size in 2022
USD 17.3 billion
CAGR Growth Rate

31.5

% CAGR
Base Year
2021
Forecast Period
2022-2030
Prominent Players
ABB, Furrer+Frey AG., Siemens, ALSTOM, Heliox, PROTERRA, Momentum Dynamics Corporation, ElectReon, Liikennevirta Oy (Ltd.), and Others
Key Segment
By Charger, Type, Power, and Region
Report Coverage
Revenue Estimation and Forecast, Company Profile, Competitive Landscape, Growth Factors and Recent Trends
Regional Scope
North America, Europe, Asia Pacific, Middle East & Africa, and South & Central America
Buying Options
Request tailored purchasing options to fulfil your requirements for research.
Key Players Insights
Details of top competitors are provided in the competitive landscape for the Electric Bus Charging Station market. The information includes an overview of the business, financials, revenue, market potential, investments in R&D, new market initiatives, regional presence, corporate strengths and weaknesses, product launches, product breadth and depth, and application domination. The information above only relates to the companies' market focus on Electric Bus Charging stations.
Prominent Players
ABB
Furrer+Frey AG.
Siemens
ALSTOM
Heliox
PROTERRA
Momentum Dynamics Corporation
ElectReon
Liikennevirta Oy (Ltd.)
The global Electric Bus Charging Station market is segmented as follows:
By Charger
By Type
Depot Charging
Opportunity Charging
Inductive Charging
By Power
Less than 50 kW
50–150 kW
151–450 kW
More than 450 kW
On the basis of Geography
North America
Europe
France
The UK
Spain
Germany
Italy
Rest of Europe
Asia Pacific
China
Japan
India
Australia
South Korea
Rest of Asia Pacific
The Middle East & Africa
Saudi Arabia
UAE
Egypt
Kuwait
South Africa
Rest of the Middle East & Africa
Latin America
Brazil
Argentina
Rest of Latin America