The Asia Pacific Region is experiencing high demand for Electric Food Steamers.
According to Custom Market Insights (CMI), The Global Electric Food Steamer Market market was estimated at around USD 3 billion in 2021 and is projected to witness a CAGR of 4% during 2022-2030, to reach around USD 4.2 billion by 2030. The report examines the Electric Food Steamer market's drivers and restraints and their impact analysis. Also, the report mentions global opportunities prevailing in the Electric Food Steamer market.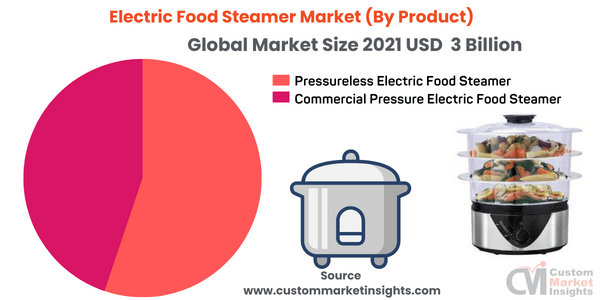 To learn more about this report, 
Electric Food Steamer Market: Overview
Our analysts thoroughly examined the Commercial Electric Food Steamer Market using primary and secondary research approaches. Our awareness of the present market dynamics, the supply-demand imbalance, pricing trends, product preferences, consumer patterns, and other factors improved. A primary study with business professionals and opinion leaders from many nations helped to validate the findings further. Various market estimation and data validation procedures are used to assemble further and validate the data. We also have an internally generated data forecasting model that projects market growth until 2030. 
Browse the full "Electric Food Steamer Market Size, Trends and Insights By Product (Pressureless Electric Food Steamer, Commercial Pressure Electric Food Steamer), By Application (Residential, Commercial), and By Region – Global Industry Overview, Statistical Data, Competitive Analysis, Share, Outlook, and Forecast 2022–2030" report at https://www.custommarketinsights.com/report/electric-food-steamer-market/
 Growth Factors
The market for electric food steamers is primarily driven by rising disposable income and the requirement for easy-to-use kitchen appliances, both of which have increased demand for steamers. A significant factor in this market's growth is customers' growing awareness of the health advantages of steam cooker use. Additionally, because steamers are simple to use and maintain, the growing approach of online grocery shopping and home delivery has raised the demand for them.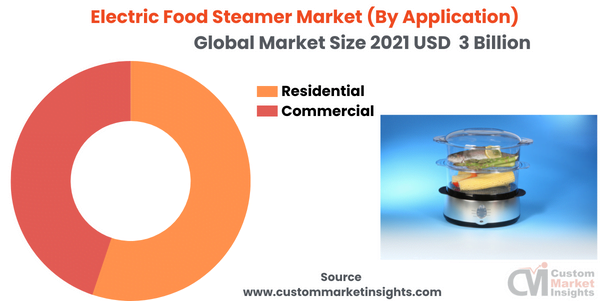 To learn more about this report, 
Segmental Overview
The global Electric Food Steamer market is categorized into products and applications. Based on application, the commercial segment led the electric steamers market from 2022-2030. Electric food steamers are used slightly differently in commercials than in homes. Because they are used often throughout the day for extended periods, putting additional strain on the machine, commercial steaming requires steamers with great performance and longevity. Additionally, since the food steamer they employ also cooks sauces, there have been cases where restaurant owners and management distribute free little bottles of ketchup and sauce to patrons. This boosts client contentment and reliance on a particular brand, which boosts sales.
Regional Overview
Due to rising demand from the restaurant business in nations like the U.S. and Canada, North America is the largest market for electric food steamers, followed by Europe. The use of steamers for cooking various sorts of food has significantly increased due to the increase of restaurants in these areas. Due to the rising use of electric food steamers in the domestic and business sectors, the Asia Pacific region is their third-largest market.
Due to its rapid population growth, which increases demand from restaurants, hotels, and other businesses, Asia Pacific will grow at a higher CAGR than other regions throughout the projection period.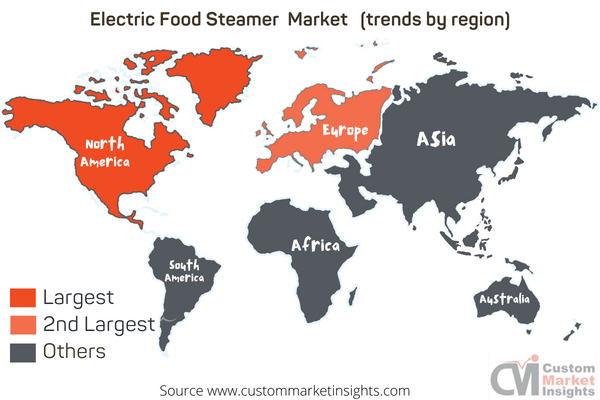 To learn more about this report, 
Report Scope
| | |
| --- | --- |
| Feature of the Report | Details |
| Market Size in 2021 | USD 3 Billion |
| Projected Market Size in 2030 | USD 4.2 Billion |
| CAGR Growth Rate | 4% CAGR |
| Base Year | 2021 |
| Forecast Period | 2022-2030 |
| Prominent Players | G.S. BLODGETT, Cleveland Range, Southbend, AccuTemp Products, Vulcan, EmberGlo, Antunes, SALVIS, Solaris, Hackman, Crown Verity, Unified Brands, Hobart, Rational AG, ITW Food Equipment Group LLC, Nemco Food Equipment, Middlely, Cleveland Range, Chigo, Unified Brands Inc., A. J. Antunes and Co., GIORIK SPA, AccuTemp Products Inc, Konka, Lecon, and Others |
| Key Segment | By Product, Application, and Region |
| Report Coverage | Revenue Estimation and Forecast, Company Profile, Competitive Landscape, Growth Factors and Recent Trends |
| Regional Scope | North America, Europe, Asia Pacific, Middle East & Africa, and South & Central America |
| Buying Options | Request tailored purchasing options to fulfil your requirements for research. |
Key Players Insights
During the projected period, major electric food steamer market players are likely to confront fierce rivalry. Companies focusing on cutting-edge technology include Cuisinart, Newell Brands, Hamilton Beach Brands, Inc., and NutriChef Kitchen, LLC. Additionally, businesses build brand recognition using various marketing techniques like banners, hoardings, and commercials.
Our market analysis includes a section specifically devoted to key players operating in the Electric Food Steamer market. Our analysts overview each player's financial statements, product benchmarking, and SWOT analysis. The competitive landscape section includes key development strategies, market share analysis, and market positioning analysis of globally mentioned competitors. 
Key Players
S. BLODGETT
Cleveland Range
Southbend
AccuTemp Products
Vulcan
EmberGlo
Antunes
SALVIS
Solaris
Hackman
Crown Verity
Unified Brands
Hobart
Rational AG
ITW Food Equipment Group LLC
Nemco Food Equipment
Middlely
Cleveland Range
Chigo
Unified Brands Inc.
J. Antunes and Co.
GIORIK SPA
AccuTemp Products Inc
Konka
Lecon
The global Electric Food Steamer market is segmented as follows:
By Product
Pressureless Electric Food Steamer
Commercial Pressure Electric Food Steamer
By Application
On the basis of Geography
North America
Europe
France
The UK
Spain
Germany
Italy
Rest of Europe
Asia Pacific
China
Japan
India
Australia
South Korea
Rest of Asia Pacific
The Middle East & Africa
Saudi Arabia
UAE
Egypt
Kuwait
South Africa
Rest of the Middle East & Africa
Latin America
Brazil
Argentina
Rest of Latin America