Europe led the electric shavers market in 2021
According to Custom Market Insights (CMI), the Global Electric Shaver Market size was estimated at USD 6 Billion in 2021 and is expected to hit around USD 7.2 Billion by 2030, poised to grow at a compound annual growth rate (CAGR) of 3% from 2022 to 2030. The report examines the Electric shavers market's drivers and restraints, as well as their impact analysis. Also, the report mentions global opportunities prevailing in the Electric shavers market.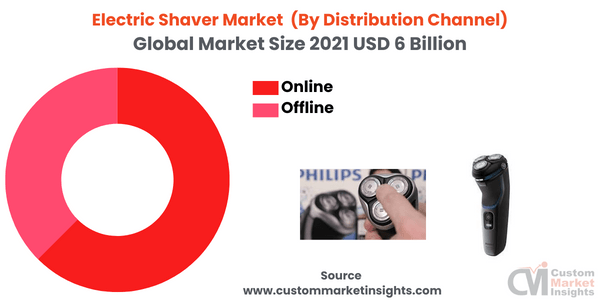 To learn more about this report, 
Electric shavers Market: Overview
An electrical device used for shaving is referred to as an "electric shaver." This tool removes unwanted body hair by rotating or oscillating blades hidden behind a metal guard. The most practical alternative for shaving is an electric shaver, which is projected to boost the global market for electric shavers in the years to come. Rotary shavers, as well as foil shavers, are the two main categories of electric shavers.
Browse the full "Electric Shaver Market Size, Trends, and Insights By Product (Foil Shaver, Rotary Shaver, Wet/Dry Shaver, Clippers & Accessories), By Distribution Channel (Online, Offline), By End-user (Male, Female), and By Region – Global Industry Overview, Statistical Data, Competitive Analysis, Share, Outlook, and Forecast 2022–2030 " report at https://www.custommarketinsights.com/report/electric-shaver-market/
Growth Factors
One of the key factors propelling the development of the global electric shaver market is the rise in personal care and grooming preferences across the globe. The market's expansion is accelerated by the increase in the demand for electric shavers from salons and beauty parlors, as well as the acceptance of electric shavers or electric razors since they reduce the expense of beard and hair maintenance and are simple to use. The market is also influenced by the availability of several types of electric shavers to meet the many different consumer needs and the manufacturers' alluring promotions. A rise in disposable income, clever strategic marketing initiatives, and a change in lifestyle also have a favorable impact on the electric shaver market.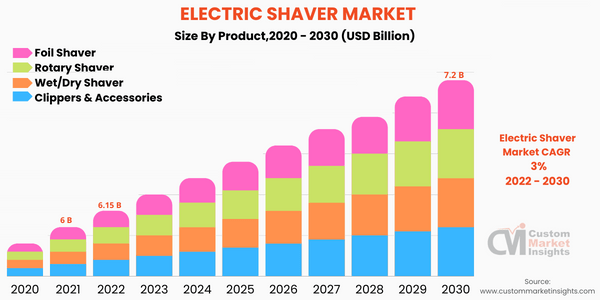 To learn more about this report, 
Segmental Overview
The market for electric shavers is segmented into products, distribution channels, and end-users. Based on distribution channels, the market is categorized as online and offline. The market has seen a rise in the transition from offline to online sales of grooming items. This is due to the expanding global network of e-commerce. Sales of these products have benefited from a plethora of online discounts and promotions, which has expanded the market. eCommerce sites allow customers to conveniently compare and analyze product features and prices in one location, doing shopping there more easily.
The projection term is expected to see clippers and trimmers maintain their dominant market share in the United States. Young people prefer clippers and trimmers more than other people, in part because of how quickly these tools can remove facial hair. The trimmers include blade sets that rotate from one end to another and a protective covering that prevents cuts by keeping the skin out of direct contact with the blades.
Based on end-users, the electric shavers market is classified into male and female. One of the major factors propelling the electric shavers market globally is the rising demand for electric shavers among women. Manufacturers are aiming to profit from the lucrative customer niche that the female population represents. However, the influence of the driver is minimal because electric shavers are not widely used, particularly among female consumers in developing countries. However, the growing trend toward personal grooming and care has increased both men's and women's desire for electric shavers. In addition, the industry is benefiting from a transition away from traditional shavers and toward electric shavers due to rising consumer demand for more comfort.
Regional Overview
Europe was estimated to dominate the electric shavers market in 2021. Over the forecast period, the growth of the electric shaver market in Europe would be aided by the increased interest among men in personal grooming. In order to help vendors, create effective business plans, this market research report includes comprehensive information on the competition intelligence, marketing gaps, and geographical prospects available to them.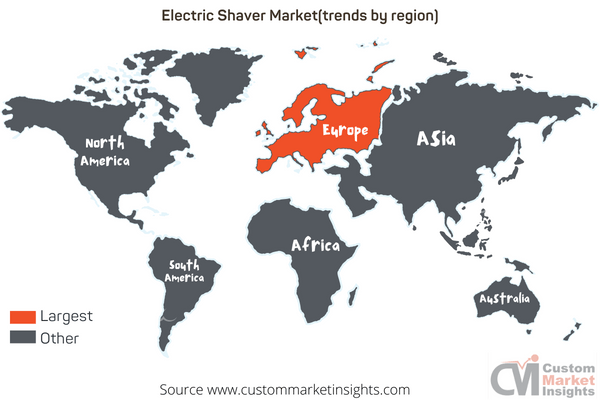 To learn more about this report, 
However, the Asia Pacific region is anticipated to grow at a high CAGR during the forecast period. The high disposable income and rising awareness regarding personal hygiene and appearance among men are influencing the market growth. The presence of a high youth population in the economies of Asia Pacific is a significant factor influencing the market.
| | |
| --- | --- |
| Feature of the Report | Details |
| Market Size in 2021 | USD 6 Billion |
| Projected Market Size in 2030 | USD 7.2 Billion |
| Market Size in 2022 | USD 6.15 Billion |
| CAGR Growth Rate | 3% CAGR |
| Base Year | 2021 |
| Forecast Period | 2022-2030 |
| Prominent Players | Andis Co., Havells India Ltd., Xiaomi Corp., Braun GmbH, Conair Corp., Koninklijke Philips NV, Panasonic Corp., Remington, The Procter and Gamble Co., Shanghai Flyco Electrical Appliance Co. Ltd. , Wahl Clipper Corp., Wenzhou Iweel Electric Co. Ltd., and Others |
| Key Segment | By Product, Distribution Channel, End-user, and Region |
| Report Coverage | Revenue Estimation and Forecast, Company Profile, Competitive Landscape, Growth Factors and Recent Trends |
| Regional Scope | North America, Europe, Asia Pacific, Middle East & Africa, and South & Central America |
| Buying Options | Request tailored purchasing options to fulfil your requirements for research. |
Competitive Landscape
There are numerous players operating in the electric shavers market, which influences the overall pricing strategy of the product, according to prevailing market conditions. The manufacturers are highly focused on the introduction of new products. The presence of a robust supplier base coupled large customer base results in high competition in the market.
Prominent Players
Andis Co.
Havells India Ltd.
Xiaomi Corp.
Braun GmbH
Conair Corp.
Koninklijke Philips NV
Panasonic Corp.
Remington
The Procter and Gamble Co.
Shanghai Flyco Electrical Appliance Co. Ltd.
Wahl Clipper Corp.
Wenzhou Iweel Electric Co. Ltd.
The global Electric Shavers market is segmented as follows:
By Product
Foil Shaver
Rotary Shaver
Wet/Dry Shaver
Clippers & Accessories
By Distribution Channel
By End-user
By Region
North America
Europe
France
The UK
Spain
Germany
Italy
Rest of Europe
Asia Pacific
China
Japan
India
Australia
South Korea
Rest of Asia Pacific
The Middle East & Africa
Saudi Arabia
UAE
Egypt
Kuwait
South Africa
Rest of the Middle East & Africa
Latin America
Brazil
Argentina
Rest of Latin America