The Asia Pacific region to dominate the Automotive Electric Vehicle Actuator market in 2021
According to Custom Market Insights (CMI), The Global Automotive Electric Vehicle Actuator Market size was worth around USD 600 million in 2021 and is predicted to grow to around USD 1400 million by 2030 with a compound annual growth rate (CAGR) of roughly 23% between 2022 and 2030. The report analyses the Automotive Electric Vehicle Actuator market's drivers and restraints and their impact on demand throughout the projection period. In addition, the report examines global opportunities in the global Automotive Electric Vehicle Actuator market.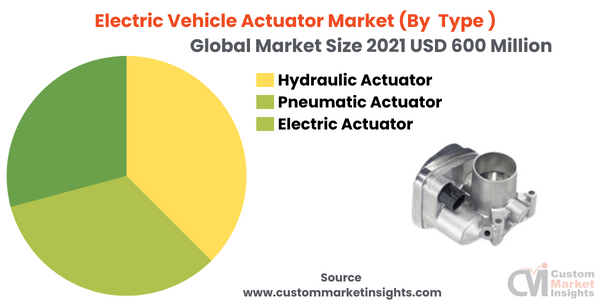 To learn more about this report, 
Automotive Electric Vehicle Actuator Market: Overview
The electrical control systems in passenger automobiles and commercial vehicles would not function without actuators. They are responsible for turning the electrical signals from the control unit into physical action. Electric motors or electromagnetic valves are the most common types of actuators. For instance, they can operate pumps to increase pressure or alter flaps to control fluid flow (e.g., brake and steering systems).
Browse the full "Electric Vehicle Actuator Market Size, Trends and Insights By Type (Hydraulic Actuator, Pneumatic Actuator, Electric Actuator), By Application (HVAC, Brakes, Headlights, Grill Shutter, Mirrors, Trunk, Hood, Others), By EV Type (Battery Electric Vehicle (BEV), Hybrid Electric Vehicle (HEV), Plug-in Hybrid Vehicle (PHEV), Fuel Cell Electric Vehicle (FCEV)), and By Region – Global Industry Overview, Statistical Data, Competitive Analysis, Share, Outlook, and Forecast 2023–2032 " report at https://www.custommarketinsights.com/report/electric-vehicle-actuator-market/
Growth Factors
Recently, the number of cutting-edge technologies built inside cars has significantly increased. One such technological advancement that has made its way into the automobile sector is the Internet of Things (IoT), which creates opportunities for internet-based connections between the car and other vehicles or its manufacturer. In addition, with sensors installed inside cars, data generation and transfer have made it possible to create new technologies and features that improve vehicle convenience, safety, and security.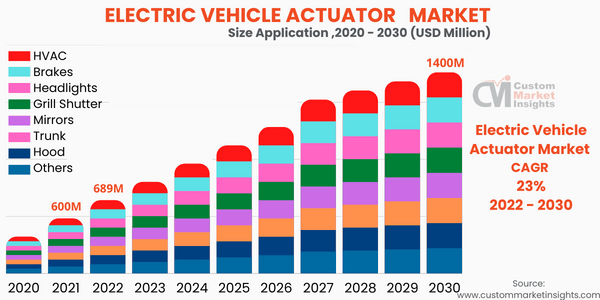 To learn more about this report, 
Around 20 million brand-new cars are currently connected to the internet in real-time, and this trend is anticipated to continue. In addition, to prevent automobile problems and recalls, well-known manufacturers like General Motors, Audi, and others are already implementing hotspot services and over-the-air vehicle upgrades. Over the projection period, such innovations will continue to fuel the use of automotive actuators.
Segmental Overview
The automotive electric vehicle actuators market is segmented into type, application, and EV. The electric actuator segment is anticipated to experience the fastest type-based CAGR growth in the global market for electric vehicle actuators throughout the projected period. Electric actuators provide torque or force using an electric motor and gear reduction. An electric actuator is being created using a variety of technologies. The electric motor can be either synchronous (squirrel cage) or asynchronous (AC or DC powered).
Additionally, this actuator includes worm, spur, and scotch yoke gearing mechanisms. Heavy-duty grease is used as gear lubrication and is applied to the gear surfaces or oil-filled gearboxes. A variety of accessories are available to report and monitor operating conditions and the actuator's status. Electric actuators come in a wide range of options, which are chosen based on various technologies, costs, performance, and quality.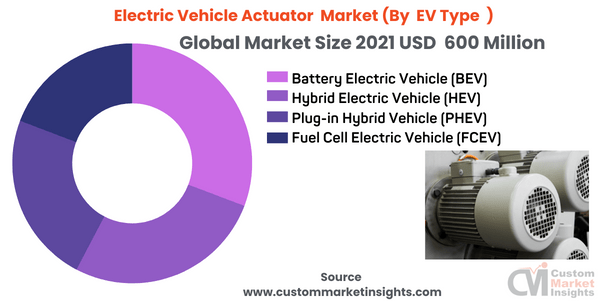 To learn more about this report, 
Regional Overview
Due to more excellent vehicle production in China and Japan, the Asia Pacific region is predicted to represent a sizeable portion of the worldwide market in revenue. In addition, due to government incentives and regulations, the adoption and manufacture of electric vehicles are higher in China than in other nations. This will certainly significantly increase the demand for electric car actuators.
Due to an increase in demand for automobiles with high-end luxury and comfort features, the automotive electric vehicle actuator market in the Middle East and Africa is growing remarkably. GCC nations' steady economies result from the region's significant petrochemical sector. Moreover, vehicle sales in the sub-region are expected to increase due to lower fuel prices and growth in disposable income in the GCC.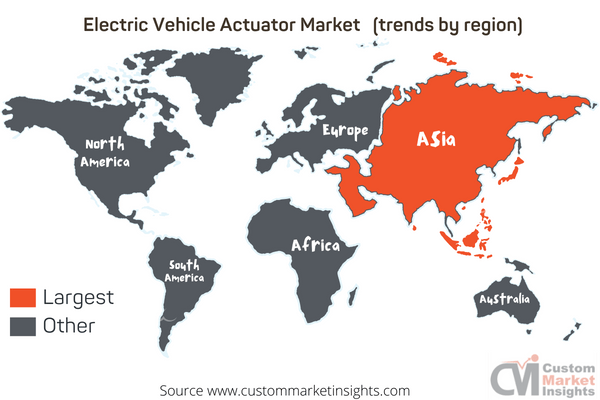 To learn more about this report, 
Report Scope
| | |
| --- | --- |
| Feature of the Report | Details |
| Market Size in 2021 | USD 600 Million |
| Projected Market Size in 2030 | USD 1400 Million |
| Market Size in 2022 | USD 689 Million |
| CAGR Growth Rate | 23% CAGR (2022-2030) |
| Base Year | 2022 |
| Forecast Period | 2023-2032 |
| Prominent Players | Robert Bosch GMBH, HELLA GMBH AND CO. KGAA, Continental AG, Nidec Corporation, Johnson Electric, Stoneridge Inc, Borgwarner INC., Hitachi Automotive Systems LTD., Mahle GMBH, Mitsubishi Electric Corporation, and Others |
| Key Segment | By Type, Application, EV Type, and Region |
| Report Coverage | Revenue Estimation and Forecast, Company Profile, Competitive Landscape, Growth Factors and Recent Trends |
| Regional Scope | North America, Europe, Asia Pacific, Middle East & Africa, and South & Central America |
| Buying Options | Request tailored purchasing options to fulfil your requirements for research. |
Key Players Insights
Most companies competing in the automotive electric vehicle actuator market are concentrating on creating lightweight, highly effective actuators. In addition, to target a particular demographic, manufacturers have also placed a strong emphasis on product differentiation.
All major manufacturers are looking to collaborate with OEMs and Tier 1 producers to create advanced actuators with greater precision. In addition, manufacturers are also heavily focused on new markets for automobile electric actuators to strengthen their position in a given region or nation.
Prominent Players
Robert Bosch GMBH
HELLA GMBH AND CO. KGAA
Continental AG
Nidec Corporation
Johnson Electric
Stoneridge Inc
Borgwarner INC.
Hitachi Automotive Systems, LTD.
Mahle GMBH
Mitsubishi Electric Corporation
The global Electric Vehicle Actuator market is segmented as follows:
By Type
Hydraulic Actuator
Pneumatic Actuator
Electric Actuator
By Application
HVAC
Brakes
Headlights
Grill Shutter
Mirrors
Trunk
Hood
Others
By EV Type
Battery Electric Vehicle (BEV)
Hybrid Electric Vehicle (HEV)
Plug-in Hybrid Vehicle (PHEV)
Fuel Cell Electric Vehicle (FCEV)
On the basis of Geography
North America
Europe
France
The UK
Spain
Germany
Italy
Rest of Europe
Asia Pacific
China
Japan
India
Australia
South Korea
Rest of Asia Pacific
The Middle East & Africa
Saudi Arabia
UAE
Egypt
Kuwait
South Africa
Rest of the Middle East & Africa
Latin America
Brazil
Argentina
Rest of Latin America