According to Custom Market Insights (CMI), The Global Foamed Plastics Insulation Market Size was valued at USD 103.1 billion in 2021 and is estimated to reach USD 125 billion by the end of 2030 at a CAGR of approximately 3.5% during the forecast period 2022-2030.
The foam plastic is an expanded polymer plastic that appears as a sponge-like structure filled with air bubbles. The foamed plastics are made of different polymers and range in different types based on the polymer. These are more diverse than the usual plastics in terms of flexibility, reliability, and convenience. There are two types of foam plastics. The open-cell plastic foams have created the pressure exerted in which the inert gas fills the resin. The blowing agent makes closed-cell foam plastics that disrupt a specific melting point. Foam plastics are used in various industries, including building and construction, food and beverages, automobiles, etc. The foam plastics offer lower water absorption, good mechanical strength, heat conduction, good insulating properties, etc.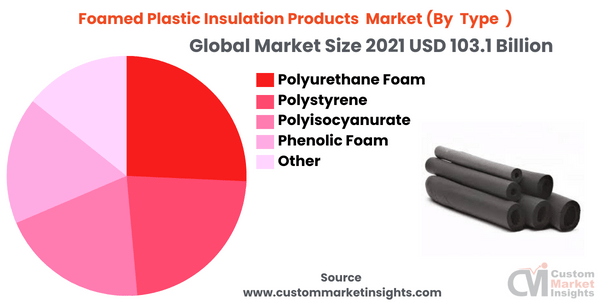 To learn more about this report, 
Browse the full "Foamed Plastic Insulation Products Market Size, Trends and Insights By Type (Polyurethane Foam, Polystyrene, Polyisocyanurate, Phenolic Foam, Other), By Application (Building & Construction, Industrial, Residential, Other), and By Region – Global Industry Overview, Statistical Data, Competitive Analysis, Share, Outlook, and Forecast 2023–2032" report at https://www.custommarketinsights.com/report/foamed-plastic-insulation-products-market/
Mini Desiccant Bags Market Dynamics
Drivers
The increase in demand for foam plastics as packaging for industrial and non-industrial goods drives market growth.
Foam plastics are innovative materials widely used for packaging and storing products, protecting them from outer disturbances. Such plastics provide shockproof and safe packaging of the product and are widely used for industrial and non-industrial goods.
The rise in manufacturing and construction activities propels the market growth of foam plastics.
The retailers and manufacturers are responsible for product transportation, whether in shops or to the customers. 
The manufacturers and retailers must ensure that the product in transit is safe and secure. Such factor drives the market growth for foam plastics.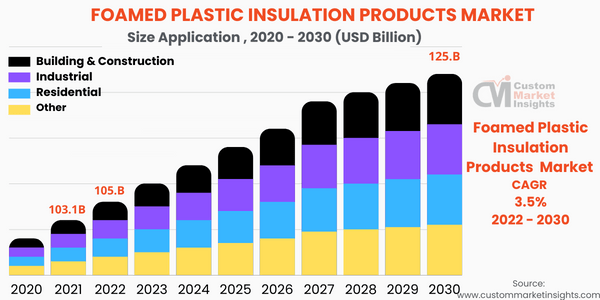 To learn more about this report, 
Restraints 
The imposed restrictions on the usage of foam plastics across regions like North America and Europe hamper the market growth. There is a restriction on the use of expanded polystyrene for food packaging from the regulatory authorities, which restricts the market growth. The stringent regulation leading to health and environmental concerns has led to the restriction on using polyurethane foams. The raw materials used for the production, including toluene diisocyanate and methylene biphenyl, are toxic substances that cause environmental hazards; such factors firmly restrain the market growth for foam plastics. As a result, flexible polyurethane is expected to experience a complete ban in the forecast period.
Opportunities
The emergence of the third-party logistics service provider serves as an opportunity for the manufacturers to increase their sales; hence, it could provide a golden opportunity for expanding the foam plastics market across the globe. The rise in e-commerce and omnichannel platforms has allowed manufacturers and shopkeepers to develop a safe and secure supply chain. The rapid development in logistics services will likely propel market growth over the coming years.
Challenges 
One of the significant challenges regarding foam plastic materials is the collection of all the relevant materials in one place and sorting them by code name. It is a time-consuming process that requires attention. Apart from the sorting process, it also requires enormous costs for processing and treatment. Therefore, even the recycling process can be hectic and costly.
Market Highlight
Based on type, the polyurethane segment held the largest market share in 2021, which accounted for 50%, and is projected to grow at a CAGR of 3.1% during the forecast period. This can be attributed to the increased demand for polyurethane foam plastics across different regions. In addition, it provides extensive features, including flexibility, reliability, low conduction, etc., which are used for other materials like cushioning foam, car bumpers, etc.
Based on Application, the building and construction segment occupied a significant share of the foam plastics market in 2021 and is projected to grow at a substantial CAGR of 3.4% during the forecast period. The wide use of foam plastics in the construction industry for thermal insulation and sealing due to their flexible, durable, and lightweight qualities has increased market value. It is a good insulator that is flexible at the same time. Therefore, the foam is widely used in homes and roofs or walls, especially in cold areas, and reduces noise.
Regional Snapshots
Based on geography, the Asia-Pacific region has occupied the largest market share in 2021, with a market share of 47%, and is expected to grow significantly during the forecast period. The rise in demand for foam plastic products and e-commerce platforms for safe and secure packaging drives the market growth in APAC. Numerous industries, including food & beverages, transportation, construction & building, automotive, and electronics, utilize foam plastics to keep their products safe. China is the major contributor to the foam plastics market across APAC, which accounts for 58% of the regional market share.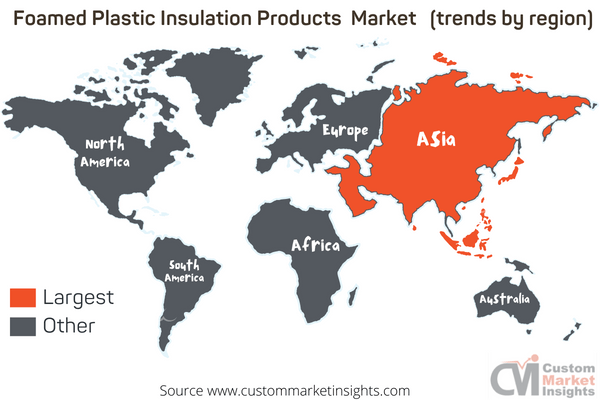 To learn more about this report, 
Report Scope
| | |
| --- | --- |
| Feature of the Report | Details |
| Market Size in 2021 | USD 103.1 Billion |
| Projected Market Size in 2030 | USD 125 Billion |
| CAGR Growth Rate | 3.5% CAGR (2022-2030) |
| Base Year | 2022 |
| Forecast Period | 2023-2032 |
| Prominent Players | Trelleborg, Dow, Avery Dennison Corporation, Owens Corning, 3M Company, Dupont, Sika, BASF, Johns Manville, Dunmore, Knauf Insulation, Saint-Gobain, ACH Foam Technologies, American Excelsior, INOAC Corporation, and Others |
| Key Segment | By Type, Application, and Region |
| Report Coverage | Revenue Estimation and Forecast, Company Profile, Competitive Landscape, Growth Factors and Recent Trends |
| Regional Scope | North America, Europe, Asia Pacific, Middle East & Africa, and South & Central America |
| Buying Options | Request tailored purchasing options to fulfill your requirements for research. |
Key Players
· Trelleborg
· Dow
· Avery Dennison Corporation
· Owens Corning
· 3M Company
· Dupont
· Sika
· BASF
· Johns Manville
· Dunmore
· Knauf Insulation
· Saint-Gobain
· ACH Foam Technologies
· American Excelsior
· INOAC Corporation
Recent Developments
· In June 2020, Dolce Packaging, a subsidiary of Teni-Plex Inc., collaborated with Agilyx Corporation to develop effective polystyrene packaging and expand their business. This collaboration is expected to increase the company's production rate by 90%.
· In February 2020, Huntsman Corporation announced the partnership with the leading company in North America named Icyene-Lapolla to develop foamed plastics across the residential and commercial sectors.
 Market segments covered in the report
By Type
Polyurethane Foam

Polystyrene

Polyisocyanurate

Phenolic Foam

Others
By Application
Building & Construction

Industrial

Residential

Other
On the basis of Geography
North America
Europe
France
The UK
Spain
Germany
Italy
Rest of Europe
Asia Pacific
China
Japan
India
Australia
South Korea
Rest of Asia Pacific
The Middle East & Africa
Saudi Arabia
UAE
Egypt
Kuwait
South Africa
Rest of the Middle East & Africa
Latin America
Brazil
Argentina
Rest of Latin America