According to Custom Market Insights (CMI), the size of the global Cold Plasma market was worth around USD 1.7 billion in 2021 and is predicted to grow to around USD 4.56 billion by 2030 with a compound annual growth rate (CAGR) of roughly 14.5% between 2022 and 2030. The report analyses the Cold Plasma market's drivers and restraints, as well as the impact they have on-demand throughout the projection period. In addition, the report examines global opportunities in the global Cold Plasma market.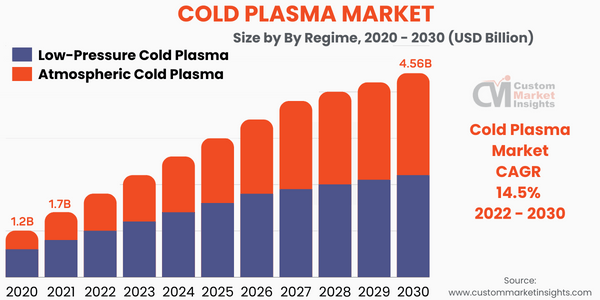 To learn more about this report, 
Cold Plasma Market: Overview
Cold Plasma is called an ionized gas at room temperature that is formed by an electric discharge. Cold Plasma treatment is known to be a non-contact, painless method of sterilizing wounds and promoting wound healing. The cost is equal to or less than standard antibacterial wound treatment.
Browse the full "Cold Plasma Market Size, Share, Growth Analysis Report By Regime (Low-Pressure Cold Plasma, Atmospheric Cold Plasma), By Application (Wound Healing, Blood Coagulation, Cancer Treatment, Dentistry, Others), and By Region – Global Industry Overview, Statistical Data, Competitive Intelligence, Trends, Outlook, and Forecast 2023–2032" report at https://www.custommarketinsights.com/report/cold-plasma-market/.
Growth Factors
A key factor expected to drive the growth of the Cold Plasma market during the forecast period is the benefits of Cold Plasma technology. In addition, food safety concerns are expected to further drive the growth of the Cold Plasma market. In addition, the invention of textile products should further slow down the growth of the Cold Plasma market. Meanwhile, increased capital investment is projected to further impede growth in the Cold Plasma market on schedule.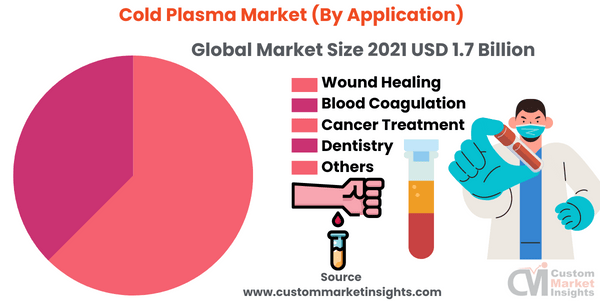 To learn more about this report, 
Segmental Overview
Based on the regime, the Cold Plasma market is divided into atmospheric pressure and low pressure. Atmospheric has a large market share for applications in various fields such as the medical, food, textile, and packaging industries. The low-pressure type has a moderate share of use in semiconductor manufacturing. Semiconductors are showing healthy growth due to their application in the electrical and electronic industry, where product consumption is increasing.
Regional Overview
North America is an important market for Cold Plasma technology. Significant growth is driven by the broad presence of global Cold Plasma companies that facilitate access to technology. However, Latin America and the Asia Pacific region are expected to offer promising opportunities for companies in the Cold Plasma market.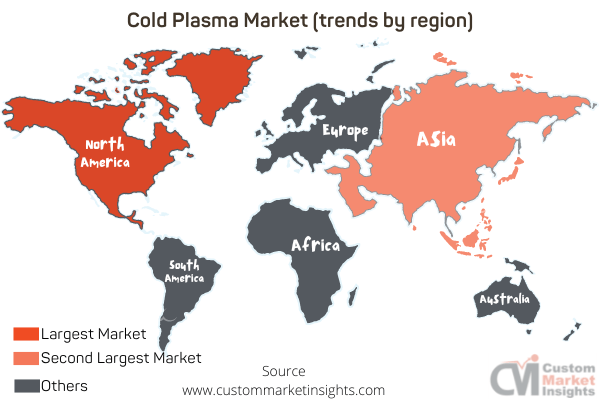 To learn more about this report, 
Regional growth is driven by increased economic and infrastructure activity in various emerging markets such as China, Thailand, India, and Indonesia. In addition, significant technological developments in the electronics and semiconductor industries are expected to drive the expansion of regional markets.
Report Scope
| | |
| --- | --- |
| Feature of the Report | Details |
| Market Size in 2021 | USD 1.7 Billion |
| Projected Market Size in 2030 | USD 4.56 Billion |
| CAGR Growth Rate | 14.5% CAGR (2022-2030) |
| Base Year | 2022 |
| Forecast Period | 2023-2032 |
| Prominent Players | Linde AG, Nordson Corporation, ADTEC Plasma Technology Co.Ltd., Bovie Medical Corporation, Europlasma NV, and Others |
| Key Segment | By Regime, Application, and Region |
| Report Coverage | Revenue Estimation and Forecast, Company Profile, Competitive Landscape, Growth Factors and Recent Trends |
| Regional Scope | North America, Europe, Asia Pacific, Middle East & Africa, and South & Central America |
| Buying Options | Request tailored purchasing options to fulfil your requirements for research. |
Key Players Insights
The study includes an in-depth competitive analysis of these key players in the Cold Plasma Market with their company profiles, recent developments, and key market strategies. Henniker Plasma, Nordson Corporation, Apex Medical Corporation, Adtec Plasma Technology Co. Ltd, P2i, are other players in the market.
Linde AG
Nordson Corporation
ADTEC Plasma Technology Co. Ltd.,
Bovie Medical Corporation
Europlasma NV
The global Cold Plasma market is segmented as follows:
By Regime
Low-Pressure Cold Plasma
Atmospheric Cold Plasma
By Application
Wound Healing
Blood Coagulation
Cancer Treatment
Dentistry
Others
On the basis of Geography
North America
Europe
France
The UK
Spain
Germany
Italy
Rest of Europe
Asia Pacific
China
Japan
India
Australia
South Korea
Rest of Asia Pacific
The Middle East & Africa
Saudi Arabia
UAE
Egypt
Kuwait
South Africa
Rest of the Middle East & Africa
Latin America
Brazil
Argentina
Rest of Latin America