The Asia Pacific Region led the Electric Tractor Market
According to Custom Market Insights (CMI), The Global Electric Tractor Market size was estimated at USD 118 Million in 2021 and is expected to hit around USD 250 Million by 2030, poised to grow at a compound annual growth rate (CAGR) of 13% from 2022 to 2030. 
The report examines the Electric Tractor market's drivers and restraints and their impact analysis. Also, the report mentions global opportunities prevailing in the Electric Tractor market.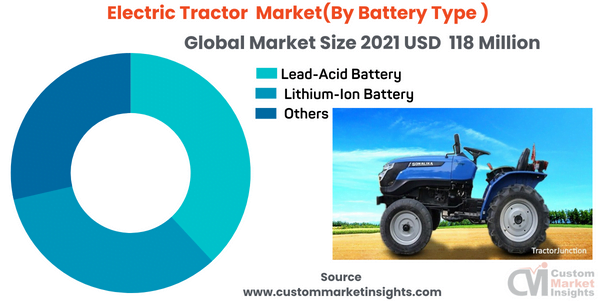 To learn more about this report, 
Electric Tractor Market: Overview
The advantages of driving and decoupling loads from the engines enable electric tractors to operate with a high level of efficiency. Additionally, governments worldwide have set a target for the phase-out of vehicles powered by fossil fuels. As a result, vehicle manufacturers are making enormous progress in electric drive technology. The agricultural industry is also gaining ground on this transformation; a number of firms recently released electric tractors to assist electrification. 
 Growth Factors
Electric tractors have numerous advantages over their diesel counterparts, including that they do not release carbon dioxide and have fewer moving parts, making repairs and maintenance more straightforward. The elements above are anticipated to increase the demand for electric tractors, which will fuel the expansion of the electric tractor market globally in the foreseeable future. Furthermore, due to strict pollution standards and renewable energy sources, the agriculture sector should look into e-drive solutions.
During 2022-2030, the expansion of the market for electric tractors is anticipated to be constrained by the availability of substitutes or fuel-based electric tractors. Additionally, electric tractors have several drawbacks, including their slow speed, limited battery technology, and inadequate energy storage.
To learn more about this report, 
Segmental Overview
The global Electric Tractor market is categorized into battery type, drivetrain technology, and application. Due to the continued use of electric powertrains in low-power application tractors, low and medium-duty electric tractors continue to have a significant market share. On the other hand, the development of high-power tractors is predicted to increase during the forecast period due to advancements in electric vehicle technologies.
Drivetrain technology, hybrid, and electric tractors are the three market segments for electric tractors. The market for hybrid agricultural tractors dominated the overall electric tractor market in 2021. The tractors can be powered by solar, wind, or water turbines. Due to the infrastructure, hybrid tractors have dominated the market. In addition, government incentives to boost the sales of electric farm tractors are expected to significantly develop the electric tractor market.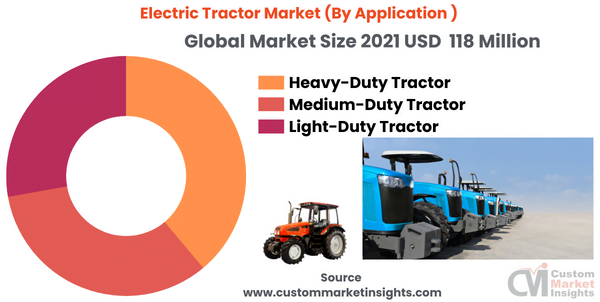 To learn more about this report, 
Regional Overview
Due to the growing demand for compact tractors in the U.S., North America is predicted to lead the global market for electric tractors. However, Europe's share of the worldwide market for electric tractors is anticipated to increase significantly shortly, helped by consumers' shifting preferences for electrified vehicles. Throughout the forecast period, Europe is expected to be followed by Asia-Pacific in the global market for electric tractors.
Shortly, the market for electric tractors is predicted to rise significantly in Asia-Pacific, led by India. As a result, the sales of electric tractors are anticipated to expand considerably over the study period. However, the Middle East, Africa, and Latin America are only likely to account for modest portions of the worldwide market.
Report Scope
| | |
| --- | --- |
| Feature of the Report | Details |
| Market Size in 2021 | USD 118 Million |
| Projected Market Size in 2030 | USD 250 Million |
| Market Size in 2022 | USD 132 Million |
| CAGR Growth Rate | 13% CAGR |
| Base Year | 2021 |
| Forecast Period | 2022-2030 |
| Prominent Players | Alke, Deere & Company, Cummins Inc., Escorts Limited, Fendt, Motivo Engineering, Kubota Corporation, Solectrac Inc., Sonalika, Yanmar Holdings Co. Ltd., Monarch Tractor, AutoNxt Automation Pvt. Ltd., Celestial, EcoFactor, Ztractor, and Others |
| Key Segment | By Battery Type, Drivetrain Technology, Application, and Region |
| Report Coverage | Revenue Estimation and Forecast, Company Profile, Competitive Landscape, Growth Factors, and Recent Trends |
| Regional Scope | North America, Europe, Asia Pacific, Middle East & Africa, and South & Central America |
| Buying Options | Request tailored purchasing options to fulfill your requirements for research. |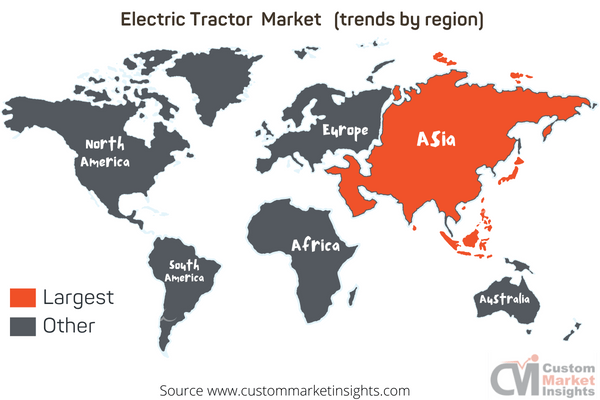 To learn more about this report, 
Key Players Insights
Our market analysis includes a section specifically devoted to key players operating in the Electric Tractor market. Our analysts overview each player's financial statements, product benchmarking, and SWOT analysis. In addition, the competitive landscape section includes key development strategies, market share analysis, and market positioning analysis of globally mentioned competitors. 
Prominent Players
Alke
Deere & Company
Cummins Inc.
Escorts Limited
Fendt
Motivo Engineering
Kubota Corporation
Solectrac Inc.
Sonalika
Yanmar Holdings Co. Ltd.
Monarch Tractor
AutoNxt Automation Pvt. Ltd.
Celestial
EcoFactor
Ztractor
The global Electric Tractor market is segmented as follows:
By Battery Type
Lead-Acid Battery
Lithium-Ion Battery
Others
By Drivetrain Technology
Battery Electric Tractor
Hybrid Electric Tractor
Plug-in Hybrid Electric Tractor
By Application
Heavy-Duty Tractor
Medium-Duty Tractor
Light-Duty Tractor
On the basis of Geography
North America
Europe
France
The UK
Spain
Germany
Italy
Rest of Europe
Asia Pacific
China
Japan
India
Australia
South Korea
Rest of Asia Pacific
The Middle East & Africa
Saudi Arabia
UAE
Egypt
Kuwait
South Africa
Rest of the Middle East & Africa
Latin America
Brazil
Argentina
Rest of Latin America