Our research report on Global Mitigation Banking Market size was valued at USD 6.5 billion and is projected to account for around USD 16.1 billion by 2030. The estimated CAGR is approximately 14.7% between 2022 and 2030. The report further provides an overview of drivers, restraints, and opportunities in the mitigation banking market. Moreover, the report examines the global competitive analysis for the mitigation banking market.
The essential purpose of the Global Mitigation Banking Market report is to deliver industry investors, company leaders, private equity companies, and stakeholders with comprehensive information, facilitating them to make informed strategic decisions concerning the changes in the mitigation banking market throughout the world.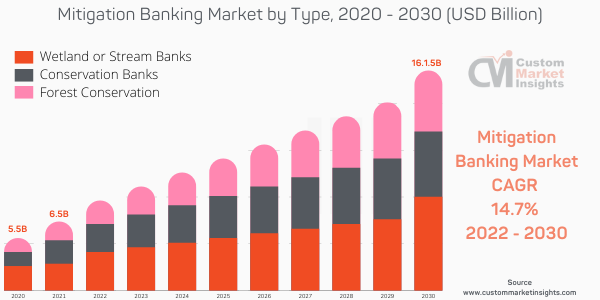 To learn more about this report, 
Mitigation Banking Market: Overview
The Mitigation Banking system includes credits and debits created to safeguard ecological loss, particularly loss to wetlands or streams owing to numerous development works, which is compensated by preserving and restoring natural habitats, wetlands, and streams in other locations to avoid any net loss concerning the environment. These banks aim to conserve biodiversity, keep developers responsible, and reduce harmful effects as rapid industrialization may have an unavoidable environmental impact.
Browse the full "Mitigation Banking Market Size, Share, Growth Analysis Report By Type (Wetland or Stream Banks, Conservation Banks, Forest Conservation), By Industry (Construction & Mining, Transportation, Energy & Utilities, Healthcare, Manufacturing), and By Region – Global Industry Overview, Statistical Data, Competitive Intelligence, Trends, Outlook, and Forecast 2022–2030″ report at https://www.custommarketinsights.com/report/mitigation-banking-market/
Growth Factors
The construction & Steel industry's growth supports the mitigation banking market.
Governments across the world are taking initiatives regarding the degradation of the environment owing to rising awareness concerning environmental issues. This, in turn, is propelling the Mitigation Banking market. Increasing urbanization coupled with industrial development is resulting in the degradation of the environment. Mitigation banking offers provides credits to safeguard the environment.
Segmental Overview
The market for mitigation banking is segmented into type and industry. The market is categorised based on type: basic wetland or stream banks, conservation banks, and forest conservation.  By industry, the construction & mining segment is expected to showcase tremendous growth opportunities. Rapid growth in construction & mining activities, particularly in emerging economies, is resulting in increased environmental resource destruction. This is supporting the growth of the mitigation banking market.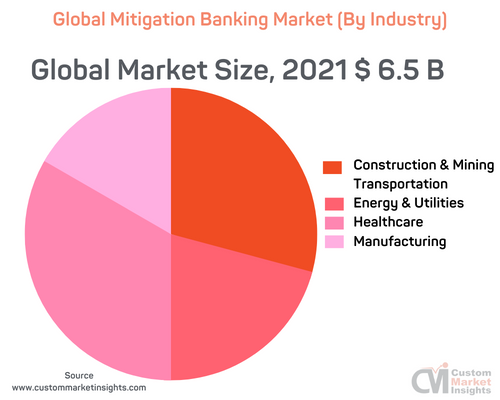 To learn more about this report, 
Additionally, the mitigation banking system offers an effective transfer of liability caused by economical loss done by the mining and construction industries. Also, the rise in the number of mitigation banks approved has generated opportunities for varied industries to leverage mitigation banking services.
Regional Overview
Asia Pacific is estimated to notice a high CAGR growth during the projected period. The rapid urbanization, coupled with an increase in mining activities, is anticipated to accelerate the market's growth. Moreover, the growth in the manufacturing sector of Asian economies and infrastructural development supported by government initiatives are boosting the market.
Presently, the market is led by the North America region, followed by Europe. The stringent regulation in developed economies of these regions has supported the market's growth. North America is estimated to hold over 50% of the total market share in 2021, whereas Europe accounted for nearly 16% of the market share. The US Environment Protection Agency leads the mitigation activities in the country. Organizations across the country collaborate with mitigation bankers to comply with state government regulations. Also, the region is expected to witness a considerable CAGR from 2022 to 2030.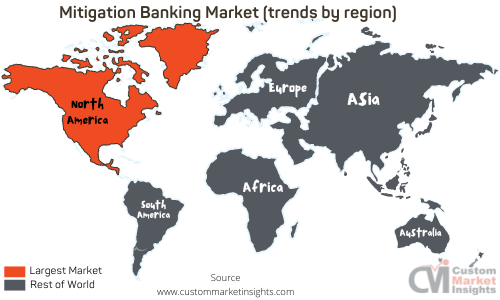 To learn more about this report, 
Report Scope
| | |
| --- | --- |
| Feature of the Report | Details |
| Market Size in 2021 | USD 6.5 Billion |
| Projected Market Size in 2030 | USD 16.1 Billion |
| CAGR Growth Rate | 14.7% CAGR |
| Base Year | 2021 |
| Forecast Period | 2022-2030 |
| Prominent Players | Wetland Studies and Solutions, Inc., Alafia River Wetland Mitigation Bank, Inc., The Mitigation Banking Group, Inc., Habitat Bank LLC, The Loudermilk Companies, and Others |
| Key Segment | By Type, Industry, and Region |
| Report Coverage | Revenue Estimation and Forecast, Company Profile, Competitive Landscape, Growth Factors and Recent Trends |
| Regional Scope | North America, Europe, Asia Pacific, Middle East & Africa, and South & Central America |
| Buying Options | Request tailored purchasing options to fulfil your requirements for research. Examine possible purchases |
Competitive Landscape/ Key Players Insights
The players operating in the mitigation banking market are focused on expanding their investment portfolios. The primary challenge to mitigation banking is the struggle to evaluate environmental loss in financial terms accurately. The credits given to these banks have to be correctly valued and evaluated by regulators; however, while these agencies utilize numerous environmental assessment techniques, it is difficult to capture the financial impact of damage to environmental resources completely. Further, increased collaboration among the market participants has been noticed, particularly in the North America region. Our report comprises key business strategies, recent developments, SWOT analysis, and other significant parameters.
Some of the prominent players
Wetland Studies and Solutions, Inc.
Alafia River Wetland Mitigation Bank, Inc.
The Mitigation Banking Group, Inc.
Habitat Bank LLC
The Loudermilk Companies
The global mitigation banking market is segmented as follows:
By Type
Wetland or Stream Banks
Conservation Banks
Forest Conservation
By Industry
Construction & Mining
Transportation
Energy & Utilities
Healthcare
Manufacturing
By Geography
North America
The U.S.
Canada
Mexico
Europe
France
The UK
Spain
Germany
Italy
Rest of Europe
Asia Pacific
China
Japan
India
Australia
South Korea
Rest of Asia Pacific
The Middle East & Africa
Saudi Arabia
UAE
Egypt
Kuwait
South Africa
Rest of the Middle East & Africa
Latin America
Brazil
Argentina
Rest of Latin America