The Asia Pacific Region dominated the market in 2021
According to Custom Market Insights (CMI), The Global Smart Motors Market size was estimated at USD 2.6 Billion in 2021 and is expected to hit around USD 4 Billion by 2030, poised to grow at a compound annual growth rate (CAGR) of 6.5% from 2022 to 2030. 
The report examines the Smart Motors market's drivers and restraints and their impact analysis. Also, the report mentions global opportunities prevailing in the Smart Motors market.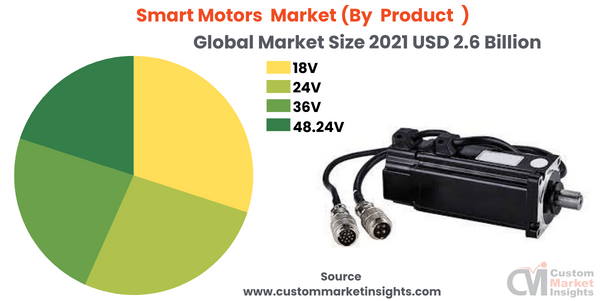 To learn more about this report, 
Browse the full "Smart Motors Market Size, Trends and Insights By Product (18V, 24V, 36V, 48.24V), By Application (Commercial, Industrial, Automotive, Oil & Gas, Water and Wastewater, Aerospace & Defense, Metal and Mining, Applications), and By Region – Global Industry Overview, Statistical Data, Competitive Analysis, Share, Outlook, and Forecast 2023–2032" report at https://www.custommarketinsights.com/report/smart-motors-market/
Smart Motors Market: Overview
An intelligent motor transforms the battery's electrical energy into rotational energy. Then, this rotational energy is employed for pumping, closing claws, turning wheels, etc. It is distinguished by integrated control electronics and features Ethernet or Fieldbus connections for communication. With a data-driven and integrated approach, intelligent motor controllers help increase production and prevent motor breakdowns.
Significant amounts of electricity are consumed by motors. They supply about 65% of the total industrial energy consumption. Unseen factors like wasted energy can drive up the cost of production. Additionally, the cost of fossil fuels is growing due to greater global competition, which has boosted the demand for energy-efficient alternatives.
 Growth Factors
When compared to conventional machinery, smart motors can consume between 40 and 60 percent less energy. As a result, a major driving force is a rising demand for energy-efficient solutions across various industries. In addition, robotic processes can save energy by integrating sophisticated motor controllers.
The expansion of intelligent motors is also aided by the participants' growing use of cutting-edge technologies, such as the IoT and cloud computing, in the industrial production sector to better adapt to changing demands.
Sales of consumer electronics and household appliances have increased dramatically due to rising disposable incomes and living standards. An intelligent electric motor powers almost all consumer electronics, including refrigerators and electric fans.
Segmental Overview
The global Smart Motors market is categorized into products and applications. Based on the application, the oil & gas segment led the world market in revenue contribution in 2021 and is anticipated to continue to rule over the anticipated period. The oil & gas sectors face numerous challenges in the current market environment relating to operational performance, the total cost of ownership (TCO), energy efficiency, and safety in upstream and downstream processes. In addition, efficiency can significantly lessen the industry's impact because it produces oil and gas and utilizes it in its operations.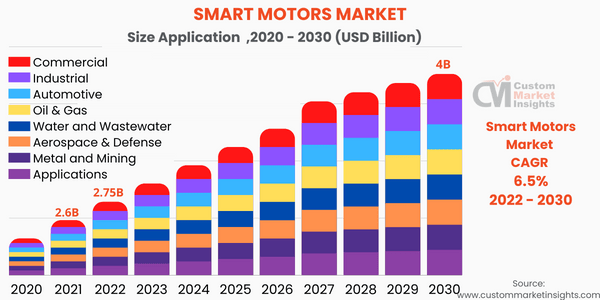 To learn more about this report, 
Energy production from ever-more-sensitive and-difficult situations is growing more complex as traditional hydrocarbon energy resources are depleted. Oil and gas companies are adopting intelligent motor systems at a previously unheard-of rate as they prioritize energy savings. The sector works to maintain the oil and gas supply while cost-effectively resolving issues with energy security and the environment.
Regional Overview
In 2021, the Asia Pacific region had the highest share geographically. The expanding adoption of automation throughout the region's numerous end-user sectors presents the examined market providers with enormous development potential. The region's energy concerns are raising the adoption of low-voltage electrical equipment and spurring countless businesses to create energy-efficient and portable electrical devices, further boosting the market for smart motors. Additionally, the region serves as a manufacturing base for numerous international markets, and automation is now crucial in these establishments. China's manufacturing sector, which contributes significantly to the country's economy, is changing quickly. The nation's industrial control system has developed in several industries, including the municipal, transportation, energy, and water sectors. The networked control system is evolving into China's industrial automation development trend due to the IoT's quick expansion and deep integration, which also expands the market for intelligent motor control centers.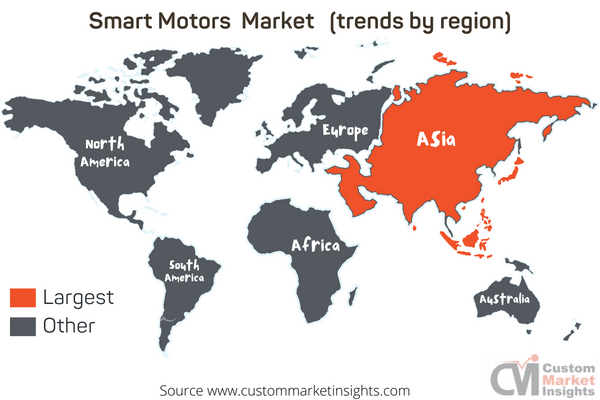 To learn more about this report, 
Report Scope
| | |
| --- | --- |
| Feature of the Report | Details |
| Market Size in 2021 | USD 2.6 Billion |
| Projected Market Size in 2030 | USD 4 Billion |
| Market Size in 2022 | USD 2.75 billion |
| CAGR Growth Rate | 6.5% CAGR (2022-2030) |
| Base Year | 2022 |
| Forecast Period | 2023-2032 |
| Prominent Players | ABB Ltd, Fuji Electric Co. Ltd. (Furukawa Co. Ltd.), Dunkermotoren GmbH (AMETEK Inc.), Nidec Corporation, General Electric Company, Moog Inc., RobotShop Inc., Siemens AG , Rockwell Automation Inc., Schneider Electric SE, Technosoft SA, and Others |
| Key Segment | By Product, Application, and Region |
| Report Coverage | Revenue Estimation and Forecast, Company Profile, Competitive Landscape, Growth Factors and Recent Trends |
| Regional Scope | North America, Europe, Asia Pacific, Middle East & Africa, and South & Central America |
| Buying Options | Request tailored purchasing options to fulfil your requirements for research. |
Key Players Insights
Our market analysis includes a section specifically devoted to key players operating in the Smart Motors market. Our analysts overview each player's financial statements, product benchmarking, and SWOT analysis. In addition, the competitive landscape section includes key development strategies, market share analysis, and market positioning analysis of globally mentioned competitors. 
Prominent Players
Wartsila
Corvus Energy
Akashi AG
Enchandia AB
Siemens
Saft Total
Leclanche SA
Echandia AB
EnerSys
Spear Power Systems
The global Smart Motors market is segmented as follows:
By Battery Type
Lithium-ion
Fuel Cell
Lead-acid
Others
By Power Output
>7,560 kW
745–7,560 KW
150-745 kW
75-150 kW
<75 kW
By Application
On the basis of Geography
North America
Europe
France
The UK
Spain
Germany
Italy
Rest of Europe
Asia Pacific
China
Japan
India
Australia
South Korea
Rest of Asia Pacific
The Middle East & Africa
Saudi Arabia
UAE
Egypt
Kuwait
South Africa
Rest of the Middle East & Africa
Latin America
Brazil
Argentina
Rest of Latin America