According to Custom Market Insights (CMI), The size of the Global White Oil market was worth around USD 2.8 billion in 2021 and is predicted to grow to around USD 3.8 billion by 2030 with a compound annual growth rate (CAGR) of roughly 4.8% between 2022 and 2030.
The report analyses the White Oil market's drivers and restraints and their impact on demand throughout the projection period. In addition, the report examines global opportunities in the global White Oil market.
To learn more about this report, 
White Oil Market: Overview
The two main forces propelling the white oil market's growth over the medium term are the pharmaceutical industry's expansion and rising demand from the cosmetics and personal care sector. However, the market under study is constrained by substitute items' availability. Prospects for the white oil market are anticipated to come from the possible use of white oil in the food and beverage sector.
Due to the swift economic development of nations like China, India, and Japan, the Asia Pacific region is anticipated to dominate the worldwide white oil market.
Browse the full "White Oil Market Size, Trends and Insights By Product (Heavy Paraffinic, Light Paraffinic, Naphthenic), By Application (Personal Care and Cosmetic, Adhesive, Pharmaceutical, Textile, Agriculture, Polymers, Food and Beverage, Others), and By Region – Global Industry Overview, Statistical Data, Competitive Analysis, Share, Outlook, and Forecast 2022–2030" report at https://www.custommarketinsights.com/report/white-oil-market/
Growth Factors
The demand for white oil has increased in several developing and developed regions due to an optimistic outlook for expanding the pharmaceutical, personal care, food, and polymer processing sectors. Another important aspect anticipated to contribute to the market's growth during the forecast period is the product's quickly rising demand in the adhesives, agriculture, and textile application areas. Although a shortage of raw resources and a price decline may limit market expansion, technical innovation will likely support the industry's steady growth over the next few years.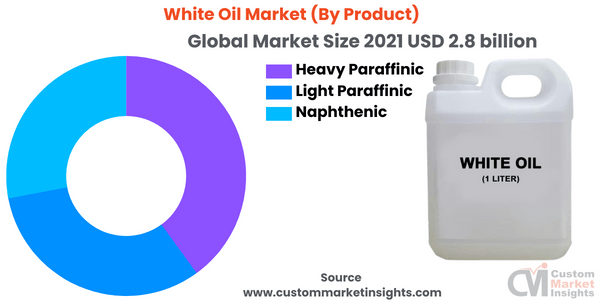 To learn more about this report, 
Segmental Overview
The market for White Oil is segmented into products and applications. Based on application, the personal care application segment is estimated to lead the market in 2021. This is due to the demand for personal care goods brought on by people's increased health awareness. While creating various personal care products, white oil is used as a basic component and emollient. It is widely used in producing various personal care goods, including cosmetics, skincare products, hair oils, moisturizers, baby items, shampoos, scents, body lotions, and water-resistant creams.
Regional Overview
The most significant and rapidly expanding market for white oil is in the Asia Pacific region. One of the biggest consumers of white oil in the Asia-Pacific is China. The world's largest market for cosmetics and skincare goods is emerging as China. The hairdressing profession, a component of the cosmetics and private care industry, is where white oils are most commonly used in India.
The pharmaceutical and general cosmetics businesses use about three-fourths of the white oil consumed in the nation. The third-largest market for cosmetics in the world is Japan. Although the population of Japan is ageing, the cosmetics industry is growing due to a rise in consumer confidence and, consequently, demand from foreign tourists. In addition, firms are expanding cosmetics production in Japan in response to the rising demand for Japanese cosmetics from Asian consumers. The need for white oils will likely increase over the projected period due to the rising demand for textiles, plastic polymers, cosmetics, medicines, and adhesives.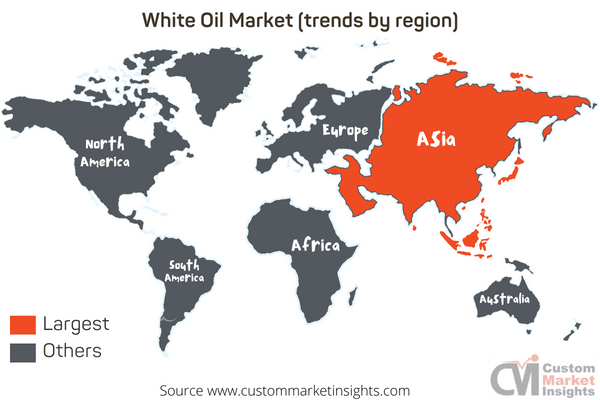 To learn more about this report, 
Report Scope
| | |
| --- | --- |
| Feature of the Report | Details |
| Market Size in 2021 | USD 2.8 billion |
| Projected Market Size in 2030 | USD 3.8 billion |
| CAGR Growth Rate | 4.8% CAGR |
| Base Year | 2021 |
| Forecast Period | 2022-2030 |
| Prominent Players | British Petroleum, ExxonMobil Corporation, Renkert Oil Inc., JX Nippon Oil & Energy Corporation, Petro-Canada, Nynas AB, Royal-Dutch Shell N.V., Sinopec Corporation, and Others |
| Key Segment | By Product, Application, and Region |
| Report Coverage | Revenue Estimation and Forecast, Company Profile, Competitive Landscape, Growth Factors and Recent Trends |
| Regional Scope | North America, Europe, Asia Pacific, Middle East & Africa, and South & Central America |
| Buying Options | Request tailored purchasing options to fulfill your requirements for research. |
Competitive Landscape/ Key Players Insights
The market for White Oil is partially consolidated. The large concentration of players operating in the White Oil market influences the overall pricing strategy of the product, as per prevailing market conditions. The manufacturers are involved in producing and supplying many moringa ingredients for diversified application bases. A strong supplier base with a large customer base moderately limits the chances of competitive rivalry among the producers. Further, companies are focused on introducing new products to capture market share.
Some of the prominent players
British Petroleum
ExxonMobil Corporation
Renkert Oil, Inc.
JX Nippon Oil & Energy Corporation
Petro-Canada
Nynas AB
Royal-Dutch Shell N.V.
Sinopec Corporation
The global White Oil market is segmented as follows:
By Product
Heavy Paraffinic
Light Paraffinic
Naphthenic
By Application
Personal Care and Cosmetic
Adhesive
Pharmaceutical
Textile
Agriculture
Polymers
Food and Beverage
Others
On the basis of Geography
North America
Europe
France
The UK
Spain
Germany
Italy
Rest of Europe
Asia Pacific
China
Japan
India
Australia
South Korea
Rest of Asia Pacific
The Middle East & Africa
Saudi Arabia
UAE
Egypt
Kuwait
South Africa
Rest of the Middle East & Africa
Latin America
Brazil
Argentina
Rest of Latin America