China led the market for Graphite Electrodes.
According to Custom Market Insights (CMI), The Global Graphite Electrode Market size was estimated at USD 7 Billion in 2021 and is expected to hit around USD 12.5 Billion by 2030, poised to grow at a compound annual growth rate (CAGR) of 11% from 2022 to 2030.
The report examines the Graphite Electrode market's drivers and restraints and their impact analysis. Also, the report mentions global opportunities prevailing in the Graphite Electrode market.
Graphite Electrode Market: Overview
Graphite electrodes are a crucial component in producing electric arc steel and the ladle refinement of steel. They also have a significant impact on the automobile sector. One of the main factors propelling the expansion of the global market is the rising use of graphite in lithium-ion batteries.
The market for graphite electrodes has grown significantly over the past few years. The market is expanding due to the rising demand for high-quality steel.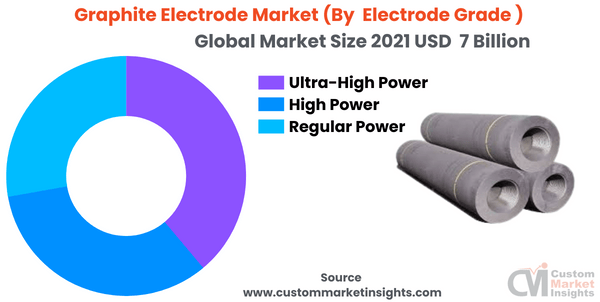 To learn more about this report, 
Browse the full "Graphite Electrode Market Size, Trends and Insights By Electrode Grade (Ultra-High Power, High Power, Regular Power), By Application (Electric Arc Furnace, Ladle Furnace, Others), and By Region – Global Industry Overview, Statistical Data, Competitive Analysis, Share, Outlook, and Forecast 2022–2030" report at https://www.custommarketinsights.com/report/graphite-electrode-market/
 Growth Factors
The rapid expansion of steel production in developing nations and the accessibility of steel scrap in China is anticipated to propel market expansion shortly. On the other hand, the study market's growth will probably be hampered by the skyrocketing price of needle coke. The industry is anticipated to benefit from China's expanding electric arc furnace (EAF) steel production in the upcoming years.
Segmental Overview
The global Graphite Electrode market is categorized into electrode grade and application. By electrode grade, in 2021, the Electric arc furnace segment had the highest share. Steel is made by melting solid pig iron, steel scrap, direct reduced iron (DRI), hot briquetted iron (HBI), or DRI in an electric arc furnace (EAF). Electricity provides the necessary force to melt the feedstock in the EAF pathway.
Graphite electrode is primarily utilized in the electric arc furnace (EAF) steelmaking process to melt steel scrap. Graphite is used to make electrodes because of its resistance to high temperatures. In EAF, the electrode tip can reach 3,000º F or about 50 per cent of the temperature of the sun's surface. Electrodes can be between 75 mm and 750 mm in diameter and 2,800 mm in length. UHP electrodes (generally 350 mm and larger) and HP and UHP electrodes (typically 400 mm and smaller) are frequently used in electric arc furnaces (EAF) in steel mills and iron and steel foundries, respectively.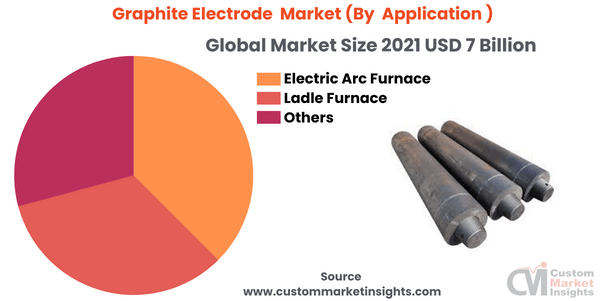 To learn more about this report, 
Costs at EAF mills have increased due to the recent spike in graphite electrode prices. Compared to 2017, the cost of graphite electrodes in China increased by more than 700% in 2019. As a result, the average price of graphite electrodes in China was CNY 20,818/tonne as of February 16, 2022, up 5.17% from the start of the year and 44.48% from the same time the previous year.
Regional Overview
China dominates the market in terms of global graphite electrode consumption and production capacity. In China, there are currently more than 40 official makers of graphite electrodes, with 30 new entrants that produce both electrodes and other refractory products being noted in the last two to three years. When China started to invest substantially in higher steel production rates via electric arc furnaces in 2017, producers hurried to install capacity for graphite electrodes. The decision-making bodies in China have aggressively urged using EAF steelmaking technology to lower carbon emissions and achieve sustainability in the nation's steel industry. As a result, 2,60,82,220 automobiles were produced in 2021.
The amount of steel produced in China using electric furnaces is less than the average worldwide. However, the proportion, driven by policy reasons, is anticipated to rise, enhancing the need for ultra-high-power graphite electrodes.
Therefore, it is anticipated that the reasons above will propel the expansion of the graphite electrodes market in China.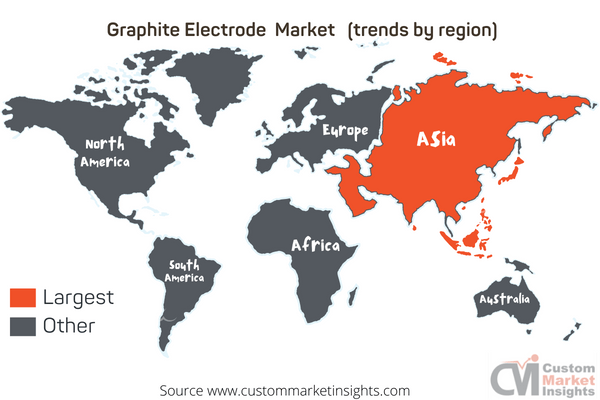 To learn more about this report, 
Report Scope
| | |
| --- | --- |
| Feature of the Report | Details |
| Market Size in 2021 | USD 7 Billion |
| Projected Market Size in 2030 | USD 12.5 Billion |
| Market Size in 2022 | USD 7.6 billion |
| CAGR Growth Rate | 11% CAGR |
| Base Year | 2021 |
| Forecast Period | 2022-2030 |
| Prominent Players | EPM Group, Graphite India Limited, GrafTech International Ltd, HEG Ltd, Kaifeng Carbon Co. Ltd , Zhongping Energy & Chemical Group (KFCC), Nippon Carbon Co Ltd., Tokai Carbon Co. Ltd., Nantong Yangzi Carbon Co. Ltd., Sangraf International, SHOWA DENKO K.K., and Others |
| Key Segment | By Electrode Grade, Applicatio, and Region |
| Report Coverage | Revenue Estimation and Forecast, Company Profile, Competitive Landscape, Growth Factors and Recent Trends |
| Regional Scope | North America, Europe, Asia Pacific, Middle East & Africa, and South & Central America |
| Buying Options | Request tailored purchasing options to fulfil your requirements for research. |
Key Players Insights
Our market analysis includes a section devoted to key players operating in the Graphite Electrode market. Our analysts overview each player's financial statements, product benchmarking, and SWOT analysis. In addition, the competitive landscape section includes key development strategies, market share analysis, and market positioning analysis of globally mentioned competitors. 
Prominent Players
EPM Group
Graphite India Limited
GrafTech International Ltd
HEG Ltd
Kaifeng Carbon Co., Ltd, Zhongping Energy & Chemical Group (KFCC)
Nippon Carbon Co Ltd.
Tokai Carbon Co., Ltd.
Nantong Yangzi Carbon Co., Ltd.
Sangraf International
SHOWA DENKO K.K.
The global Graphite Electrode market is segmented as follows:
By Electrode Grade
Ultra-High Power
High Power
Regular Power
By Application
Electric Arc Furnace
Ladle Furnace
Others
On the basis of Geography
North America
Europe
France
The UK
Spain
Germany
Italy
Rest of Europe
Asia Pacific
China
Japan
India
Australia
South Korea
Rest of Asia Pacific
The Middle East & Africa
Saudi Arabia
UAE
Egypt
Kuwait
South Africa
Rest of the Middle East & Africa
Latin America
Brazil
Argentina
Rest of Latin America