The Stationary Air Compressors Segment held the Largest Share of the Industrial Air Compressor Market in 2021
According to Custom Market Insights (CMI), The Global Industrial Air Compressor Market size was estimated at USD 34 Billion in 2021 and is anticipated to reach around USD 63 Billion by 2030, growing at a CAGR of roughly 7% between 2022 and 2030.
Our research report offers a 360-degree view of the Industrial Air Compressor market's drivers and restraints, coupled with their impact on demand during the projection period. Also, the report examines global opportunities and competitive analysis for the Industrial Air Compressor market.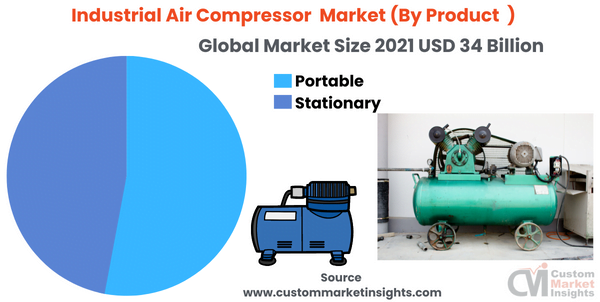 To learn more about this report, 
Industrial Air Compressor Market: Overview
An industrial air compressor is a device that uses a gasoline engine, electric motor, or diesel to convert power into potential energy stored in compressed air. Industrial pumps and compressors have comparable jobs, but pumps concentrate on liquids like water and oil, whereas compressors pressurize air and gases. Agricultural facilities, industrial operations, running laundry pressers in dry cleaners, spraying crops, powering pneumatic gear, and ventilation silos all employ industrial air compressors. Various processes in food and beverage, oil and gas, and other industries also use them.
Browse the full "Industrial Air Compressor Market Size, Trends and Insights By Product (Portable , Stationary), By Technology (Rotary, Centrifugal, Reciprocating), By Output (Up to 15 kW, 16 – 75 kW, 75 – 500 kW, More than 500 kW), By End-use (Food & beverage, Energy & Mining, Agriculture/Farming, Oil & gas, Semiconductor & electronics, Construction & municipal, Manufacturing, Pharma, Others), By Coolant Type (Air-Cooled, Water-Cooled), and By Region – Global Industry Overview, Statistical Data, Competitive Analysis, Share, Outlook, and Forecast 2022–2030 " report at https://www.custommarketinsights.com/report/industrial-air-compressor-market/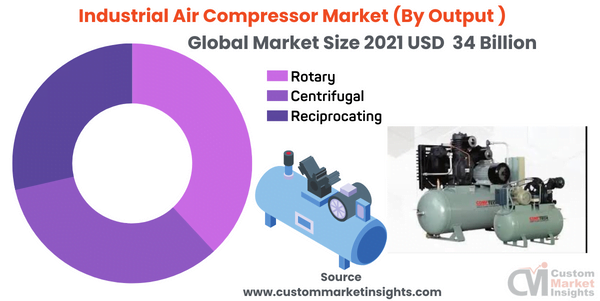 To learn more about this report, 
Growth Factors
Due to their ability to retrofit existing systems, low maintenance costs, and variable speed control, air compressors are employed more frequently in important end-use sectors. Energy-efficient compressors are in greater demand as a result of their economical operation. The increased number of gas compressor stations has also given rise to growing worries about air quality. Air monitoring devices are also often implemented to assess the effects of air and gas compressors. In addition, the industry's continued investments and non-oil-based initiatives are driving up demand for air compressors. Leading manufacturers are developing eco-friendly and low-maintenance systems to entice customers to adopt next-generation products.
To set their products apart from rivals, many businesses, including Ingersoll Rand Plc and Atlas Copco Inc., have developed high-performance next-generation systems. For instance, modern air compressors have lower noise levels and increased efficiency. As a result, many application areas have witnessed tremendous growth for cutting-edge compressors that offer high cost-saving techniques. Due to consumers placing a greater emphasis on overall solutions and lifecycle costs, energy-efficient air compressors are becoming increasingly popular. Compressed air is also being used more frequently by industrial power tools, which further helps the market expand.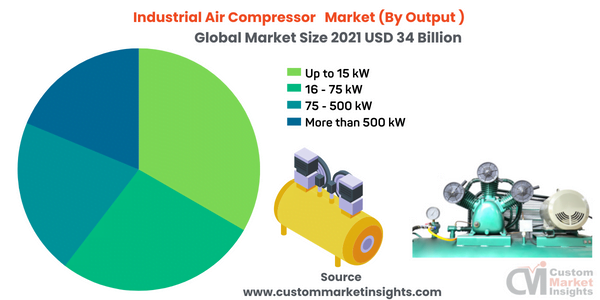 To learn more about this report, 
A growing emphasis on energy efficiency, energy recovery, and CO2 emissions is anticipated to drive the market as air compressor demand rises in the wake of COVID-19. The increased need for monitoring compressed air systems is projected to be a significant revenue growth throughout the forecasted period. Additionally, the demand for air compressors in the food and beverage market is anticipated to be driven by stringent food safety and health laws. A rise in oil and gas extraction investments in North America and the Middle East is also expected to contribute to the market growth for air compressors.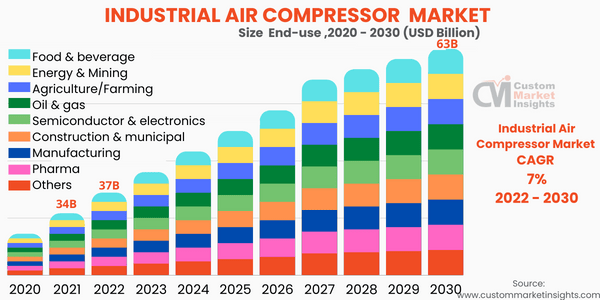 To learn more about this report, 
Segmental Overview
The market for Industrial Air Compressors is segmented into product, technology, end-user, output, and coolant type. Based on the product, in 2021, stationary air compressors in manufacturing will have a significant market share of about 55%. These compressors are also frequently found in the oil and gas sector, where they are utilized to power pneumatic machinery like pipelines and machinery for the extraction and purification of oil. As these products are used more frequently in mining and construction, the portable air compressor segment is anticipated to develop at the highest CAGR over the forecast period. Construction, among other industries, uses portable air compressors as dependable power sources for tools and machinery. The popularity of these compressors in low-duty applications has also grown due to their simplicity of use and low maintenance needs.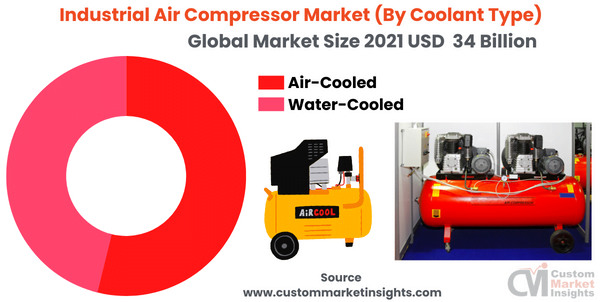 To learn more about this report, 
Regional Overview
Due to government investments in infrastructure development and fast industrialization, Asia Pacific will hold more than 30% market share in 2021. Air compressors are employed in numerous applications that promote industrial growth and those related to the food and beverage, manufacturing, home appliance, and oil and gas sectors. The market is anticipated to be driven by a sizable electronics and semiconductor manufacturing industry base in China and Taiwan and several compressor manufacturers in India and China. Growth in North America and Europe is anticipated to be steady during the projection period. However, it is expected that rising investments in Eastern Europe would accelerate the development of industrial air compressors. Additionally, the market will grow as a result of consumers' increasing preference for items that are simple to use and low-energy.
Report Scope
| | |
| --- | --- |
| Feature of the Report | Details |
| Market Size in 2021 | USD 34 Billion |
| Projected Market Size in 2030 | USD 63 Billion |
| Market Size in 2022 | USD 37 billion |
| CAGR Growth Rate | 7% CAGR |
| Base Year | 2021 |
| Forecast Period | 2022-2030 |
| Prominent Players | Ariel Corporation, IHI Corporation Ltd, Howden Group Ltd., Kaeser Kompressoren Co. Ltd., Mayekawa Mfg. Co. LTD, Kobe Steel Ltd, Mikuni Kikai Kogyo Co. LTD., Mitsui E&S Holdings Co. Ltd, Parker Hannifin Corporation, The Japan Steel Works LTD., Siemens AG, Hitachi Ltd, Ingersoll Rand Inc., Mitsubishi Heavy Industries Ltd., Elgi Equipments, Sulzer Ltd., Danfoss A/S, and Others |
| Key Segment | By Product, Technology, Output, End-us, Coolant Type, and Region |
| Report Coverage | Revenue Estimation and Forecast, Company Profile, Competitive Landscape, Growth Factors and Recent Trends |
| Regional Scope | North America, Europe, Asia Pacific, Middle East & Africa, and South & Central America |
| Buying Options | Request tailored purchasing options to fulfil your requirements for research. |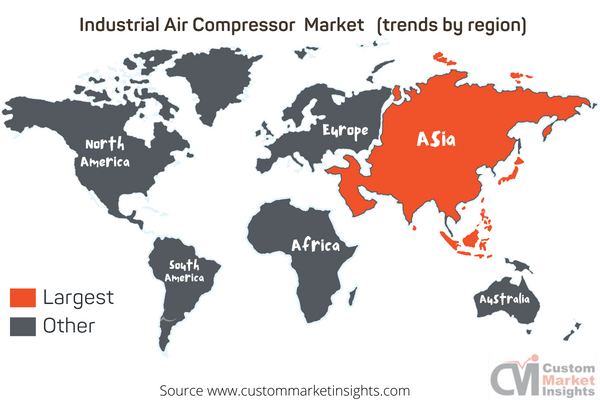 To learn more about this report, 
Key Players Insights
Our market analysis includes a section specifically devoted to key players operating in the Industrial Air Compressor market. Our analysts overview each player's financial statements, product benchmarking, and SWOT analysis. In addition, the competitive landscape section includes key development strategies, market share analysis, and market positioning analysis of globally mentioned competitors. 
2019: An energy-efficient line of portable air compressors in both electric and diesel form was introduced by the air compressor manufacturer Elgi Equipments.

2019: For the Indian market, Atlas Copco unveiled five new air compressor models. The primary goals of the launch of these goods are to meet changing consumer demands and increase productivity across various industries, including food and beverage, textile, and cement.
Prominent Players
Ariel Corporation
IHI Corporation Ltd
Howden Group Ltd.
Kaeser Kompressoren Co. Ltd.
Mayekawa Mfg. Co. LTD
Kobe Steel Ltd
Mikuni Kikai Kogyo Co. LTD.
Mitsui E&S Holdings Co Ltd
Parker Hannifin Corporation
The Japan Steel Works LTD.
Siemens AG
Hitachi Ltd
Ingersoll Rand Inc.
Mitsubishi Heavy Industries Ltd.
Elgi Equipments
Sulzer Ltd.
Danfoss A/S
The global Industrial Air Compressor market is segmented as follows:
By Product
By Technology
Rotary
Centrifugal
Reciprocating
By Output
Up to 15 kW
16 – 75 kW
75 – 500 kW
More than 500 kW
By End-use
Food & beverage
Energy & Mining
Agriculture/Farming
Oil & gas
Semiconductor & electronics
Construction & municipal
Manufacturing
Pharma
Others
By Coolant Type
On the basis of Geography
North America
Europe
France
The UK
Spain
Germany
Italy
Rest of Europe
Asia Pacific
China
Japan
India
Australia
South Korea
Rest of Asia Pacific
The Middle East & Africa
Saudi Arabia
UAE
Egypt
Kuwait
South Africa
Rest of the Middle East & Africa
Latin America
Brazil
Argentina
Rest of Latin America