According to Custom Market Insights (CMI), The Global Metrology Market share was estimated at USD 9.5 Billion in 2021 and is expected to hit around USD 15.75 Billion by 2030, poised to grow at a compound annual growth rate (CAGR) of 6.10% from 2022 to 2030.
Our recently published report, "Metrology Market", offers a comprehensive and deep evaluation of the market stature. Also, the market report estimates the market size, revenue, price, market share, market forecast, growth rate, and competitive analysis.
Metrology Market: Overview
The study of measurement is known as metrology. It facilitates a shared understanding of units and is crucial for tying together human endeavors. Metrology enforces, validates, and confirms defined traceability, accuracy, and reliability criteria. These elements are significant because they affect the reliability of the measurements. Since these criteria may differ significantly, the government and the relevant authorities have enforced them. As a result, calibration laboratories validate and evaluate these standards about a recognized quality system. Since they are centered on the accuracy, industries, including the production of medical devices, the automobile, and the aerospace sectors, have a high adoption of metrology equipment. Systems for measuring dimensions reduce the likelihood of minor damage and significantly reduce manufacturing time and expense.
Browse the full "Metrology Market Size, Trends and Insights By Product (CMM, ODS), By End-user (Automotive, Aerospace, Industrial, Power Generation, Others), and By Region – Global Industry Overview, Statistical Data, Competitive Analysis, Share, Outlook, and Forecast 2022–2030" report at https://www.custommarketinsights.com/report/metrology-market/
Growth Factors
The development of portable metrology equipment and software-driven process automation for industry-specific bespoke services has accelerated market expansion. The need for Computer-Aided Manufacturing (CAM) and Computer-Aided Designed (CAD) based processes is expected to increase because of the demand for high precision and fewer tolerance limitations in the automotive, aerospace, medical, electronics, and other industrial sectors. Power generation, electronics, and the automobile industries all need components with tight tolerances and high accuracy. The need for metrology equipment and services is also being driven by an increase in the global quality requirements for precise management throughout the industry.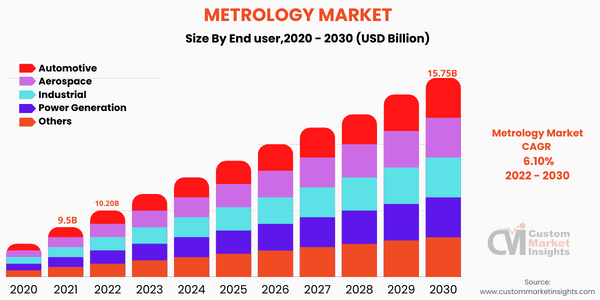 To learn more about this report, 
Service providers offer metrology services, which are measurement services, for a range of end-use industries, including automotive, aerospace, manufacturing, and power generation, among others. Over the forecasted period, it is predicted that the global market for metrology services will overgrow as more applications are being developed in various end-use industries. These services assist in boosting efficiency by increasing production while maintaining the exact resource requirements.
To perform tasks like quality control and inspection, 3D measurement, product quality optimization, reverse engineering, etc., throughout the manufacturing process, several types of metrology products may be used singly or as a component of an integrated system. However, high-precision equipment is expensive, making it difficult for producers to maintain their inventory consistently. Due to this, the service sector has emerged, allowing manufacturers to use outside vendors for their measurement needs.
Segmental Overview
The metrology market is segmented into the product and end user. According to the product, the coordinate measuring machine (CMM) segment is expected to increase at the quickest rate. For testing, assembly, design, profiling, and reverse engineering of parts, CMM offers accurate measurements of objects. The industrial automation industry is expected to drive the market for metrology services during the forecast period due to the high demand for the calibration, machine installation, and retrofitting services offered by CMM.
The global market is divided into automotive, aerospace, manufacturing, energy & power, consumer electronics, and others on the manner of the end user. In 2021, the aerospace category led the market and was anticipated to expand quickly over the forecast period. Despite its numerous advantages, composite is a challenging material that demands precise assembly with minimal error margins.
The use of metrology in the production process reduces the need to scrap or rework the material and costly errors. Additionally, metrology software helps manufacturers by enabling the creation of 3-D models instead of being constrained to rigid tooling structures. Engineers have access to more adaptable, quick-change tools thanks to 3-D models. The Long Bore CMM, a new generation of specialized coordinate measuring instruments, is helpful for more significant, crucial components like jet engine shafts. The Long Bore CMM ensures that the geometry and dimensions of such a component meet the strict standards and needs of the engine designers.
Regional Overview
The Asia-Pacific region held the most significant market share in the metrology industry. This is because the area produces defense aircraft, which is anticipated to increase the number of 3D metrology inspection applications in the aerospace and defense industry.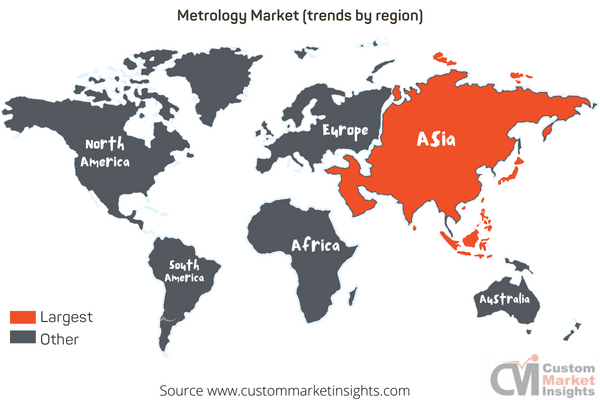 To learn more about this report, 
Report Scope
Feature of the Report
Details
Market Size in 2021
USD

9.5 Billion

Projected Market Size in 2030
USD

15.75 Billion

Market Size in 2022
USD 10.20 billion
CAGR Growth Rate

6.10

% CAGR
Base Year
2021
Forecast Period
2022-2030
Prominent Players
Carl Zeiss AG, Pollen Metrology, Cairnhill Metrology, Faro Technologies, Pantac Metrology, Exact metrology Inc., Jenoptik AG, Automated Precision, Mitutoyo Corporation, Nikon Corporation, Renishaw PLC, Perceptron Inc., Precision Products, CARMAR ACCURACY, JLM Advanced Technical Services, and Others
Key Segment
By Product, End-user, and Region
Report Coverage
Revenue Estimation and Forecast, Company Profile, Competitive Landscape, Growth Factors, and Recent Trends
Regional Scope
North America, Europe, Asia Pacific, Middle East & Africa, and South & Central America
Buying Options
Request tailored purchasing options to fulfill your requirements for research.
Competitive Landscape
The players have implemented various strategies to expand the global advanced lithium batteries market. The study contains a thorough competitive analysis of the significantly advanced lithium batteries market participants and information on their company overviews, recent developments, and vital business strategies. 
Prominent Players
Carl Zeiss AG
Pollen Metrology
Cairnhill Metrology
Faro Technologies
Pantac Metrology
Exact Metrology Inc.
Jenoptik AG
Automated Precision
Mitutoyo Corporation
Nikon Corporation
Renishaw PLC
Perceptron Inc.
Precision Products
CARMAR ACCURACY
JLM Advanced Technical Services
The global metrology market is segmented as follows:
By Product
By End-user
Automotive
Aerospace
Industrial
Power Generation
Others
On the basis of Geography
North America
Europe
France
The UK
Spain
Germany
Italy
Rest of Europe
Asia Pacific
China
Japan
India
Australia
South Korea
Rest of Asia Pacific
The Middle East & Africa
Saudi Arabia
UAE
Egypt
Kuwait
South Africa
Rest of the Middle East & Africa
Latin America
Brazil
Argentina
Rest of Latin America