According to Custom Market Insights (CMI), The Global Military Transport Aircraft Market size was estimated at USD 29.4 Billion in 2021 and is expected to hit around USD 45.4 Billion by 2030, poised to grow at a compound annual growth rate (CAGR) of 4.8% from 2022 to 2030.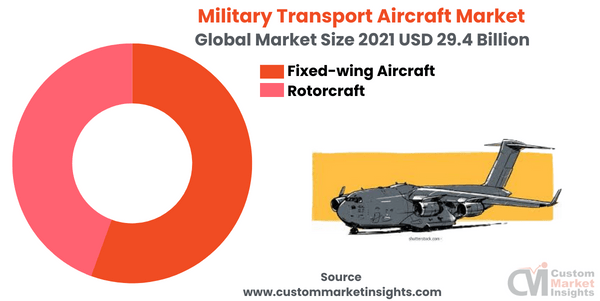 To learn more about this report, 
Military transport aircraft is an essential component in warfighting operations to ensure the delivery of weapons, troops, and other military equipment. In addition, such aircraft perform intelligence-gathering, aerial refueling, and rescue missions coupled with an extensive range of mission-critical tasks. As a result, spending on military transport aircraft is growing rapidly across the globe as many countries invest considerable sums in the procurement of defense equipment. For instance, in February 2022, the defense ministry of Serbia finalized its deal of about $91 million to acquire two C-295 medium tactical transport aircraft manufactured by Construcciones Aeronautics, a subsidiary of Airbus. 
Browse the full "Military Transport Aircraft Market Size, Trends and Insights By Aircraft Type (Fixed-wing Aircraft, Rotorcraft), By Application (Troop Airlifting, Cargo Supply, Others), and By Region – Global Industry Overview, Statistical Data, Competitive Analysis, Share, Outlook, and Forecast 2022–2030" report at https://www.custommarketinsights.com/report/military-transport-aircraft-market/
Military Transport Aircraft Market Dynamics
 Drivers
 Demand for transport aircraft in the military sector is projected to increase rapidly in upcoming years to support military operations. In addition, there is rising adoption of smaller cargo aircraft to transport military communications equipment. Also, military transport aircraft development by major industry players is mainly focused on designing solutions with higher airlift capability to carry heavy cargo such as large-size vehicles and battle tanks. Such factors are fueling the growth of the market.
Moreover, many countries are actively procuring military aircraft to meet the demand for transport aircraft that conduct multi-role operations in all-weather and year-round conditions. For example, in November 2021, the Y-20 transport aircraft of the Chinese People's Liberation Army (PLA) Air Force delivered items of recently developed 160,000 sets of cold-resistant equipment and clothing to Chinese border defense troops stationed in the plateau regions. 
Restraints.
 COVID-19's effects on the raw material supply chain have created significant difficulties in producing military transport aircraft. Also, deliveries of military aviation have decreased considerably owing to the impact of the COVID-19 pandemic on the supply chain. This factor may hamper the growth of the Military Transport Aircraft market globally.
Military Transport Aircraft Market Opportunities
 An ongoing trend among countries to develop advanced military aircraft is expected to create lucrative growth opportunities for the market in the upcoming years. In addition, growing cross-border activities and conflicts among countries such as South Korea, China, Ukraine, Russia, and India have developed more sophisticated aerospace technologies. For instance, in December 2021, Antonov State Enterprise (part of Ukroboronprom), the Ukrainian aircraft manufacturer, launched the An-178-100R military aircraft to transport personnel, weapons, and light military equipment. 
 Challenges.
 Most global military transport aircraft market OEMs face supply chain challenges. This is attributed to the fact that the army aircraft supply chains are complex and comprise different types of manufacturers, suppliers, and maintenance providers. 
Also, labor shortages and the lack of skilled workforce in the military transport aircraft sector lead to slower production times. Posing a significant challenge to the market growth. 
Military Transport Aircraft Market Report Highlights
Based on aircraft type, the rotorcraft is expected to grow at the most excellent CAGR and is projected to be in a dominant position due to the rising trend of advanced rotary-wing aircraft development and benefits such as vertical take-off and the requirement of minimal space for landing. In addition, such aircraft can land almost anywhere, giving them a definite advantage. Therefore, this segment comprises aircraft with one or more rotors that help lift throughout the flight, such as helicopters, gyrodynes, and autogyros.
Based on application, the troop airlifting segment is the leading and expected to make the most significant contribution in the upcoming years. 
Regional Snapshots. 
 North America held a dominant position and is predicted to dominate during the forecast period in military transport aircraft market. Increasing defense spending across the U.S. primarily fuels the market's growth in this region. For instance, in 2020, U.S. military spending reached $778 billion, with an increase of about 4.4% compared to the expenditure in 2019. On the other hand, continuing research and development in the military aircraft sector is opportunistic for the growth of the market in the region. For instance, in September 2020, the U.S. Air Force secretly designed and flew a prototype of its enigmatic next-generation fighter jet. However, the Asia-Pacific region is expected to witness the highest growth rate during the forecast period.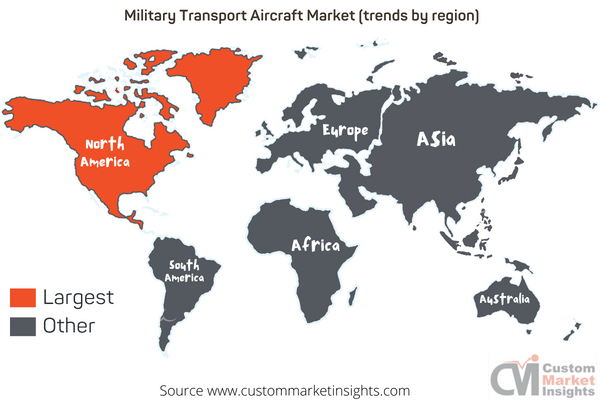 To learn more about this report, 
The market growth in this region is mainly driven by an increased emphasis on the procurement of military aircraft by India and China to strengthen their military capabilities. For instance, in January 2021, India planned to procure 56 medium military transport aircraft worth about $2.5 billion to reinforce the Indian Air Force (IAF) capabilities.
Military Transport Aircraft Market Report Scope
| | |
| --- | --- |
| Feature of the Report | Details |
| Market Size in 2021 | USD 29.4 Billion |
| Projected Market Size in 2030 | USD 45.4 Billion |
| Market Size in 2022 | USD 31.17 billion |
| CAGR Growth Rate | 4.8% CAGR |
| Base Year | 2021 |
| Forecast Period | 2022-2030 |
| Prominent Players | Airbus S.A.S., Leonardo SpA, Lockheed Martin Corporation, Embraer SA, Boeing, Bell Textron Inc., Northrop Grumman, Kawasaki Heavy Industries Ltd, GE Aviation, ANTONOV COMPANY, and Others |
| Key Segment | By Aircraft Type, Application, and Region |
| Report Coverage | Revenue Estimation and Forecast, Company Profile, Competitive Landscape, Growth Factors and Recent Trends |
| Regional Scope | North America, Europe, Asia Pacific, Middle East & Africa, and South & Central America |
| Buying Options | Request tailored purchasing options to fulfil your requirements for research. |
Military Transport Aircraft Market Key Players
Airbus S.A.S.
Leonardo SpA
Lockheed Martin Corporation
Embraer SA
Boeing
Bell Textron Inc.
Northrop Grumman
Kawasaki Heavy Industries Ltd
GE Aviation
ANTONOV COMPANY
Recent Developments.
In August 2022, Lockheed Martin, an American aerospace, arms, information security, defense, and technology corporation, was awarded a $7.6 billion contract from the U.S. military and allied forces to produce 129 F-35 stealth fighters.  
Segments covered in the report
By Aircraft Type
Fixed-wing Aircraft
Rotorcraft
By Application
Troop Airlifting
Cargo Supply
Others
On the basis of Geography
North America
Europe
France
The UK
Spain
Germany
Italy
Rest of Europe
Asia Pacific
China
Japan
India
Australia
South Korea
Rest of Asia Pacific
The Middle East & Africa
Saudi Arabia
UAE
Egypt
Kuwait
South Africa
Rest of the Middle East & Africa
Latin America
Brazil
Argentina
Rest of Latin America