According to Custom Market Insights (CMI), The Global Passenger Information Display System Market size was estimated at USD 24.87 billion in 2021 and is expected to hit around USD 55.9 billion by 2030, poised to grow at a compound annual growth rate (CAGR) of 13.2% from 2022 to 2030.  
An automated system called a passenger information display system is employed to give users of public transportation visual information about the condition and kind of service. 
The need for the passenger information display system market is driven by an increase in the demand from passengers for accurate real-time transit information, improvements in the telecommunications sector to enable quicker data transfer, and an increase in the use of cloud & big data technologies among the transportation industry. Additionally, growing security concerns on public transportation increased funding for intelligent transportation systems, and an increase in the number of travelers utilizing public transportation are some factors propelling the growth of the worldwide passenger display system market.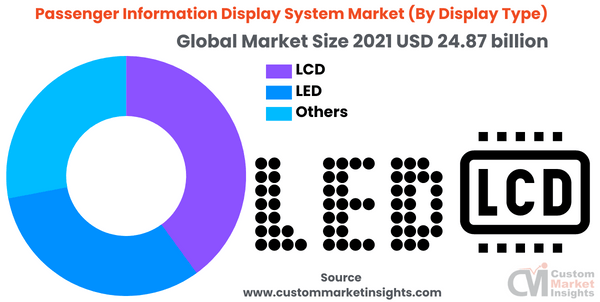 To learn more about this report, 
Passengers at stations or cars can view real-time visual information on display devices. Display systems assist in integrating passenger data into dynamic displays that direct, educate, and keep passengers updated as they proceed. Wayfinding, gates, departures, emergency information, and real-time, context-based updates are all shared through the display systems. These systems reduce missed transfers and wait times with real-time arrivals and departures pushed directly to screens throughout terminals. They also assist in delivering news, advertisements, safety and emergency messages, and entertainment content for the efficient and prompt delivery of information to passengers.
Browse the full "Passenger Information Display System Market Size, Trends and Insights By Display Type (LCD, LED, Others), By Transportation Mode (Roadways, Railways, Airways), and By Region – Global Industry Overview, Statistical Data, Competitive Analysis, Share, Outlook, and Forecast 2022–2030" report at https://www.custommarketinsights.com/report/passenger-information-display/
Market Dynamics 
Drivers
 Demand for passenger information display systems will increase as more transportation companies strive to give customers accurate and reliable real-time travel information. Some market growth drivers include the rising use of mobile devices, the internet, and the need for passengers and travelers to look for factual information to improve connectivity and safe travel.
The demand for sophisticated transportation systems and rising lot usage in the transportation sector are driving the growth of the passenger information display system market. One of the major factors driving the market expansion for traveler data frameworks is the growing need for passengers for accurate and reliable continual trip data. In addition, a rise in demand for intelligent transportation systems, along with advancements in media transmission to enable faster information transfer capabilities, is fueling the market growth.
Additionally, the need for smart transportation systems is growing, and the Internet of Things (IoT), the cloud, and significant information improvements in the transportation sector are boosting the sales of traveler data displays worldwide.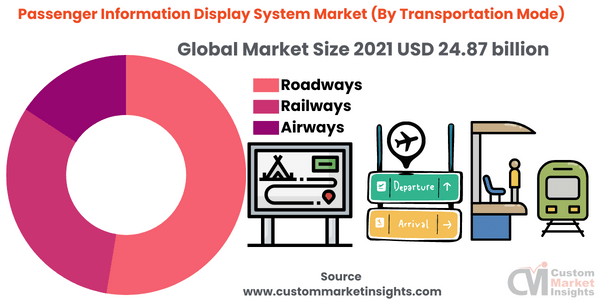 To learn more about this report, 
The market is anticipated to grow due to the rising number of passengers using public transportation services. Despite a decline in demand for public transportation during the COVID-19 pandemic and the implementation of lockdowns, there has been strong growth in total passenger journeys over the past three years, and this growth is anticipated to continue in the years to come. 
Due to an increase in corporate investments made by various corporations in developing nations like China and India, the passenger information display system market is driving. Additionally, to keep up with the fierce competition in the market and boost productivity, corporate firms are increasing their investments in passenger display system software along with strong economic growth and expansion in the services sector.
Restraints
 Strict transportation regulatory rules are the constraint. COVID-19's effects on the raw material supply chain have created additional difficulties that must be overcome. It may hamper the growth of the global passenger information display system market.
 Opportunities
 Big data and analytics would speed up decision-making and give more control over public transportation systems in the market for passenger information displays. It not only reduces decision-making latency for linked devices but also offers more scalability. Additionally, because cloud platforms have built-in security, data management, and data analytics, providers of passenger information display systems are using them to store and process enormous volumes of data.
Edge analytics gathers, observes, and analyzes data from network devices, including sensors, routers, gateways, and switches at the network's edge. Edge analytics would provide closed-circuit televisions (CCTVs) and security cameras with fast analytical capabilities in the dense ecosystem of smart public transit. Therefore, it would be a profitable opportunity for manufacturers of passenger information display systems to implement this technology and offer the industry substantial growth potential.
 Challenges
 Installation of a passenger information display system is expensive since it necessitates a complete overhaul of the current system. Railways and municipal bus services are originally under government control in most nations. Governments all across the world place a high priority on building airports and metro systems while investing little or nothing in trains and buses. Additionally, a lot of paperwork and bureaucracy at all levels slows decision-making, influencing the adoption of innovative technology like passenger information display systems. 
 Report Highlights
Based on display type, the liquid crystal display (LCD) category is expected to grow at the greatest CAGR and is projected to be in a dominant position in the future. Due to its ability to survive various environmental difficulties, the sturdy, digital LCD passenger display has increased in popularity. The popularity of LCD technology is also being fueled by several characteristics offered by these solutions, including static content, one- or double-sided boards, bicolor, and the availability of indoor as well as outdoor solutions.
Based on transportation mode, the airways segment is the leading segment and is expected to make the largest contribution due to the increase in passenger display system deployment at big airports for each terminal or major airline.
Regional Snapshots
 North America held a dominant position and is predicted to dominate during the forecast period in the passenger information display system market. Many businesses in the area have quickly embraced and invested in cutting-edge technology like big data, analytics, and cloud platforms.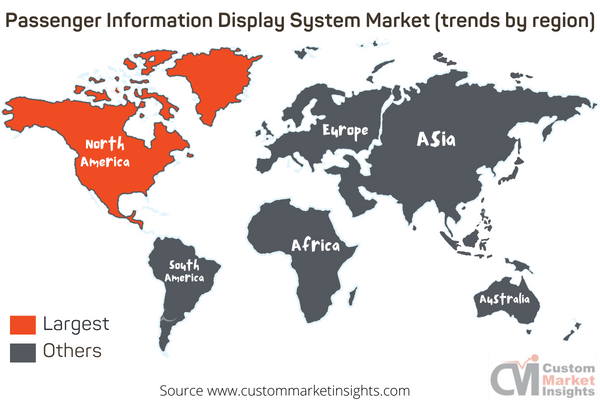 To learn more about this report, 
The existence of major corporations and the rising need among companies to automate corporate decision-making processes to boost efficiency are other factors that fuel the growth of the passenger information display system market. Due to its dominance in North America, the U.S. has seen rapid advancements in automobile technology, high usage requirements, and the quality of wire and cable. The need for information display is dominating in this region due to the number of travelers during the forecasted period.
Report Scope
| | |
| --- | --- |
| Feature of the Report | Details |
| Market Size in 2021 | USD 24.87 billion |
| Projected Market Size in 2030 | USD 55.9 billion |
| CAGR Growth Rate | 13.2% CAGR |
| Base Year | 2021 |
| Forecast Period | 2022-2030 |
| Prominent Players | ALSTOM, HITACHI LTD., INDRA SISTEMAS S.A., MITSUBISHI ELECTRIC CORPORATION, CUBIC CORPORATION, SINGAPORE TECHNOLOGIES ELECTRONICS LIMITED (ST ENGINEERING), TELESTE CORPORATION, SIEMENS AG, THALES GROUP, TOSHIBA CORPORATION., and Others |
| Key Segment | By Display Type, Transportation Mode, and Region |
| Report Coverage | Revenue Estimation and Forecast, Company Profile, Competitive Landscape, Growth Factors and Recent Trends |
| Regional Scope | North America, Europe, Asia Pacific, Middle East & Africa, and South & Central America |
| Buying Options | Request tailored purchasing options to fulfil your requirements for research. |
Recent developments.
Perpetuum, a British rail technology company that was a pioneer in providing digital solutions for enhancing train dependability and performance, was bought by Hitachi Rail. Perpetuum's digital solutions would broaden the use of the technological solutions in Hitachi's worldwide transportation portfolio as part of the agreement.
Key Players
ALSTOM
HITACHI, LTD.
INDRA SISTEMAS, S.A.
MITSUBISHI ELECTRIC CORPORATION
CUBIC CORPORATION
SINGAPORE TECHNOLOGIES ELECTRONICS LIMITED (ST ENGINEERING)
TELESTE CORPORATION
SIEMENS AG
THALES GROUP
TOSHIBA CORPORATION
Segments covered in the report
By Display Type
By Transportation Mode
Roadways
Railways
Airways
On the basis of Geography
North America
Europe
France
The UK
Spain
Germany
Italy
Rest of Europe
Asia Pacific
China
Japan
India
Australia
South Korea
Rest of Asia Pacific
The Middle East & Africa
Saudi Arabia
UAE
Egypt
Kuwait
South Africa
Rest of the Middle East & Africa
Latin America
Brazil
Argentina
Rest of Latin America