According to Custom Market Insights (CMI), The Global Private 5G Network Market size was estimated at USD 1.45 Billion in 2021 and is expected to hit around USD 41.80 Billion by 2030, poised to grow at a compound annual growth rate (CAGR) of 49.7% from 2022 to 2030.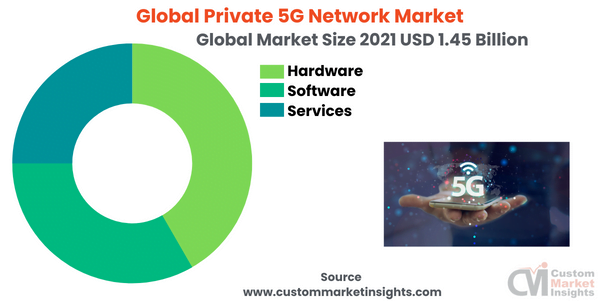 To learn more about this report, 
A private 5G network is similar to a public 5G network; however, it allows an owner to offer preferential licensing and access to its wireless spectrum. It is a wireless local area network that uses 5G-enabled technologies to create a network with dedicated infrastructure and bandwidth to meet the specific connectivity needs of an enterprise. For building a private 5G network, enterprises or other end, users need to purchase spectrum from mobile network operators (MNOs), the government, or third-party spectrum providers. 
The adoption of private 5G networks is attaining traction globally as regulators allocate more spectrum for enterprises to build private 5G networks. Consequently, the secret 5G network market will reach $xx Mn by 2030. 
It is anticipated that vendors in the private 5G network software market will have growth opportunities during the forecast period as enterprises in the manufacturing sector are rapidly implementing 5G capabilities to support transformative applications associated with digital transformation, intelligent factories, and the internet of things (IoT). In addition, many countries are rolling out private 5G networks to augment present capabilities and introduce new possibilities for leading industrial players. 
For instance, in 2021, Germany issued 5G personal licenses to about 33 companies, including BASF, BMW, Bosch, Siemens, Volkswagen, and Lufthansa, among others, to run exclusive networks. Also, countries such as France, the U.S., the U.K., and Australia are actively introducing policies to roll out private 5G networks.
Browse the full "Private 5G Network Market Market Size, Trends, and Insights By Component (Hardware, Software, Services), By Frequency (Sub-6 GHz, mmWave), By Spectrum (Licensed, Unlicensed/Shared), By Industry Vertical (Manufacturing, Energy & Utilities, Transportation & Logistics, Defense, Enterprises & Campus, Mining, Healthcare/Hospitals, Oil & Gas, Retail, Agriculture, Smart Cities, Others), and By Region – Global Industry Overview, Statistical Data, Competitive Analysis, Share, Outlook, and Forecast 2023–2032" report at https://www.custommarketinsights.com/report/private-5g-network-market/
Market Dynamics.
 Drivers.
5G technology has become a significant breakthrough in the global telecom sector and is projected to transform almost all other sectors. Hence, the countries are introducing infrastructure development plans that fuel the growth of the private 5G network market. For instance, in June 2022, democratic nations in the Group of Seven (G7) Summit, including Canada, France, Japan, Germany, Italy, the United Kingdom, and the United States, introduced a Partnership for Global Infrastructure and Investment to support the development of quality and sustainable infrastructure in middle-income and developing countries.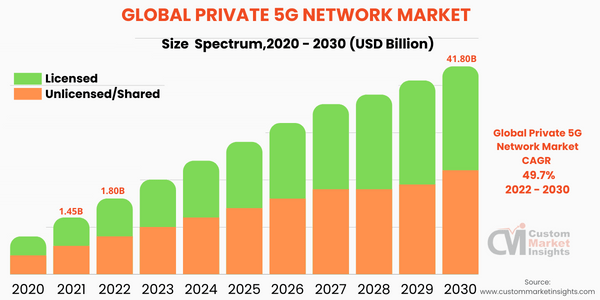 Through this partnership, G7 nations are aimed at mobilizing about $600 billion in private and public funding for infrastructure by 2027 to make healthcare, energy, and telecommunications more accessible. On the other hand, as a part of the 14th Five-Year Plan of China 5G network deployment, development has achieved remarkable progress in the past few years. 
Thus, infrastructure development plans are boosting the private 5G network market growth. 
Furthermore, Industry 4.0 has increased demand for specialized local area networks (LAN) among corporate and industrial sectors. Leading industrial players, including Siemens AG, Mercedes Benz AG, and ABB Ltd., are adopting industrial robotics and sensor-based technologies that help increase production and functional effectiveness. Such technologies rely on the private 5G network for a seamless, secure internet connection. 
In addition, 5G-enabled technologies are helping to support the development of intelligent manufacturing and smart factories by offering compelling advantages to manufacturers. This has boosted use cases of self-driving machines, automated guided vehicle systems (AGVs), collaborative mobile robots, AR/VR headsets, predictive maintenance, and augmented reality (A.R.) in industrial applications. Therefore, regulators actively allocate more spectrum to industrial enterprises to establish their own private 5G networks. For instance, in March 2019, the German regulator, Bundesnetzagentur (The Federal Network Agency), announced an assignment of local 5G licenses to meet the need of SMB-sized businesses and industrial applications. 
According to this regulator, 5G could significantly support agriculture, industrial automation, and forestry industries. This has mainly driven the growth of the global private 5G network market.
Restraints.
 The 5G standard demands a much higher data rate, high reliability, ultra-low latency, and security. However, fourth generation (4G) wireless communication technology LTE and LTE advanced has been deployed all over the globe. Hence, there is a need for a new standard to support low latency and ultra-fast services to customers. For instance, according to a recent survey by NTT, integration of 5G technology with legacy networks and systems is the most significant deployment barrier for private 5G networks. This factor is projected to hamper the market's growth during the forecast period. 
 Opportunities. 
Organizations willing to deploy private 5G networks heavily invest in new infrastructure to ensure their existing devices are 5G-ready. This creates lucrative growth opportunities for the market. Also, the leading telecom operators around the globe are expanding their private 5G network offerings. For instance, in March 2022, Nokia signed an agreement with Etisalat UAE to deploy 5G private wireless networks. This agreement aims to support enterprises across Abu Dhabi in various industries by digitally transforming operations and implementing Industry 4.0 through 5G use cases. 
 Challenges. 
 Deployment of a private 5G network is overgrowing globally; however, enterprises still need to work on the technology's costs, competition from well-known alternatives such as Wi-Fi 6, and device limitations. In addition, factors including spectrum availability issues and regulatory requirements may pose significant challenges to the market's growth during the forecasted period. 
 Report Highlights.
Based on the component, the hardware segment is expected to hold the most significant CAGR and is projected to dominate. With the proliferation of enterprise private 5G networks, hardware vendors are starting to miniaturize components associated with private 5G networks. This creates lucrative growth opportunities for the personal 5G network market. For instance, in February 2022, HPE launched a 5G-in-a-box system. According to HPE, use cases for this system include shipping, oil & gas, and military applications.
Based on industry verticals, the manufacturing industry is the leading segment and is expected to make the most significant contribution to the private 5G network market. Over the forecast period, market growth in this segment is expected to be mainly fueled by the emergence of Industry 4.0. Manufacturers are investing in 5G and IoT to enhance their competitiveness and achieve much-needed gains in profitability and efficiency. The 5G network has helped manufacturers to build smart factories with the incorporation of technologies such as automation, augmented reality, artificial intelligence, and the Internet of Things (IoT). Thus, many manufacturers are moving towards private 5G networks to generate new revenue streams.
 Regional Analysis
North America held a dominant position and is predicted to dominate during the forecast period in the private 5G network market due to increased spending on developing private 5G network infrastructure by significant service providers such as Verizon Communications and AT&T Inc. However, the Asia-Pacific region is expected to witness the highest growth rate during the forecast period due to growing investment in the development of automated factories and the acquisition of a 5G spectrum among countries such as China, South Korea, Japan, and Australia.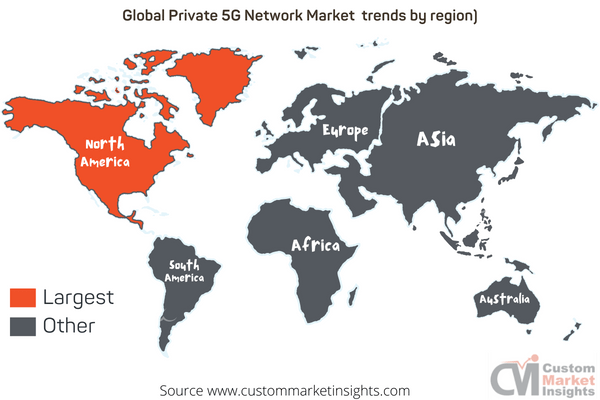 To learn more about this report, 
Report Scope
Feature of the Report
Details
Market Size in 2021
USD

1.45 Billion

Projected Market Size in 2030
USD

41.80 Billion

Market Size in 2022
USD

1.80

Billion
CAGR Growth Rate

49.7

% CAGR (2022-2030)
Base Year
2022
Forecast Period
2023-2032
Prominent Players
Telefonaktiebolaget LM Ericsson, Nokia Corp., Samsung, ZTE Corp., Deutsche Telekom, Juniper Networks, AT&T Inc., Verizon Communications, Altiostar, Huawei Technologies Co. Ltd., Mavenir, BT Group, and Others
Key Segment
By Component, Frequency, Spectrum, Industry Vertical, and Region
Report Coverage
Revenue Estimation and Forecast, Company Profile, Competitive Landscape, Growth Factors, and Recent Trends
Regional Scope
North America, Europe, Asia Pacific, Middle East & Africa, and South & Central America
Buying Options
Request tailored purchasing options to fulfill your requirements for research.
Key Players: 
Telefonaktiebolaget LM Ericsson
Nokia Corp.
Samsung
ZTE Corp.
Deutsche Telekom
Juniper Networks
AT&T Inc.
Verizon Communications
Altiostar
Huawei Technologies Co. Ltd.
Mavenir
BT Group
Recent Developments.
In May 2022, BT Group plc, a British multinational telecommunications holding company announced a multi-million-pound partnership with Ericsson to provide commercial 5G private networks for the UK market.  
Segments covered in the report:
By Component
Hardware
Software
Services
By Frequency
By Spectrum
Licensed
Unlicensed/Shared
By Industry Vertical
Manufacturing
Energy & Utilities
Transportation & Logistics
Defense
Enterprises & Campus
Mining
Healthcare/Hospitals
Oil & Gas
Retail
Agriculture
Smart Cities
Others
On the basis of Geography
North America
Europe
France
The UK
Spain
Germany
Italy
Rest of Europe
Asia Pacific
China
Japan
India
Australia
South Korea
Rest of Asia Pacific
The Middle East & Africa
Saudi Arabia
UAE
Egypt
Kuwait
South Africa
Rest of the Middle East & Africa
Latin America
Brazil
Argentina
Rest of Latin America