As per our research on the Global Quinine Market, the market was estimated at around USD 1.8 billion in 2021 and is projected to witness a CAGR of 6% during 2022-2030, to reach around USD 2.6billion by 2030. The report examines the Quinine market's drivers and restraints, as well as their impact analysis. Also, the report mentions global opportunities prevailing in the Quinine market.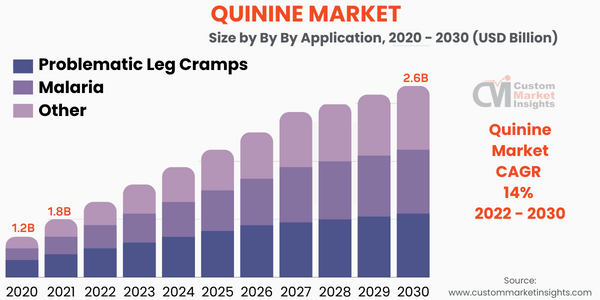 To learn more about this report, 
Browse the full "Quinine Market Size, Trends and Insights By Type (200 mg, 300 mg, Other), By Application (Problematic Leg Cramps, Malaria, Other), By Administration (Oral Administration, Intramuscular Administration, Intravenous Administration, Others), By End User (Hospitals, Clinics, Others), and By Region – Global Industry Overview, Statistical Data, Competitive Analysis, Share, Outlook, and Forecast 2022–2030″ report at https://www.custommarketinsights.com/report/quinine-market/
Quinine Market: Overview
Quinine is a drug for treating malaria and babesiosis. This involves the treatment of Plasmodium falciparum malaria, which is resistant to chloroquine when artesunate is unavailable. Cinchona alkaloid is derived from the bark of the tree. It is an antimalarial drug and the active ingredient in cinchona extracts. Also, Quinine is a mild antipyretic and analgesic that has been used in common cold remedies. As it directly affects the muscle membrane as well as sodium channels, it is also beneficial in the treatment of muscular disorders, particularly nocturnal leg cramps and myotonia congenita.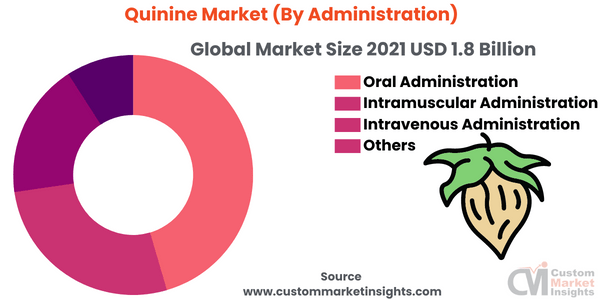 To learn more about this report, 
The FDA has only approved it for treating malaria, but doctors can legally prescribe it for any type of treatment they deem appropriate. Quinine sulphate inhibits Plasmodium falciparum nucleic acid synthesis, protein synthesis, and glycolysis and can bind with hemozoin in parasitized erythrocytes. Quinine is a white crystalline powder that darkens when exposed to light. Quinine Sulphate has a bitter taste and is odorless. It is also soluble in water, chloroform, alcohol, and ether. Quinine Sulphate is used to soften the taste of sugar and other flavors.
Growth Factors
Increasing tonic water consumption is fueling the demand for Quinine
Quinine sulphate is widely used to treat leg cramps, particularly in elderly patients, which drives the demand for Quinine sulphate in several countries. Quinine sulphate is also used in science as the chiral moiety for the ligands used for Sharpless asymmetric dihydroxylation, as well as for a variety of other chiral catalyst backbones that can propel the market.
Furthermore, Quinine sulphate is a substantially stable and well-known fluorescence quantum yield. It is used in photochemistry as a popular fluorescence standard, which can propel market growth. Quinine is used to flavor tonic water as well as bitter lemon drink mixers, which is projected to grow tremendously during 2022-2030. However, many countries, including the UK and the United Kingdom, have banned the use of Quinine sulphate to treat malaria, which may impede market growth.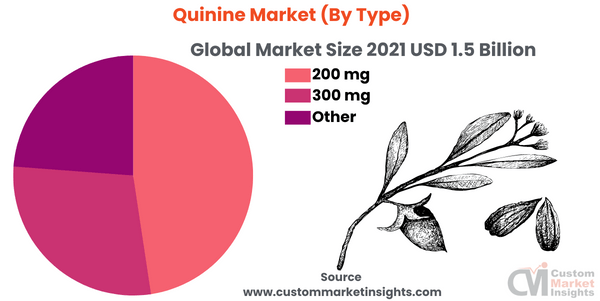 To learn more about this report, 
Segmental Overview
The market for Quinine is segmented into type, administration, application, and end user. The Quinine market's end-user segment is further subdivided into hospitals, clinics, ambulatory surgery centers, and others. The hospital application segment led the global in terms of revenue in 2012 due to increased patient preference for hospitals.
This segmentation section of the report offers readers decisive clarity in highlighting the most effective segment that enables heavy revenue flow. The report also discusses pertinent details about other market segments in order to draw logical conclusions regarding the major segments in the global Quinine market.
Regional Overview
In 2021, the Middle East & Africa region led the global Quinine market. As per WHO's World Malaria report, the number of malaria cases increased by 14 million in 2020, as compared to 217 million reported in 2019. The total number of malaria cases globally accounted for 241 million. The report further stated four sub-Saharan African countries reported the highest number of deaths caused by malaria.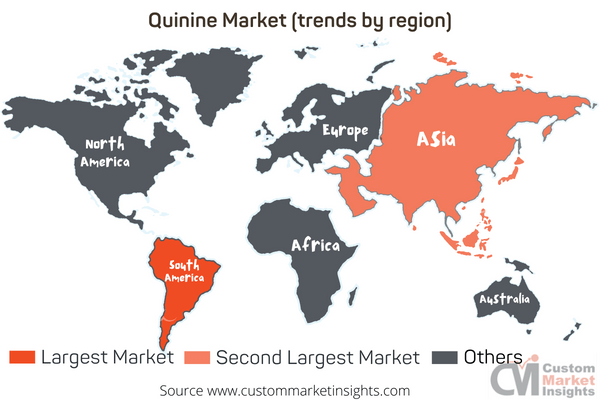 To learn more about this report, 
These include Nigeria, the Democratic Republic of Congo, the United Republic of Tanzania, and Mozambique. The rising number of malaria incidences in the region is a prime factor fueling the demand for Quinine in the Middle East & Africa region. Further, the Asia Pacific region is anticipated to grow at a high CAGR during the forecast period.
Report Scope
| | |
| --- | --- |
| Feature of the Report | Details |
| Market Size in 2021 | USD 1.8 Billion |
| Projected Market Size in 2030 | USD 2.6 Billion |
| CAGR Growth Rate | 6% CAGR |
| Base Year | 2021 |
| Forecast Period | 2022-2030 |
| Prominent Players | Aecochem Corp, Haihang Industry Co. Ltd., Actavis, Shreeji Pharma International, Wockhardt, A. B. Enterprises, Trademax Pharmaceuticals & Chemicals, Caraco Pharmaceutical Laboratories, Hangzhou Dayang Co. Ltd., IS Chemical Technology Ltd., and Others |
| Key Segment | By Type, Application, Administration, End User, and Region |
| Report Coverage | Revenue Estimation and Forecast, Company Profile, Competitive Landscape, Growth Factors and Recent Trends |
| Regional Scope | North America, Europe, Asia Pacific, Middle East & Africa, and South & Central America |
| Buying Options | Request tailored purchasing options to fulfil your requirements for research. Examine possible purchases |
Key Players Insights
Our market analysis of the Quinine market also involves a separate section dedicated to major players operating in the market. Our analysts offer an understanding of the financial statements of all the key participants, together with their product portfolio and SWOT analysis. Moreover, the report also offers a competitive landscape chapter, including strategic key development, market share, as well as global market ranking analysis of the players mentioned.
Some of the prominent players
Aecochem Corp
Haihang Industry Co. Ltd.
Actavis
Shreeji Pharma International
Wockhardt
B. Enterprises
Trademax Pharmaceuticals & Chemicals
Caraco Pharmaceutical Laboratories
Hangzhou Dayang Co. Ltd.
IS Chemical Technology Ltd.
The global Quinine market is segmented as follows:
By Type
By Application
Problematic Leg Cramps
Malaria
Other
By Administration
Oral Administration
Intramuscular Administration
Intravenous Administration
Others
By End User
On the basis of Geography
North America
Europe
France
The UK
Spain
Germany
Italy
Rest of Europe
Asia Pacific
China
Japan
India
Australia
South Korea
Rest of Asia Pacific
The Middle East & Africa
Saudi Arabia
UAE
Egypt
Kuwait
South Africa
Rest of the Middle East & Africa
Latin America
Brazil
Argentina
Rest of Latin America