According to Custom Market Insights (CMI), The Global Silver Sintering Paste Market size was estimated at USD 64 million in 2021 and is expected to hit around USD 105 million by 2030, poised to grow at a compound annual growth rate (CAGR) of 6.4% from 2022 to 2030. It is a type of high silver-filled die attach paste that may produce extremely high thermal conductivity, called silver sintering paste. The device's lifespan can be increased by up to ten times with silver sintered pastes, a strong lead-free substitute for solder pastes. 
The process of creating an open network of small microvoids by the interdiffusion of surface atoms on nearby metal particles is known as metal sintering. The key variables affecting densification and joint strength are temperature, pressure, time, and sintering environment. Additionally, it is frequently the preferred method for creating joints with materials with high melting points. Using it for printing or dispensing processes will assure LED packaging applications since it has increased heat conductivity in lead frames. These pastes are designed to easily incorporate into a dispensing process without altering the deposition apparatus and have a high metal loading.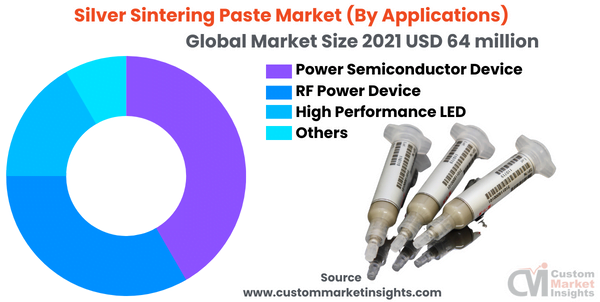 To learn more about this report, 
The pastes may be utilized in rapid reflow-like (RFL) sintering procedures to provide strong joints on various standard Leadframe, DBC, and IPM pad finishes. They will securely stick to die with Ag, Au, or Cu surfaces. There are two categories of silver sintering pastes: pressure-sintering paste and pressure-less sintering paste. First, the pressure sintering paste process is well recognized since it can work with high pressure. Second, pressure-less sintering is the sintering of a crushed material without the need for external pressure, often occurring at very high temperatures and depending on the density of the material.
Browse the full "Silver Sintering Paste Market Size, Trends and Insights By Type (Pressure Sintering Paste, Pressure-less Sintering Paste), By Applications (Power Semiconductor Device, RF Power Device, High Performance LED, Others), and By Region – Global Industry Overview, Statistical Data, Competitive Analysis, Share, Outlook, and Forecast 2022–2030" report at https://www.custommarketinsights.com/report/silver-sintering-paste-market/
Market Dynamics
 Drivers
 Advanced materials are necessary for highly effective energy conversion and storage technologies like high-temperature solid oxide fuel and electrolysis cells, all-solid-state batteries, gas separation membranes, and thermal barrier coatings for advanced turbine systems. In every situation, starting with powders, processing ceramics and metals plays a crucial role and is frequently a difficult task. Such powder materials frequently need high sintering temperatures and have an inherent danger of aberrant grain development, evaporation, chemical reaction, or breakdown, especially in the event of lengthy dwell durations, depending on their composition. Techniques such as electric current-assisted sintering offer a solution to these limitations. An improved method of sintering silver is known as electric current-aided sintering, which involves passing electricity through sintering powders under a vacuum.
Additionally, the primary motivation for developing this approach was to manufacture RF power devices and semiconductors on an industrial scale. The current significantly reduced the surface oxides that hinder atom absorption during sintering. Consequently, the total market growth for silver sintering paste is boosted by electric current-aided sintering.
Pressure-Less sintering techniques include constant-rate heating (CRH), rate-controlled sintering (RCS), and two-step sintering (TSS). These methods can vary depending on the substance's microstructure and grain size and the material and procedure that must be applied. Additionally, the various approaches assist the customers in accomplishing productive and effective sintering by their needs and preferences for special materials like ceramics and other substances. Enhancing the total market share for saver sintering patterns. Hence, the market growth is Improved by different pressure-less sintering paste types.
Fast sintering and great joint strength are features of the silver sintering pastes. More importantly, the bond line thickness is customizable, giving it uniqueness. Due to these advantages and their motivators, the market is thus anticipated to expand throughout the indicated projected time.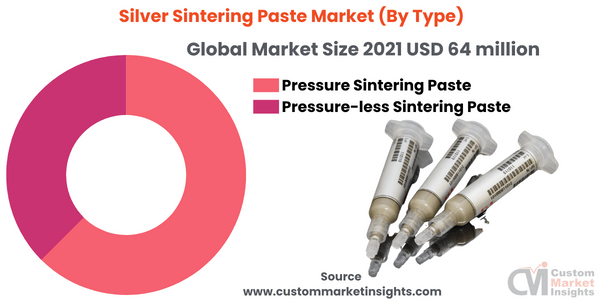 To learn more about this report, 
Restraints.
 The technique of using silver sintering paste is recognized for strengthening the material's characteristics and processing it, but it has a significant disadvantage. The silver sintering process typically destroys many micro- and nanostructures. Additionally, this drawback hurts the high-performance LED industry since these products' components are tiny and sensitive, requiring high precise levels. The global market for silver sintering paste is hindered due to this drawback.
 Opportunities
 The research and developments on getting advanced sintering paste are opportunities in the end-use industry. Inverters, servomotors, radars, and sensors are a few new uses, along with multi-level interconnections, integrated modules, component joining, electrical distribution, UPS transformation, and storage.
 Challenges
 The availability of sintering paste alternatives could hamper the market's growth during the forecast period.
 Report Highlights
Pressure sintering paste is the leading segment expected to contribute to the silver sintering paste market. Since it may be sustained by high pressure, the pressure sintering paste technique is well-known. Furthermore, since the applied high pressure increases the forced intensity for densification, it also lowers the temperature needed for silver sintering to a level equivalent to or lower than half of the melting point for ceramics. These benefits are making this segment more prominent than others. Hence, the market for silver sintering paste is expected to dominate the pressure sintering segment.
Based on application, the power semiconductor device segment is expected to grow at the fastest CAGR and make the largest contribution to the silver sintering paste market. Silver pressure sintering is the most dependable method for joining components in power electronics, a heat-treatment procedure used on a powder material.
The substance that is presently most often utilized is silver-sintering paste. A silver-sintered paste has a melting point of 960 degrees Celsius and a thermal conductivity of between 130 and 250 W/(m⋅K). The silver-sintered paste boosts the overall yield of the process, maintains the components in a fixed position for their effective management, and has high adherence to the epoxy resin. Hence, this segment holds the largest share of the silver sintering paste market.
Regional Snapshots
 North America held a dominant position and is predicted to dominate the silver sintering paste market during the forecast period as this area seeks to significantly increase the understanding of the sintering process among various market industry sectors.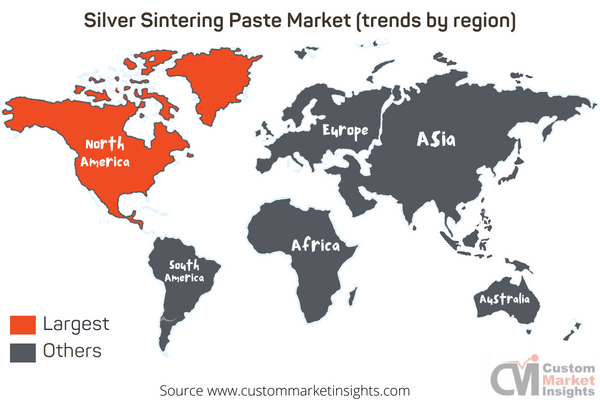 To learn more about this report, 
The demand ultimately increases in the industries where the product is appropriate as consumers come to comprehend its uses. This area primarily established markets where the product is heavily used. Overall expanding its market share for silver sintering paste. Moreover, the electronics industry's rise has given this market a driving edge. This region has prominent leaders who control the world of semiconductors. Hence, the demand for silver sintering paste has expected to boost in the coming years.
Report Scope
| | |
| --- | --- |
| Feature of the Report | Details |
| Market Size in 2021 | USD 64 million |
| Projected Market Size in 2030 | USD 105 million |
| CAGR Growth Rate | 6.4% CAGR |
| Base Year | 2021 |
| Forecast Period | 2022-2030 |
| Prominent Players | Heraeus, Indium, Alpha Assembly Solutions, Henkel, Kyocera, Namics, Advanced Joining Technology, and Others |
| Key Segment | By Type, Applications, and Region |
| Report Coverage | Revenue Estimation and Forecast, Company Profile, Competitive Landscape, Growth Factors and Recent Trends |
| Regional Scope | North America, Europe, Asia Pacific, Middle East & Africa, and South & Central America |
| Buying Options | Request tailored purchasing options to fulfil your requirements for research. |
Key Players
Heraeus
Indium
Alpha Assembly Solutions
Henkel
Kyocera
Namics
Advanced Joining Technology
Recent Developments
The GKN Aerospace Type 8 Ice Protection System will be industrialized due to a collaboration agreement between GKN and Trackwise Designs Plc, a top supplier of specialty products based on printed circuit technology.
Segments covered in the report
By Type
Pressure Sintering Paste
Pressure-less Sintering Paste
By Applications
Power Semiconductor Device
RF Power Device
High Performance LED
Others
On the basis of Geography
North America
Europe
France
The UK
Spain
Germany
Italy
Rest of Europe
Asia Pacific
China
Japan
India
Australia
South Korea
Rest of Asia Pacific
The Middle East & Africa
Saudi Arabia
UAE
Egypt
Kuwait
South Africa
Rest of the Middle East & Africa
Latin America
Brazil
Argentina
Rest of Latin America