In our research report on the global Solid State Transformer market, the market was valued at USD 70 million and is projected to account for around USD 240 million by 2030. The estimated CAGR is approximately 16% between 2022 and 2030. The report further provides an overview of drivers, restraints, and opportunities present in the Solid State Transformer market. Moreover, the report examines the global competitive analysis for the Solid State Transformer market.
The key purpose of the Global Solid State Transformer Market report is to deliver industry investors, company leaders, private equity companies, and stakeholders with comprehensive information facilitating them to make informed strategic decisions concerning the chances in the Solid State Transformer market throughout the world.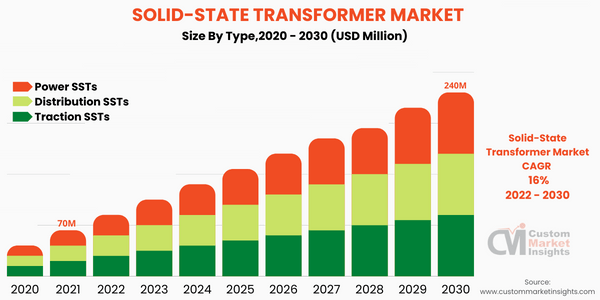 To learn more about this report, 
Solid State Transformer Market: Overview
A Solid State Transformer device converts alternating current (AC) to direct current (DC) or vice versa using semiconductor devices. Electronic transformers, power converters, and switch-mode transformers are other names for these devices. These transformers are used in a plethora of applications, including computer and electronic equipment power supplies, AC/DC converters, DC/DC converters, and motor controllers.
Browse the full "Solid-State Transformer Market Size, Trends and Insights By Type (Power SSTs, Distribution SSTs, Traction SSTs), By Application (Power Distribution, Renewable Power Generation, Electric Vehicle Charging Stations, Traction Locomotives), and By Region – Global Industry Overview, Statistical Data, Competitive Analysis, Share, Outlook, and Forecast 2022–2030 " report at https://www.custommarketinsights.com/report/solid-state-transformer-market/
Growth Factors
The growing use of advanced systems in renewable energy generation systems is a key driving force in the global SSTs market
The growing demand for renewable energy, the requirement for energy efficiency, along with the need for enhanced grid stability and reliability are the driving forces of the Solid State Transformer market. The growing use of electric vehicles, the demand for grid modernization, and continued spending on smart grid technologies drive the Solid State Transformer market.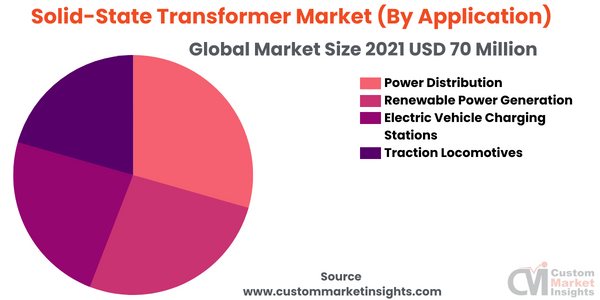 To learn more about this report, 
The main constraints and hurdles in the Solid State Transformer market are unawareness of the advantages of Solid State Transformers and a lack of uniformity. Other constraints and issues include the high price of Solid State Transformers and a shortage of experienced personnel to operate and maintain them.
Segmental Overview
The market for Solid State Transformer market is segmented into type and application. By application, renewable power generation held the largest share throughout the forecast period. During the forecast period, the market for renewable energy generation applications is expected to grow at the fastest rate. The anticipated early implementation of these transformers for energy production from renewable energy accounts for the high growth rate. Wind, tides, and the sun are alternative sources of energy for electricity generation; they have the potential to cater to the world's ever-increasing energy demand while also lowering the carbon footprint. Wind energy is a key contributor to the power produced by alternative energy sources, and the Asia Pacific is a leader in this field.
Regional Overview
China to lead the Asia Pacific Solid State Transformer market
Due to increased investment in smart grid technology and increased demand for electricity, Asia-Pacific is projected to be the major and fastest-growing market due to an increased investment in electrical infrastructure throughout the region. China is the world's largest power T&D market. It is expected to become a major consumer of smart grid technology, owing to its carbon-reduction policy and commitment to sustainable development. Companies are focused on smart grids as they increase their investment in distribution networks, which is expected to stimulate demand for SST in China during the projected period.
LAMEA has the smallest market, with Brazil as its key contributor. Economic expansion backed by the construction and manufacturing industries, population growth and a corresponding increase in electrification projects, and growing industrial developments in these regions are now driving the demand for Solid State Transformers.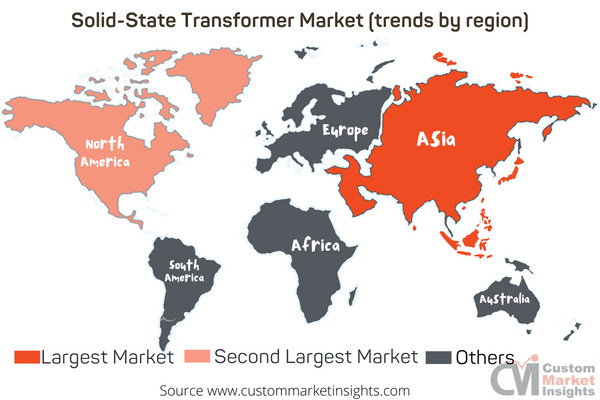 To learn more about this report, 
Report Scope
| | |
| --- | --- |
| Feature of the Report | Details |
| Market Size in 2021 | USD 70 Million |
| Projected Market Size in 2030 | USD 240 Million |
| CAGR Growth Rate | 16% CAGR |
| Base Year | 2021 |
| Forecast Period | 2022-2030 |
| Prominent Players | Eaton Corporation, Power Systems & Controls Inc, Alstom SA, General Electric Company, Red Box Aviation, Varentec Inc, Schneider Electric, Siemens AG, Vollspark, Hitachi ABB, and Others |
| Key Segment | By Type, Application, and Region |
| Report Coverage | Revenue Estimation and Forecast, Company Profile, Competitive Landscape, Growth Factors and Recent Trends |
| Regional Scope | North America, Europe, Asia Pacific, Middle East & Africa, and South & Central America |
| Buying Options | Request tailored purchasing options to fulfil your requirements for research. |
Key Players Insights
To boost their presence in local markets, market participants are pursuing a variety of growth strategies, such as collaborations and partnerships, R&D activities, and the introduction of new services. The following are the most common strategies used by notable participants to strengthen their competitive edge.
The report offers a company analysis to give a 360-degree overview of the major players operating in the market. Moreover, the report also comprises key strategic developments related to the market including new service launches, acquisitions & mergers, agreements, collaborations & joint ventures, partnerships, research & development, as well as regional expansion of key players and participants involved in the global Solid State Transformer market.
Some of the prominent players
Eaton Corporation
Power Systems & Controls Inc
Alstom SA
General Electric Company
Red Box Aviation
Varentec Inc
Schneider Electric
Siemens AG
Vollspark
Hitachi ABB
The global solid state transformer market is segmented as follows:
Product Scope 

Distribution Solid State Transformer
Power Solid State Transformer
Traction Solid State Transformer

Component Scope 

Converters
High-frequency Transformers
Switches
Others

Application Scope 

Alternative Power Generation
Electric Vehicle Charging Stations
Power Distribution
Traction Locomotives

End-use Scope 

Energy
Transportation
Others
On the basis of Geography
North America
Europe
France
The UK
Spain
Germany
Italy
Rest of Europe
Asia Pacific
China
Japan
India
Australia
South Korea
Rest of Asia Pacific
The Middle East & Africa
Saudi Arabia
UAE
Egypt
Kuwait
South Africa
Rest of the Middle East & Africa
Latin America
Brazil
Argentina
Rest of Latin America