In our research report on the Global Soundbar Market, the market was valued at USD 5.1 billion and is projected to account for around USD 9.8 billion by 2030. The estimated CAGR is approximately 8.5% between 2022 and 2030. The report further provides an overview of drivers, restraints, and opportunities present in the Soundbar market. Moreover, the report examines the global competitive analysis of the Soundbar market.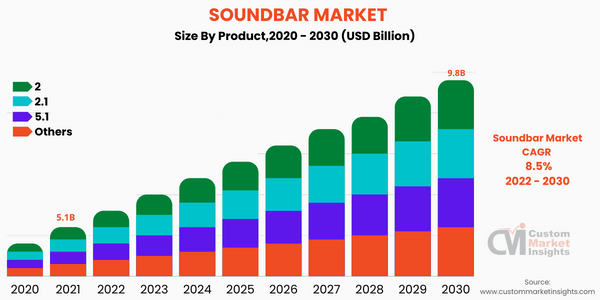 To learn more about this report, 
The key purpose of the Global Soundbar Market report is to deliver industry investors, company leaders, private equity companies, and stakeholders comprehensive information facilitating them to make informed strategic decisions concerning the changes in the Soundbar market throughout the world.
Soundbar Market: Overview
The booming e-commerce sector globally is fueling the growth of the Soundbar market
A Soundbar is a streamlined bar that houses several speakers and is designed to work with televisions. When connected to the TV, audio is routed through the Soundbar's speakers rather than the TV's internal speakers.
Soundbars can be hung on the wall next to a flat-panel TV, but most people place them on their TV stand directly ahead of the TV. They're less expensive and simpler to install than a multi-speaker surround sound or home theatre system, and the best Soundbar produces rich, well-balanced audio that helps watching movies and TV shows enjoyable.
Browse the full "Soundbar Market Size, Trends and Insights By Product (2, 2.1, 5.1, Others), By Application (Music Players, Television, Computer Systems, Others), and By Region – Global Industry Overview, Statistical Data, Competitive Analysis, Share, Outlook, and Forecast 2022–2030″ report at https://www.custommarketinsights.com/report/soundbar-market/
Growth Factors
Rapid globalization and urbanization in emerging economies have resulted in increased consumer electronics consumption and a more significant number of product rollouts, driving the Soundbar market growth in these regions. As a result of various technological developments and the increasing construction of smart homes, Soundbar has become more common in residential areas. Aside from that, surging demand for Soundbar from a wide range of commercial sectors such as hospitality, corporate, retail, and institutional will propel the global Soundbar market ahead in the coming years. However, soaring limits on the use of the radiofrequency range by wireless audio systems, as well as increasing health risks concerning long-term audio device usage, may restrict market growth over the forecast period.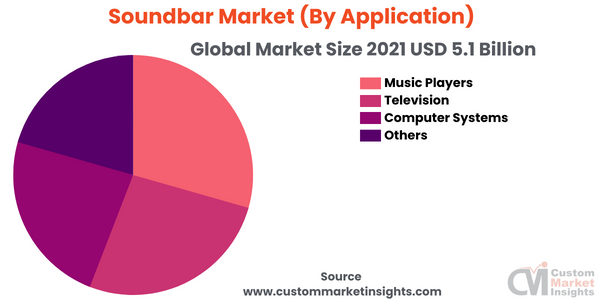 To learn more about this report, 
In recent years, on-demand streaming services have grown in popularity. Several Over-The-Top providers have implemented the subscription-based revenue model. The platforms provide a wide range of payment and subscription options to subscribers, allowing them to stream content online according to their preferences. The rising popularity of OTT is providing lucrative opportunities to the Soundbar players operating in the market as people install them for the enhanced sound experience.
Segmental Overview
The market for the Soundbar is segmented into product and application. The 2.1 channel segment accounted for over half of all Soundbar market shipments in 2021. Customers are drawn to the audio device because it has additional features, including Bluetooth connectivity, Wi-Fi, and as well as voice assistance. The audio devices include two speakers, one on each channel, as well as a subwoofer. 2.1 Soundbar can connect to TVs and portable devices such as smartphones and tablets. The growing popularity of smart TVs has prompted manufacturers to create advanced Soundbar.
Regional Overview
The Asia Pacific market will grow steadily over the forecast period due to rising media consumption and the existence of global, regional, and local players in the industry. This promotes the accessibility to lower-cost electronic products throughout the region. Japan and China both are significant countries in the global electronic manufacturing sector.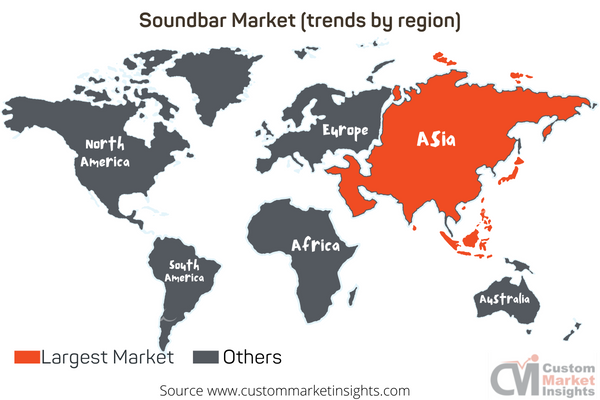 To learn more about this report, 
Further, streaming services continue to expand in popularity, and smart TV penetration is increasing in the APAC region. Furthermore, digitalization is facilitating the incorporation of smart TVs with Soundbar, resulting in an improved home theatre experience as well as smart features, including voice assistants.
Report Scope
| | |
| --- | --- |
| Feature of the Report | Details |
| Market Size in 2021 | USD 5.1 Billion |
| Projected Market Size in 2030 | USD 9.8 Billion |
| CAGR Growth Rate | 8.5% CAGR |
| Base Year | 2021 |
| Forecast Period | 2022-2030 |
| Prominent Players | Bose Corporation, Sony Corporation, VIZIO Inc., laupunkt GmbH (Aurelius Group), Sonos Inc., Edifier International Ltd, Xiaomi Corporation, Hisense Home Appliance Group Co. Ltd, Sennheiser Electronic GmbH & Co. KG, Boston Acoustics Inc., Koninklijke Philips NV, Panasonic Corporation, Voxx International Corporation, Onkyo Corporation, LG Electronics Inc., Samsung Electronics Co. Ltd, Polk Audio, and Others |
| Key Segment | By Product, Application, and Region |
| Report Coverage | Revenue Estimation and Forecast, Company Profile, Competitive Landscape, Growth Factors and Recent Trends |
| Regional Scope | North America, Europe, Asia Pacific, Middle East & Africa, and South & Central America |
| Buying Options | Request tailored purchasing options to fulfil your requirements for research. |
Key Players Insights
The players operating in the Soundbar market are adopting strategies such as acquisitions & mergers, product launches & expansions, and collaborations & partnerships, to efficiently compete in the Soundbar market. The global market is highly competitive. The players also focus on expanding their geographical reach by partnering with local distributors/players.
Some of the prominent players
Bose Corporation
Sony Corporation
VIZIO Inc.
laupunkt GmbH (Aurelius Group)
Sonos Inc.
Edifier International Ltd
Xiaomi Corporation
Hisense Home Appliance Group Co. Ltd
Sennheiser Electronic GmbH & Co. KG
Boston Acoustics Inc.
Koninklijke Philips NV
Panasonic Corporation
Voxx International Corporation
Onkyo Corporation
LG Electronics Inc.
Samsung Electronics Co. Ltd
Polk Audio
The global Soundbar market is segmented as follows:
By Product
By Application
Music Players
Television
Computer Systems
Others
On the basis of Geography
North America
Europe
France
The UK
Spain
Germany
Italy
Rest of Europe
Asia Pacific
China
Japan
India
Australia
South Korea
Rest of Asia Pacific
The Middle East & Africa
Saudi Arabia
UAE
Egypt
Kuwait
South Africa
Rest of the Middle East & Africa
Latin America
Brazil
Argentina
Rest of Latin America