According to Custom Market Insights (CMI), The Global Thermosetting Polyamide Market size was estimated at USD 25.89 Billion in 2021 and is expected to hit around USD 54.95 Billion by 2030, poised to grow at a compound annual growth rate (CAGR) of 5.8% from 2022 to 2030.
Thermosetting polyamide is an amorphous engineering plastic. It is also called thermosetting and thermoplastic. It possesses exceptional physical and chemical resistance properties. 
It is widely used in water pipelines, automotive parts, medical equipment, construction machinery, signage, storage boxes, electrical plugs and casings, kitchen appliances, and toys. 
The global thermosetting polyamide market is evolving, and companies are now focusing more on strengthening and consolidating R&D activities; thereby increasing the production capacity of thermosetting polyamide thus, driving the market growth by catering to the need for thermosetting polyamide in above mentioned end-use industries.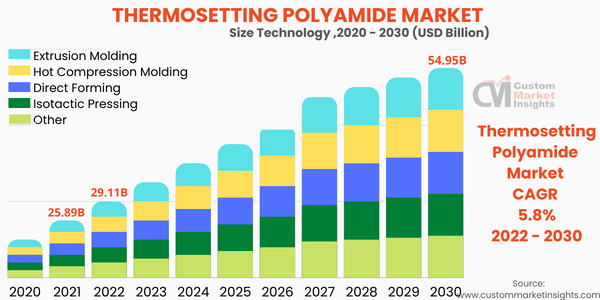 To learn more about this report, 
Browse the full "Thermosetting Polyamide Market Size, Trends and Insights By Technology (Extrusion Molding, Hot Compression Molding, Direct Forming, Isotactic Pressing, Other), By Application (Aerospace, Automotive, Electronics Appliances, Construction, Adhesives, Others), and By Region – Global Industry Overview, Statistical Data, Competitive Analysis, Share, Outlook, and Forecast 2022–2030" report at https://www.custommarketinsights.com/report/thermosetting-polyamide-market/
Market Dynamics.
Drivers.
Robust demand from the automotive industry 
The demand for thermosetting polyamides is multiplying in the automotive industry due to their high strength, flexibility, and thermal conductivity attributes. Furthermore, thermosetting polyamide is widely preferred in manufacturing various auto components. This is projected to propel the growth of the thermosetting polyamide market in the automotive industry. 
Restraints.
High price and entry of competitors 
However, the production process for thermosetting polyamide is highly capital-intensive. In addition, fluctuation in raw materials prices and sometimes unavailability of raw materials is expected to hamper the market. In response to this, thermosetting polyamide becomes a waste landfill as TP material that cannot be recycled. Such factors hinder the growth of the thermosetting polyamide market.
Opportunities.
Robust demand from the industrial sector 
Factors such as the rise in population across the globe and well established industrial sector in both developed and developing economies have enhanced the performance of thermosetting polyamides in the industrial sector, wherein it is used in the gaskets, pipes, inserts, insulation coatings, seals, and other manufacturing equipment. This factor is expected to increase the potential sales of thermosetting polyamide, thus, offering the most remunerative opportunities for the future.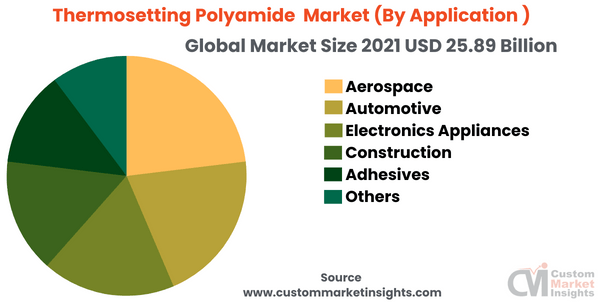 To learn more about this report, 
Challenges.
Higher-cost manufacturing process 
Over the forecast period, thermosetting polyamide leads to complexity in manufacturing requirement of huge capital expenditure, and expertise is expected to dampen the market. Furthermore, replacing the TP's with other PVC-based TPs is expected to hinder the market. In addition, government norms and regulations on some TPs are expected to challenge the call.
Report Highlights.
Based on technology type, they segmented into extrusion molding, hot compression molding, direct forming, isotactic pressing, and others.
The extrusion molding-based technology type segment dominated the market in 2021 and held 36.56% of the total market share over the forecast period. Extrusion molding-based technology is widely used in the automotive industry, where it is used to manufacture different shapes of various auto components. Polyamide is an excellent source of thermal insulation, resistance to chemicals, and temperature. It possesses high strength & flexibility, due to which it is the most preferred TP's in various industries, including aerospace, adhesive & sealants, fabric, and the automotive sector has enhanced the growth of polyurethane-based thermosetting polyamide during the forecast period.
Depending upon the application, the thermosetting polyamide market is segmented into aerospace, automotive, electronics appliances, construction, adhesives, and others. It is expected that the global automotive industry segment to hold a dominant position during 2022 -2031 and account for 43.67% of the total market share. 
Thermosetting polyamides mainly use extrusion-molding technology for producing different shapes of auto-components. In addition, it is resistant to chemicals, temperature, and high flexibility used to monitor air inlets and/or exhaust for improved engine operation. For instance, according to a report published by for India Brand Equity Foundation in July 2022, India's annual production of automobiles in FY22 was 22.93 million. These factors are expected to enhance the demand for the thermosetting polyamide market.
Furthermore, the building and construction sector is expected to grow over the forecast period. This is attributed to the growing young population, rise in demand for building, and advancement in infrastructure development have driven the demand for TP, which is used for thermal and acoustic insulation purposes.
Regional Snapshots. 
Asia-Pacific is the dominant region in the thermosetting polyamide market and accounted for 36.89% of the total market share during the forecast period. This region is also anticipated to maintain its dominance throughout the forecast period. Countries such as China, Japan, India, and others significantly contribute to the region's thermosetting polyamide market growth. Critical factors for the growing automotive, electric vehicle, building and construction, aerospace, and other end-use industry has surged the demand for thermosetting polyamide.
Furthermore, the Indian automobile industry contributes almost 6.4% of India's GDP and 35% of the manufacturing GDP. It is leading employers to provide where TP's are used extensively in the automobile sector as a substitute over metals, offering additional benefits such as drastically reducing the weight of vehicles and allowing better fuel efficiency and handling. These factors together increase the usage of thermosetting polyamide in the growing automotive industry.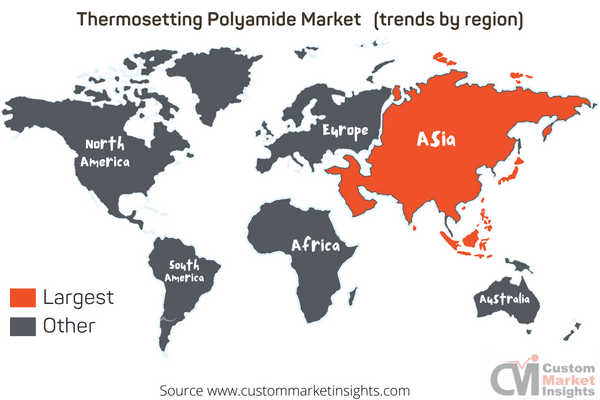 To learn more about this report, 
A tremendous surge in construction and electronics activity in developed and developing economies such as China, India, Japan, South Korea, and other Asia-Pacific nations has enhanced the demand for thermosetting polyamide. Additionally, favourable government policies and financing, expansion of research and innovation activities to enhance the production technology for thermosetting polyamides.
Report Scope
| | |
| --- | --- |
| Feature of the Report | Details |
| Market Size in 2021 | USD 25.89 Billion |
| Projected Market Size in 2030 | USD 54.95 Billion |
| Market Size in 2022 | USD 29.11 Billion |
| CAGR Growth Rate | 5.8% CAGR |
| Base Year | 2021 |
| Forecast Period | 2022-2030 |
| Prominent Players | DuPont, Mitsui Chemicals, SABIC, Saint Gobain, General, Toray International, Taimide, Shinmax Technology, Stratasys, 3E Etese, Arakawa Chemica, Kaneka High Tech Materials, Nitto Denko, Sumitomo Bakelite Co. Ltd., U-PICA Company Ltd., and Others |
| Key Segment | By Technology, Application, and Region |
| Report Coverage | Revenue Estimation and Forecast, Company Profile, Competitive Landscape, Growth Factors and Recent Trends |
| Regional Scope | North America, Europe, Asia Pacific, Middle East & Africa, and South & Central America |
| Buying Options | Request tailored purchasing options to fulfil your requirements for research. |
Key Players
DuPont
Mitsui Chemicals
SABIC
Saint Gobain
General
Toray International
Taimide
Shinmax Technology
Stratasys
3E Etese
Arakawa Chemica
Kaneka High Tech Materials
Nitto Denko
Sumitomo Bakelite Co. Ltd.
U-PICA Company Ltd.
Segments covered in the report
By Technology
Extrusion Molding
Hot Compression Molding
Direct Forming
Isotactic Pressing
Other
By Application
Aerospace
Automotive
Electronics Appliances
Construction
Adhesives
Others
On the basis of Geography
North America
Europe
France
The UK
Spain
Germany
Italy
Rest of Europe
Asia Pacific
China
Japan
India
Australia
South Korea
Rest of Asia Pacific
The Middle East & Africa
Saudi Arabia
UAE
Egypt
Kuwait
South Africa
Rest of the Middle East & Africa
Latin America
Brazil
Argentina
Rest of Latin America