According to Custom Market Insights (CMI), The Global Unified Communication as a Service Market was estimated at around USD 48.16 billion in 2021, growing at a CAGR of nearly 26.43% from 2022 to 2030. The market is projected to reach approximately US$ 240.17 billion by 2030.
Unified communication as a service Market offers a comprehensive and deep evaluation of the market stature. Also, the market report estimates the market size, revenue, price, market share, market forecast, growth rate, and competitive analysis.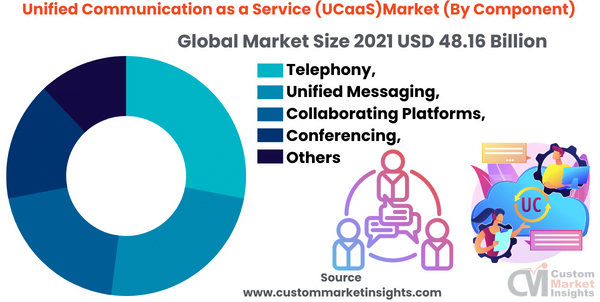 To learn more about this report, 
Unified communication as a service Market: Overview
A model of delivery known as "unified communications as a service" (UCaaS) involves outsourcing a range of collaboration and communication services and apps to a third-party provider and delivering them across a network. UCaaS solutions include business messaging, video conferencing, and telephone in addition to the present technology. Core business tasks benefit from the flexibility, high availability, and scalability of UCaaS. Numerous businesses adopt UCaaS because it boosts income by reducing corporate operations and improving communication. The UCaaS market is expanding due to factors such as the rising demand for UCaaS and its greater uptake in small and medium-sized businesses. The market is also driven by the low cost of UCaaS and its pay-per-usage feature.
Browse the full "Unified Communication as a Service (UCaaS) Market Size, Trends and Insights By Component (Telephony, Unified Messaging, Collaborating Platforms, Conferencing, Others), By Delivery model (Managed Services, Hosted/Cloud Services), By Industry Vertical (IT and Telecom, Healthcare, Education, Others), and By Region – Global Industry Overview, Statistical Data, Competitive Analysis, Share, Outlook, and Forecast 2022–2030" report at https://www.custommarketinsights.com/report/ucaas-market/
Growth Factors
Businesses are being forced to embrace a hybrid business strategy by the COVID-19 epidemic. To ensure effective collaboration, businesses notably consolidate various communication elements and facilitate cross-functioning. Employers are using UCaaS (Unified Communication as a Service) solutions due to the rise in remote employment. As a result of the COVID-19 epidemic, businesses are also implementing UCaaS platforms and tools to review their operational expenses and safeguard their margins in the face of declining revenues.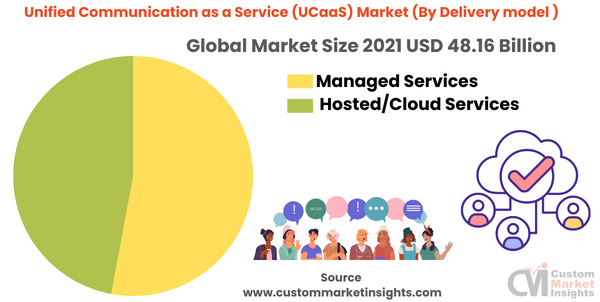 To learn more about this report, 
The 5G high-speed data network deployment encourages the market's expansion throughout the forecast period. Video and audio conferencing, meetings, and collaboration may all be considerably improved thanks to the fast, low-latency communication made possible by 5G networks. The adoption of UCaaS solutions, platforms, and services is particularly encouraged by the cloud-specific network function virtualization (NFV) and multi-access edge computing (MEC) capabilities offered by 5G technology for scalable and self-healing networks. Over the forecast period, the market is also anticipated to increase due to the application features and user interfaces that can be tailored to suit specific needs and potentially improve workplace cooperation.
Vendors nowadays can offer Web RTC solutions, enabling quicker video streaming and group chats on client devices due to the rise in real-time communication demand. Companies strive to find UCaaS solutions that enhance the experience of users seated at their desks and those working remotely. Advances in the communications industry in machine learning (ML) and artificial intelligence (AI) have driven the UCaaS market. New features like intelligent chatbots and predictive intelligence are made possible by machine learning and AI techniques. Because of AI, corporate workflow arrangements are always changing.
Segmental Overview
The market for UCaaS is segmented into components, delivery models, and industry verticals. According to the component, the telephony segment is expected to increase. Among other UCaaS products, telephony and conferencing will be the most in demand during the forecast period.
The demand for telephone and conferencing among small and medium-sized businesses (SMEs) is rising because these solutions assist SMEs in streamlining their internal communications and boosting productivity. Telephony is anticipated to hold the bulk of the market share due to the development of business communication infrastructure and the increasing demand for cloud (IP) telephony. The market has grown due to companies switching from traditional PBX telephone systems to voice-over-Internet protocol (VoIP) solutions.
Based on the delivery model, the hosted/cloud service segment is expected to grow at the highest CAGR during the forecast period. Innovative cloud services like cloud telephony and conferencing are the key forces for adoption. Managed services include customizations, dashboards, multiple functionality, analytics, portals, and other features. Because of this, it is estimated that throughout the course of the projected period, the managed service industry will grow greatly in size.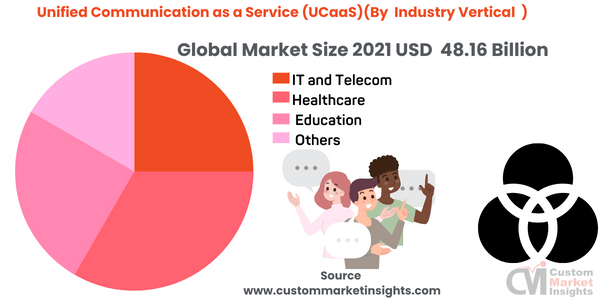 To learn more about this report, 
According to the industry vertical, the IT and telecom segment dominates the UCaaS market during the forecast period. The expansion is attributable to enterprises' digital transformation, which sparked the widespread use of cloud-based unified communication services. Work-from-home opportunities, remote employment, and other trends are all boosting demand for IT-enabled services in the industry. As a result, two important sectors contributing to the expansion are communications and information technology.
The incumbents in the IT and telecom sector frequently deal with well-known clients like federal agencies and government departments, which necessitates an effective and secure information exchange. The demand to use UCaaS solutions is also driven by the significant focus of various IT & telecom firms to roll out more effective collaboration tools among their globally distributed workforce. Therefore, the adoption of UCaaS solutions by IT & telecom enterprises is driven by the rising requirement for privacy protection, data security, and seamless workplace integration.
Regional Overview
North America held the biggest market share of the total market in the UCaaS market. The market's expansion may be attributed to the region's growing use of telepresence systems, sophisticated business solutions, and bring-your-device (BYOD) policies. Advanced unified communication services, including conferencing, unified messaging, enterprise telephony, and instant messaging, are being used by businesses throughout the area. In North America, there is an increase in the use of contact centre features, including auto-attendant, call routing, interactive voice response, and CRM connections.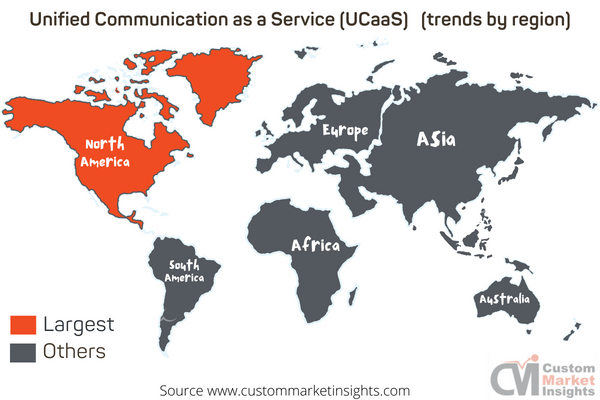 To learn more about this report, 
Report Scope
Feature of the Report
Details
Market Size in 2021

48.16 billion

Projected Market Size in 2030

240.17 billion

CAGR Growth Rate

26.43 %

CAGR
Base Year
2021
Forecast Period
2022-2030
Prominent Players
RingCentral, 8×8, LogMeIn, Orange S.A., DialPad, StarBlue, Windstream, Alcatel-Lucent Enterprise, Intrado Corporation, NTT Communications Corporation, Masergy, Revation Systems, Mitel, Cisco, Vonage, Fuze Inc., Microsoft, Google, Verizon, BT, and Others
Key Segment
By Component, Delivery model, Industry Vertical, and Region
Report Coverage
Revenue Estimation and Forecast, Company Profile, Competitive Landscape, Growth Factors and Recent Trends
Regional Scope
North America, Europe, Asia Pacific, Middle East & Africa, and South & Central America
Buying Options
Request tailored purchasing options to fulfil your requirements for research.
Key Players Insights
The players have implemented various strategies to expand the unified global communication service market. The study contains a thorough competitive analysis of the major unified communication as a service market participants and information on their company overviews, recent developments, and vital business strategies. 
Key Players
RingCentral
8×8
LogMeIn
Orange S.A.
DialPad
StarBlue
Windstream
Alcatel-Lucent Enterprise
Intrado Corporation
NTT Communications Corporation
Masergy
Revation Systems
Mitel
Cisco
Vonage
Fuze Inc.
Microsoft
Google
Verizon
BT
The global Unified Communication as a Service Market is segmented as follows:
By Component
Telephony
Unified Messaging
Collaborating Platforms
Conferencing
Others
By Delivery Model
Managed Services
Hosted/Cloud Services
By Industry Vertical
IT and Telecom
Healthcare
Education
Others
On the basis of Geography
North America
Europe
France
The UK
Spain
Germany
Italy
Rest of Europe
Asia Pacific
China
Japan
India
Australia
South Korea
Rest of Asia Pacific
The Middle East & Africa
Saudi Arabia
UAE
Egypt
Kuwait
South Africa
Rest of the Middle East & Africa
Latin America
Brazil
Argentina
Rest of Latin America