According to Custom Market Insights (CMI), The "Global Veterinary Vaccine Market to 2030" was estimated at nearly USD 9 billion in 2021. As per our study, the market is anticipated to reach a value of USD 15 billion by 2030 showing a CAGR of 5%. Scrutinizing the uncertainties of the COVID-19 pandemic, our research team is constantly tracking and assessing the impact of the pandemic on the Veterinary Vaccine Market. These comprehensive insights are included in our market search report as a key market contributor.
The global Veterinary Vaccine Market research report offers an in-depth analysis of the global market size, which is further segmented into the regional and country-level market size, and segmentation market growth. Also, it provides market share, sales analysis, competitive landscape, impact of domestic and global market participants, trade regulations, value chain optimization, recent key developments, strategic market growth analysis, opportunities analysis, product launches, and technological innovations.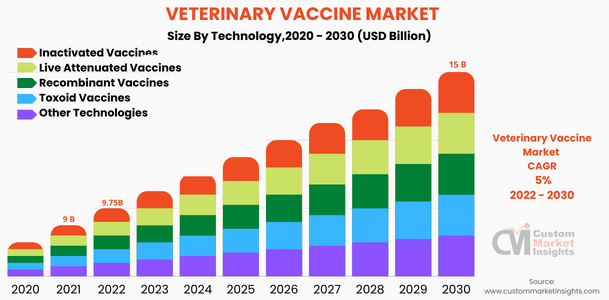 To learn more about this report, 
Browse the full "Veterinary Vaccine Market Size, Trends and Insights By Vaccine (Livestock Vaccine [Porcine Vaccines, Poultry Vaccines, Bovine Vaccines, Other Livestock Vaccines], Companion Animal Vaccine [Canine Vaccines, Equine Vaccines, Feline Vaccines], By Technology (Inactivated Vaccines, Live Attenuated Vaccines, Recombinant Vaccines, Toxoid Vaccines, Other Technologies), and By Region – Global Industry Overview, Statistical Data, Competitive Analysis, Share, Outlook, and Forecast 2022–2030″ report at https://www.custommarketinsights.com/report/veterinary-vaccine-market/
Veterinary Vaccine Market: Overview
Over the projection period, it is anticipated that the market for veterinary vaccines will grow quickly. One of the most prevalent cattle diseases in the world is anthrax. Anthrax has been globally contained as a consequence of national initiatives, but it remains pervasive, according to a report released by the WHO. The absence of vaccination against the illness and the inexperience of recent generations of veterinarians in detecting and reporting the condition both contribute to the disease's prevalence. Various livestock illnesses are becoming more common along with this.
In livestock production systems, animal diseases cause a wide range of problems, such as productivity losses, food insecurity, and revenue loss, all of which have a detrimental effect on human health. Thus, as a result of all these factors, veterinary animal vaccinations were introduced to the market.
Growth Factors
Rising Expenditure on Pet Well-being is Fueling the Growth of the Veterinary Vaccine Market
The main reasons for the widespread acceptance of ruminants, particularly cattle vaccinations, around the world are the rising outbreaks of cattle disease and the continuously growing livestock population. Animals are an essential source of milk, food, meat, protein, and other industrial goods like wool and leather. The three most often used animal vaccinations for equine influenza, foot, and mouth disease, and rabies restrict the spread of infectious pathogens by simulating acquired immunity.
The need for animal vaccines for the livestock population is rising as a result of growing concerns about food security and improved animal husbandry. Global livestock output has increased as a result of rising consumer demand for animal products. The demand for animal products is also rising as a result of a number of causes, including population expansion and variations in food choices brought on by changing lifestyles. These elements are contributing to the market's expansion. Additionally, the ongoing development of vaccinations and the spread of cattle diseases have contributed to the changing market dynamics.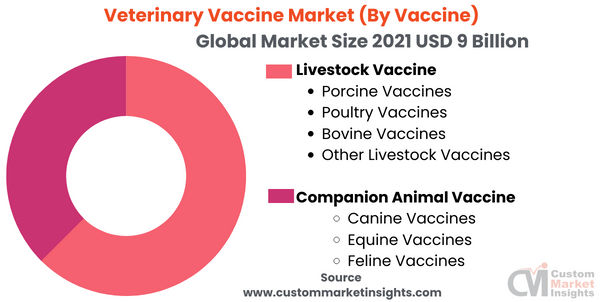 To learn more about this report, 
Segmental Overview
The Live Attenuated Vaccines led the Veterinary Vaccine Market
The Veterinary Vaccine market is segmented into vaccines and technology. Based on vaccines, the live attenuated vaccines held the largest market share for animal vaccines in 2021. By triggering a variety of immunological responses, attenuated vaccines can provide a higher immune response than regular vaccines. Additionally, it promotes a long-lasting and quick onset of immunity, which reduces the need for booster vaccines that can be given orally and positively influences the expansion of the market for animal vaccines.
Regional Overview
The North American region dominated the market for Veterinary Vaccines. This is due to the widespread adoption of pets as companions, an increase in the consumption of meat and dairy products, and growth in public understanding of the advantages of utilizing animal vaccines. Due to rising pet ownership and zoonotic disease prevalence, Asia-Pacific has a sizable market that could have an impact on market trends for animal vaccinations.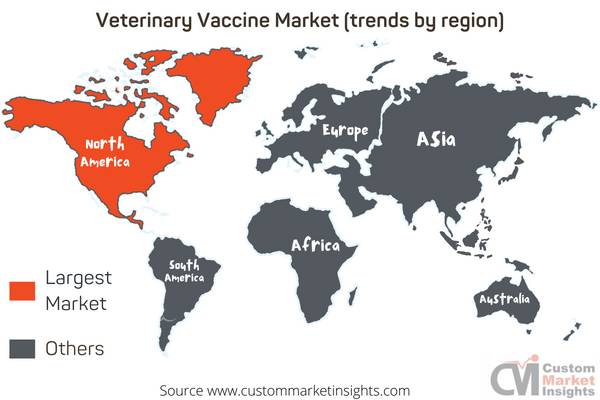 To learn more about this report, 
The rising demand for companion animals and food products made from animals has also boosted research on novel vaccine production techniques. Additionally, the development of cutting-edge vaccinations has improved due to a rise in investments in animal healthcare businesses.
Report Scope
| | |
| --- | --- |
| Feature of the Report | Details |
| Market Size in 2021 | USD 9 Billion |
| Projected Market Size in 2030 | USD 15 Billion |
| CAGR Growth Rate | 5% CAGR |
| Base Year | 2021 |
| Forecast Period | 2022-2030 |
| Prominent Players | MERCK, Boehringer Ingelheim International GmbH, Virbac, Zoetis Services LLC, Vetoquinol, Elanco, Ceva, Biovac, NEOGEN Corporation, ImmuCell Corporation, and Others |
| Key Segment | By Vaccine, Technology, and Region |
| Report Coverage | Revenue Estimation and Forecast, Company Profile, Competitive Landscape, Growth Factors and Recent Trends |
| Regional Scope | North America, Europe, Asia Pacific, Middle East & Africa, and South & Central America |
| Buying Options | Request tailored purchasing options to fulfil your requirements for research. |
Key Players Insights
Details about each competitor are provided in the competitive landscape for veterinary animal vaccinations. The company's financials, revenue generated, market potential, investment in R&D, new market initiatives, global presence, production sites and facilities, production capacities, company strengths and weaknesses, product launch, product width and breadth, and application dominance are among the details that are included. The information presented above only relates to the companies' market focus on veterinary vaccines.
Some of the prominent players
MERCK
Boehringer Ingelheim International GmbH
Virbac
Zoetis Services LLC
Vetoquinol
Elanco
Ceva
Biovac
NEOGEN Corporation
ImmuCell Corporation
The global Veterinary Vaccine Market is segmented as follows:
By Vaccine
Livestock Vaccine

Porcine Vaccines
Poultry Vaccines
Bovine Vaccines
Other Livestock Vaccines

Companion Animal Vaccine

Canine Vaccines
Equine Vaccines
Feline Vaccines
By Technology
Inactivated Vaccines
Live Attenuated Vaccines
Recombinant Vaccines
Toxoid Vaccines
Other Technologies
On the basis of Geography
North America
Europe
France
The UK
Spain
Germany
Italy
Rest of Europe
Asia Pacific
China
Japan
India
Australia
South Korea
Rest of Asia Pacific
The Middle East & Africa
Saudi Arabia
UAE
Egypt
Kuwait
South Africa
Rest of the Middle East & Africa
Latin America
Brazil
Argentina
Rest of Latin America