The Asia Pacific is expected to exhibit tremendous growth during 2022-2030
According to Custom Market Insights (CMI), The Global Water Recycle and Reuse Market size was estimated at USD 15.5 Billion in 2021 and is expected to hit around USD 30.5 Billion by 2030, poised to grow at a compound annual growth rate (CAGR) of 14.1% from 2022 to 2030. The report includes an analysis of the Water Recycle and Reuse market's driving and restraining factors, along with opportunities existing in the market. Moreover, the report scrutinizes global water recycling and reuse opportunities.
Water Recycle and Reuse Market: Overview
Water recycling and reuse use a range of sources to recycle wastewater. It then processes it and uses it for various purposes, including irrigation of public parks, street cleaning, vehicle washing, etc.; agriculture; industry; dust management; recreation; environmental goals (recharging aquifers); and drinkable purposes (aquifer recharge for drinking water use). 
Browse the full "Water Recycle and Reuse Market Size, Trends and Insights By Product (Chemical Treatment and Disinfection Technologies, Membrane Filtration Technologies, Conventional Treatment and Recycling Techniques), By Application (Commercial, Industrial, Agricultural), and By Region – Global Industry Overview, Statistical Data, Competitive Analysis, Share, Outlook, and Forecast 2023–2032 " report at https://www.custommarketinsights.com/report/water-recycle-and-reuse-market/
Water Recycle and Reuse Market Growth Factors
Over the following years, the water recycling and reuse market is anticipated to be driven by non-potable applications of recovered water, including toilet flushing, agricultural irrigation, and industrial processes, as well as growing government programs for water conservation and recycling. Additionally, the market is anticipated to grow in the upcoming years due to the use of this water for building, concrete mixing, artificial lakes, paper mills, and other benefits.
Additionally, it is estimated that the necessity to enlarge the surface water reservoirs and fill groundwater aquifers with recycled water will drive the market throughout the projected time. However, some limitations and difficulties may prevent the market from expanding. The prospect of retaining the poisonous and dangerous compounds in the recycled water may constrain demand.
Water Recycle and Reuse Market Segmental Overview
The market for Water recycling and Reuse is segmented into type and application. During the anticipated time, the industrial segment's market share will expand significantly regarding recycling and reusing water. Over the next 25 years, the amount of freshwater used for energy generation is anticipated to double globally, according to the International Energy Agency (IEA). As a result, the energy and power sector's extensive usage of wastewater reuse and recycling will fuel segment expansion in the years to come. The most popular uses include general wastewater recycling, boiler feedwater, condensate polishing, and Ion exchange rinse waters for cooling tower makeup.
Water Recycle and Reuse Market Regional Overview
Asia Pacific is projected to witness tremendous growth in the Water Recycle and Reuse market in 2021. The main markets in APAC for water recycling and reuse are China and India. This region's market will expand more quickly than those in other areas. Due to the quick adoption of water recycling in sectors like oil and gas, construction, and heavy metal industries, the rapid development of water infrastructure in Australia, South Korea, Taiwan, Singapore, and Japan will facilitate the growth of water recycling and reuse market in APAC for the forecast period. Other countries contributing to the market's revenue include the US, Spain, and Germany.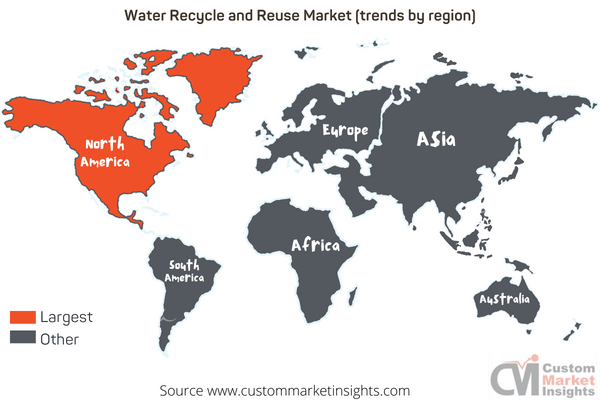 To learn more about this report, 
Growth in the region is also aided by soaring demand for new facilities, upgrades to existing facilities, and a growing focus on stricter wastewater control requirements, particularly in China.
Report Scope
Feature of the Report
Details
Market Size in 2021
USD

15.5

 

Billion

Projected Market Size in 2030
USD

30.5

 

Billion

Market Size in 2022
USD 17.16 

Billion

CAGR Growth Rate

14.1

% CAGR (2022-2030)
Base Year
2022
Forecast Period
2023-2032
Prominent Players
Aqua Utility Designs and Management Pvt. Ltd., DuPont de Nemours Inc., DP CleanTech, Water Rhapsody, GE Water and Process Technologies, Hansgrohe SE, ProChem Inc., Lenntech B.V., Siemens AG, Veolia Environment, and Others
Key Segment
By Product, Application, and Region
Report Coverage
Revenue Estimation and Forecast, Company Profile, Competitive Landscape, Growth Factors, and Recent Trends
Regional Scope
North America, Europe, Asia Pacific, Middle East & Africa, and South & Central America
Buying Options
Request tailored purchasing options to fulfill your requirements for research.
Water Recycle and Reuse Market Competitive Landscape
The water recycling and reuse market is highly fragmented with several local players operating locally. However, big players are focused on mergers, acquisitions, and partnerships, to extend their product portfolio and diversify their geographical reach. 
The market analysis chapter exclusively includes details for significant players in the global Water Recycle and Reuse market. This includes insights on the business overview, product overview, financial statements, and the key initiatives taken by the players. Further, we give the customer the leverage to customize the list of players to be included.
Prominent Players
Alfa Laval Corporate AB
Aquatech International LLC
aquatherm GmbH
Aries Chemical Inc.
DeLoach Industries Inc.
Ecolab Inc.
Element Solutions Inc.
Evoqua Water Technologies LLC
Fluence Corp. Ltd.
General Electric Co.
Grundfos Holding AS
Komline Sanderson Corp.
Lenntech BV
Nitto Denko Corp.
PHOENIX Process Equipment Co.
Praj Industries Ltd.
Samco Technologies Inc.
Siemens AG
Tata Sons Pvt. Ltd.
Veolia Environment SA
Water Rhapsody
Others
The global Water Recycle and Reuse market is segmented as follows:
Reverse Osmosis (RO)/Membrane Filtration
Activated Sludge
Clarification
Sludge Dewatering
Chlorination
Others
On the basis of Geography
North America
Europe
France
The UK
Spain
Germany
Italy
Rest of Europe
Asia Pacific
China
Japan
India
Australia
South Korea
Rest of Asia Pacific
The Middle East & Africa
Saudi Arabia
UAE
Egypt
Kuwait
South Africa
Rest of the Middle East & Africa
Latin America
Brazil
Argentina
Rest of Latin America