According to Custom Market Insights (CMI), "Well Casing Market" offers a comprehensive and deep evaluation of the market stature. Also, the market report estimates the market size, revenue, price, market share, market forecast, growth rate, and competitive analysis. Research shows that the Well Casing market was estimated at around USD 8.45 billion in 2021, growing at a CAGR of nearly 7.5% from 2022-2030. The market is projected to reach approximately USD 18.23 billion by 2030.
Well CasingMarket: Overview
A well drilled to explore for oil or gas cannot support itself on its unfinished sides. The casing is therefore done to stabilize and prevent the well's sides from collapsing. Additionally, the casing shields the good stream from outside contaminants and stops produced oil and gas from contaminating groundwater. Running a steel pipe down the interior of a newly drilled well is known as capping it. To permanently fix the casing, cement fills the space between the well's untreated sides and the casing. With increased oil and gas exploration operations, the good casing market is growing positively globally.
Casing typically takes place in 40-foot sections. Casing strings are created by screwing together a number of these casings. The global well casing market has been widely divided into cementation equipment and casing equipment. The float equipment, liners, centralizers, and wiper plug categories of casing and cementation equipment have been further divided.
Browse the full "Well Casing Market Size, Trends, and Insights By Type (Cementation Equipment, Casing Equipment), By Application (Onshore, Offshore), and By Region – Global Industry Overview, Statistical Data, Competitive Analysis, Share Outlook, and Forecast 2023–2032 "report at https://www.custommarketinsights.com/report/well-casing-market/
Growth Factors
The steadily rising demand for oil and gas is the primary element propelling the expansion of the worldwide well casing market. The need for good casing has increased due to offshore and onshore oil and gas exploration activities. Furthermore, it is crucial to safeguard groundwater and aquifers during drilling operations due to diminishing groundwater sources.
The global well casing market has grown due to regulatory organizations like the American Petroleum Institute implementing numerous oil and gas casing standards. These standards, frequently used for selected oil and gas casing, establish the length, tensile strength, composition, and thickness of casing for a certain well.
Segmental Overview
By 2030, the offshore segment is expected to represent a significant portion of the well-casing market based on application. The Golden Triangle considers the reactivation of numerous cold-stacked drilling rigs for fresh jobs. Norway, for instance, will be among the first nations to gather metals from the seabed for wind turbines, electric vehicle batteries, and solar companies when it grants licenses to companies for deep-sea mining operations as early as 2023. In the upcoming years, this prospective increase in seabed metal mining will raise well casing design's appeal and facilitate segmental extension.
Regional Overview
Due to rising governmental guidelines on advancing exploratory drilling activities in the region's intertidal zones, the Asia Pacific well casing market is expected to generate sizable profits by 2030. For example, the Indian Union government suggested allowing exploratory oil and natural gas drilling in the CRZ's intertidal areas in 2021. (Coastal regulation zones). This aspect will accelerate the installation of casing equipment in gas wells over the anticipated timeline, together with the significant increase in natural gas consumption in the nation.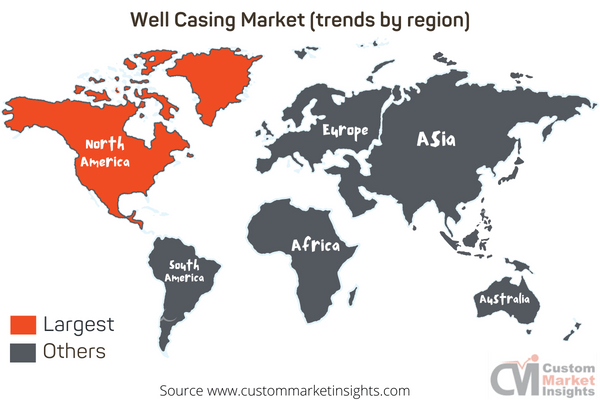 To learn more about this report, 
Report Scope
Feature of the Report
Details
Market Size in 2021
USD

8.45 Billion

Projected Market Size in 2030
USD 18.23 Billion
CAGR Growth Rate

7.5

% CAGR (2022-2030)
Base Year
2022
Forecast Period
2023-2032
Prominent Players
Akzo Nobel N.V., Celanese Corporation, Wasco Energy Group of Companies, LyondellBasell Industries Holdings B.V., The Dow Chemical Company, Arkema S.A., E.I. Du Pont De Nemours & Co., Tenaris SA., BASF SE Covestro AG, and Others
Key Segment
By Type, Application, and Region
Report Coverage
Revenue Estimation and Forecast, Company Profile, Competitive Landscape, Growth Factors, and Recent Trends
Regional Scope
North America, Europe, Asia Pacific, Middle East & Africa, and South & Central America
Buying Options
Request tailored purchasing options to fulfill your requirements for research.
Competitive Landscape/Key Players Insights
The world market for the good casing is incredibly fragmented. Weatherford International Ltd., Antelope Oil Tool & Manufacturing Company, Vallourec S.A., and Centek Group are a few major competitors in the global well casing market. In addition to focusing on partnerships and joint ventures, industry participants are progressively utilizing cutting-edge well-casing technology to grow their operations. The market participants are also refocusing on developing nations, where growing industrialization opens up vast opportunities for expanding the world's well casing market.
Some of the prominent players
Akzo Nobel N.V.

Celanese Corporation

Wasco Energy Group of Companies

LyondellBasell Industries Holdings B.V.

The Dow Chemical Company

Arkema S.A.

E.I. Du Pont De Nemours & Co.

Tenaris S.A.

BASF SE Covestro AG
The global Well Casingmarket is segmented as follows:
By Type
Cementation Equipment

Casing Equipment
By Application
On the basis of Geography
North America
Europe
France
The UK
Spain
Germany
Italy
Rest of Europe
Asia Pacific
China
Japan
India
Australia
South Korea
Rest of Asia Pacific
The Middle East & Africa
Saudi Arabia
UAE
Egypt
Kuwait
South Africa
Rest of the Middle East & Africa
Latin America
Brazil
Argentina
Rest of Latin America