Europe is experiencing high demand for Automotive Smart Lighting. 
According to Custom Market Insights (CMI), The Global Automotive Smart Lighting Market size was worth around USD 4 billion in 2021 and is predicted to grow to around USD 10 billion by 2030 with a compound annual growth rate (CAGR) of roughly 13% between 2022 and 2030.
The report analyses the Automotive Smart Lighting market's drivers and restraints and their impact on demand throughout the projection period. In addition, the report examines global opportunities in the global Automotive Smart Lighting market.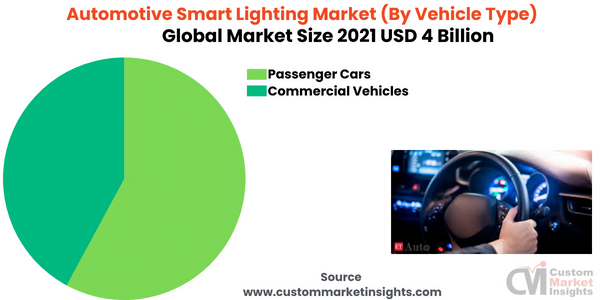 To learn more about this report, 
Automotive Smart Lighting Market: Overview
The sides, front, rear, and, sometimes, the top of a motor vehicle have lighting and signalling systems installed or built into them. They boost the vehicle's visibility so that other motorists and pedestrians may notice its presence, position, size, the direction of travel, and driver intentions. They also illuminate the road ahead for the driver.
Browse the full "Automotive Smart Lighting Market Size, Trends and Insights By Vehicle Type (Passenger Cars, Commercial Vehicles), By Technology (LED, Halogen, Xenon, Other Technologies), By Application (Exterior, Interior), and By Region – Global Industry Overview, Statistical Data, Competitive Analysis, Share, Outlook, and Forecast 2023–2032 " report at https://www.custommarketinsights.com/report/automotive-smart-lighting-market/
Growth Factors
Intelligent automotive lighting controls low-beam headlight units by the vehicle speed and steering angle to increase visibility while cornering at night. With the introduction of bright automotive lighting, a vehicle has become safer since it helps the driver in cases of low vision in extreme weather by optimizing light distribution by necessity.       
A feature of advanced driver assistance systems, bright automotive lighting modifies the vehicle's lighting pattern when travelling on a curving route to account for the road's curvature and improve nighttime visibility. This is anticipated to increase demand for car intelligent lighting during the forecast period.
The rise in road deaths caused by poor night vision, along with increased support from governments worldwide through stricter safety laws, is predicted to propel the automotive intelligent lighting market throughout the forecast period.
The automotive bright lighting market is highly hampered due to the high cost of LED lights. The previous technologies, such as halogen and Xenon/HID, have lost favour in favour of new ones. Halogen lights have the significant drawback of heating up and wasting energy, whilst Xenon lights are more complicated and take longer to reach full brightness. On the other hand, the LED is small and very flexible for many shapes and designs. However, because LED is more expensive than other technologies, it is only used in high-end or luxury vehicles. The high production costs of LEDs are to blame for their high price. The global market for intelligent automobile lighting is hampered by these concerns.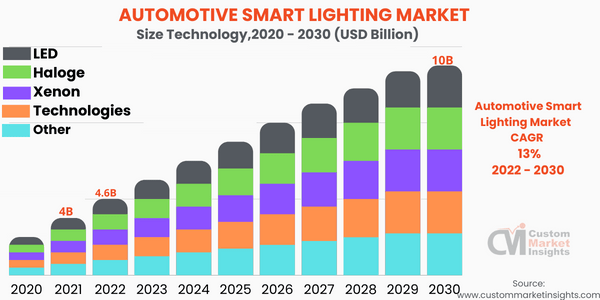 To learn more about this report, 
Segmental Overview
The market for Automotive Smart Lighting is segmented into vehicle type, application, and technology. Both passenger cars and commercial vehicles incorporate bright automotive lighting. Due to the high manufacturing cost, segment E and segment F passenger cars are the ones that use the automotive intelligent lighting systems the most. However, a few commercial vehicle producers, including VOLVO and Scania, have begun integrating these intelligent lighting systems in some trucks. Thus, adopting this bright automotive lighting across various vehicle types is driven by these causes.
Regional Overview
The European automobile industry places a greater emphasis on component research and development than in other regions, which results in a higher rate of technology adoption in the area. In addition, the region's market for bright automotive lighting is projected to grow because of the increased penetration of premium and luxury vehicles in various nations, including Germany and the U.K.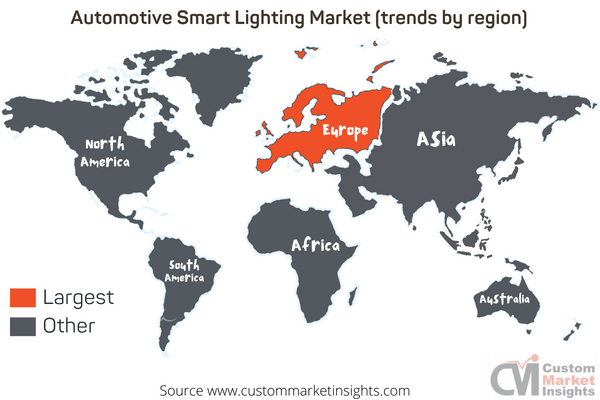 To learn more about this report, 
Report Scope
| | |
| --- | --- |
| Feature of the Report | Details |
| Market Size in 2021 | USD 4 Billion |
| Projected Market Size in 2030 | USD 10 Billion |
| Market Size in 2022 | USD 4.6 Billion |
| CAGR Growth Rate | 13% CAGR (2022-2030) |
| Base Year | 2022 |
| Forecast Period | 2023-2032 |
| Prominent Players | Automotive Lighting LLC, Koito Manufacturing Co. Ltd., Lumileds Holding B.V., OSRAM Continental GmbH, SL Corporation, Robert Bosch GmbH, HELLA GmbH & Co. KGaA, Varroc Group, Tungsram, Valeo SA, and Others |
| Key Segment | By Vehicle Type, Technology, Application, and Region |
| Report Coverage | Revenue Estimation and Forecast, Company Profile, Competitive Landscape, Growth Factors and Recent Trends |
| Regional Scope | North America, Europe, Asia Pacific, Middle East & Africa, and South & Central America |
| Buying Options | Request tailored purchasing options to fulfil your requirements for research. |
Key Players Insights
A comprehensive study of the strategies adopted by the major players are included in our research report, along with the services offered, financial overview, SWOT analysis, and key developments and initiatives observed in the past three years. Further, we give our clients the leverage to modify the company list per their requirements. 
Prominent Players
Automotive Lighting LLC
Koito Manufacturing Co. Ltd.
Lumileds Holding B.V.
OSRAM Continental GmbH
SL Corporation
Robert Bosch GmbH
HELLA GmbH & Co. KGaA
Varroc Group
Tungsram
Valeo SA
The global Automotive Smart Lighting market is segmented as follows:
By Vehicle Type
Passenger Cars
Commercial Vehicles
By Technology
LED
Halogen
Xenon
Other Technologies
By Application
On the basis of Geography
North America
Europe
France
The UK
Spain
Germany
Italy
Rest of Europe
Asia Pacific
China
Japan
India
Australia
South Korea
Rest of Asia Pacific
The Middle East & Africa
Saudi Arabia
UAE
Egypt
Kuwait
South Africa
Rest of the Middle East & Africa
Latin America
Brazil
Argentina
Rest of Latin America