According to Custom Market Insights (CMI), The Global Cardiac Catheters Market size was estimated at USD 13.5 Billion in 2021 and is expected to hit around USD 25.5 Billion by 2030, poised to grow at a compound annual growth rate (CAGR) of 7.65% from 2022 to 2030.
Cardiac catheters are instruments used for heart valve analysis or for directing and visualizing the coronary arteries. The product is a thin, flexible tube that guides equipment through the body's blood arteries during cardiovascular treatments like angioplasty and stenting. Since they offer a less invasive interventional method than open surgery, cardiac catheters are in great demand.
Cardiac catheters are long, thin, flexible tubes inserted into blood vessels in the arms, neck, or groin and then transported to the heart for therapeutic and diagnostic treatments.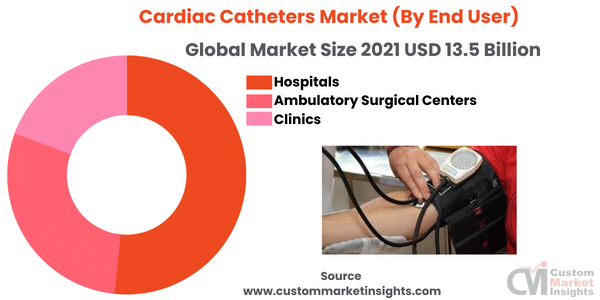 To learn more about this report, 
The aging population and rise in heart disease prevalence are anticipated to fuel market expansion. Technological developments also stimulate the market. Due to an increase in the majority of heart ailments, cardiovascular issues brought on by altered lifestyle patterns, poor dietary practices, and excessive alcohol and cigarette use, the market for cardiac catheters is multiplying. This has further resulted in artery obstruction and stroke, which necessitated surgery. Market share for cardiac catheters will increase as less invasive treatments with improved medical imaging become more popular.
Along with technological advancements and improvements in sensor technology, the rising need for interventional cardiac catheterization will further support market trends for cardiac catheters. However, constraints, including a shortage of qualified personnel, are anticipated to impede market expansion. During the analysis period, increased R&D and significant investments in healthcare are expected to present new possibilities.
Browse the full "Cardiac Catheters Market Size, Trends and Insights By Product (Electrophysiology Catheters, PTCA Balloons Catheters, IVUS Catheters, PTA Balloons Catheters, Others), By End User (Hospitals, Ambulatory Surgical Centers, Clinics), and By Region – Global Industry Overview, Statistical Data, Competitive Analysis, Share, Outlook, and Forecast 2023–2032" report at https://www.custommarketinsights.com/report/cardiac-catheters-market/
 Market Dynamics.
 Drivers.
There are many different types of cardiac catheters available depending on the complexity of the cardiac problem, which increases the surgeon's effectiveness. The cardiovascular devices industry is growing significantly due to the rising number of patients with cardiac disorders and the increasing prevalence of unhealthy lifestyles. Additionally, the market for cardiac catheters is expected to develop more throughout the projected period due to technological advancements.
A growing number of elderly people
One of the significant concerns in the world's emerging nations is the growing elderly population. The incidence of chronic illnesses in older people, such as aortic disease, venous thromboembolism, peripheral arterial disease, etc., is also expected to increase throughout the forecast period, driving the expansion of the catheter market. Geriatric populations are growing at an unprecedented rate in Asia Pacific, where there are most of them.
One of the biggest worries in the world's emerging nations is the growing elderly population. The incidence of chronic illnesses in older people, such as aortic disease, venous thromboembolism, peripheral arterial disease, etc., is also expected to increase throughout the forecast period, driving the expansion of the catheter market.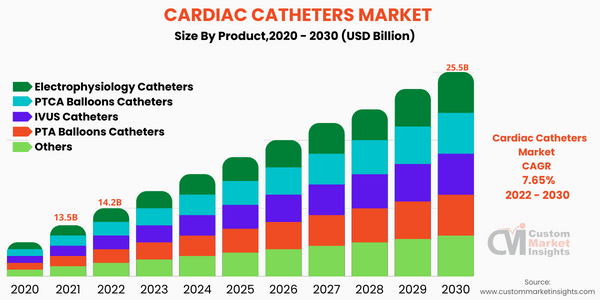 To learn more about this report, 
Unhealthy lifestyle
Diabetes is caused by adopting unhealthy habits, including smoking, inactivity, and poor food. One of the main techniques used to treat cardiovascular disorders is Percutaneous Coronary Intervention (PCI), which includes cardiac catheterization, angioplasty, and other treatments. One of the necessary components for these operations is cardiac catheters. It is employed for device insertion and opening clogged arteries. Increasing diabetes incidences are anticipated to drive up demand for cardiac catheters over the projected period since diabetes is one of the main factors that initiate cardiovascular illnesses.
Moreover, significant genetic alterations and a sedentary lifestyle are the leading causes of type I and II diabetes. Monogenic diabetes is mainly developed owing to mutations in a single gene. Most of the time, these alterations are passed down via families, although gene mutations occasionally occur after birth. The bulk of the altered genes reduce the pancreas' degree of functioning, raising the chance of developing diabetes. Young adult diabetes with maturity-onset and neonatal diabetes are the two most prevalent monogenic diabetes. Diabetes in newborns often develops throughout the first six months of life. Additionally, diabetes is brought on by adopting unhealthy behaviors, including smoking, inactivity, and poor food.
Restraints.
 An increase in hospital-acquired infections based on catheters is restraining the growth of the cardiac catheter market during the forecast period.
 Opportunities.
 During the analysis period, it is anticipated that increased R&D and significant investments in healthcare would present new opportunities.
 Challenges.
 The hefty price of cutting-edge catheters could impede industry expansion. Novel catheters are needed for catheterization operations on an increasing number of patients with cardiovascular and chronic disorders, including urine bladder, renal failure, coronary heart disease, etc. However, low-income countries may see a decline in the use of catheters due to the expensive catheterization operations required to treat these disorders.
The expensive price of these gadgets and necessary accessories might limit market expansion. Market growth in underdeveloped nations with relatively low-income levels may be constrained because of the high costs involved with catheterization procedures. As a result, it could be challenging for middle-income and low-income countries to accept such expensive goods. Therefore, the high price of these cutting-edge devices might restrain the expansion of the cardiac catheter market over the estimated year.
 Report Highlights.
Based on the product, the PTCA balloons catheters category is expected to grow at the most significant CAGR and will be in a dominant position in the future. PTCA, a minimally invasive procedure, opens up blocked or constrictive coronary arteries brought on by coronary artery disease (CAD). Without requiring open heart surgery, PTCA balloon catheters allow blood to flow freely from the streets to the heart muscles.
Based on end-user, the ambulatory surgery centers segment is the leading segment and is expected to make the most significant contribution to the cardiac catheters market. They provide patients with the convenience of having operations and surgeries safely carried out anywhere outside a hospital. Ambulatory surgery centers have shown since they opened their doors decades ago that they can increase quality, convenience, and service while lowering costs. In addition, they frequently have a more laid-back atmosphere than a hospital setting since they are usually calmer and see fewer patients daily.
Regional Snapshots. 
 North America held a dominant position and is predicted to dominate during the forecast period in the cardiac catheter market due to the rising frequency of heart illnesses caused by regional changes in lifestyle and technology. The development of cutting-edge treatments, some supportive reimbursement policies, and the existence of many significant market participants are predicted to fuel the regional market. Additionally, this area is overseen by regulatory authorities that have legislation governing the payment for cardiac interventional treatments.
Report Scope
Feature of the Report
Details
Market Size in 2021
USD 13.5 Billion
Projected Market Size in 2030
USD

25.5 Billion

Market Size in 2022
USD 14.2 Billion
CAGR Growth Rate

7.65

% CAGR (2022-2030)
Base Year
2022
Forecast Period
2023-2032
Prominent Players
Abbott Laboratories, Boston Scientific Corporation, Bard Medical, B. Braun Melsungen AG, Teleflex Incorporated, Johnson & Johnson, Medtronic Inc., Becton Dickinson and Company, Edwards Lifesciences Corp., Vascular Solutions Inc., and Others
Key Segment
By Product, End User, and Region
Report Coverage
Revenue Estimation and Forecast, Company Profile, Competitive Landscape, Growth Factors, and Recent Trends
Regional Scope
North America, Europe, Asia Pacific, Middle East & Africa, and South & Central America
Buying Options
Request tailored purchasing options to fulfill your requirements for research.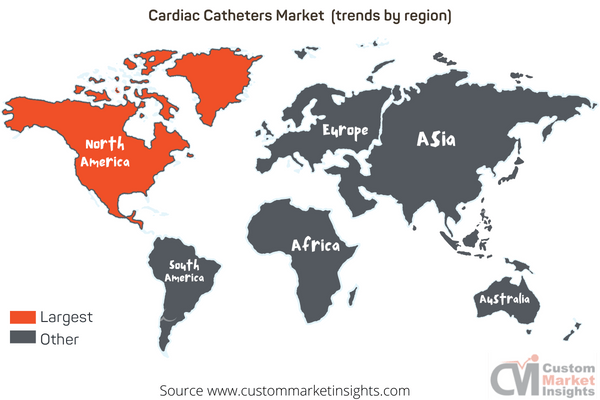 To learn more about this report, 
Key Players
Abbott Laboratories
Boston Scientific Corporation
Bard Medical
Braun Melsungen AG
Teleflex Incorporated
Johnson & Johnson
Medtronic Inc.
Becton Dickinson and Company
Edwards Lifesciences Corp.
Vascular Solutions Inc.
Recent Developments.
The first intermittent female urinary catheter, LoFric Elle, was introduced by Wellspect Healthcare. The company was able to broaden its catheter product line and grow its business in the global market thanks to the introduction of this new product.
Segments covered in the report.
By Product
Electrophysiology Catheters
PTCA Balloons Catheters
IVUS Catheters
PTA Balloons Catheters
Others
By End User
Hospitals
Ambulatory Surgical Centers
Clinics
Based on Geography
North America
Europe
France
The UK
Spain
Germany
Italy
Rest of Europe
Asia Pacific
China
Japan
India
Australia
South Korea
Rest of Asia Pacific
The Middle East & Africa
Saudi Arabia
UAE
Egypt
Kuwait
South Africa
Rest of the Middle East & Africa
Latin America
Brazil
Argentina
Rest of Latin America