North America held the Largest Share of the Cartilage Repair/ Cartilage Regeneration Market in 2021
According to Custom Market Insights (CMI), The Global Cartilage Repair/ Cartilage Regeneration Market size was estimated at USD 0.75 billion in 2021 and is anticipated to reach around USD 2.32 billion by 2030, growing at a CAGR of roughly 15% between 2022 and 2030. 
Our research report offers a 360-degree view of the Cartilage Repair/ Cartilage Regeneration market's drivers and restraints, coupled with their impact on demand during the projection period. Also, the report examines global opportunities and competitive analysis for the Cartilage Repair/ Cartilage Regeneration market.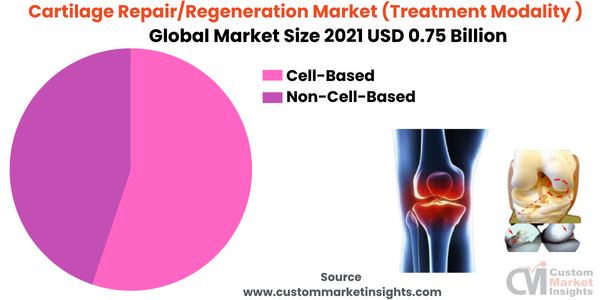 To learn more about this report, 
Cartilage Repair/ Cartilage Regeneration Market: Overview
Cartilage regeneration replaces articular cartilage, a cushion between bone terminals. When cartilage is damaged or worn out, a bone will collide with another bone, causing discomfort close to the sensitive nerve ends. In addition, as a result of its poor blood supply, cartilage has a limited capacity for self-repair.
Cartilage repair is restoring the cartilage surface of a joint damaged by an osteochondral or chondral defect. It may take weeks or even months for swelling to go down after an injury that causes a damaged joint to enlarge. Because of its limited mitotic capacity and vascular structure, articular cartilage is a defect brought on by osteoarthritis and is less crucial for any repairs. Symptoms of cartilage loss include physical impairment, stiffness, soreness, and inflammation of the muscles.
Browse the full "Cartilage Repair/Regeneration Market Size, Trends and Insights By Treatment Modality (Cell-Based, Non-Cell-Based), By Application (Fibrocartilage, Hyaline Cartilage), By Treatment (Palliative, Intrinsic Repair Stimulus), By Site (Knee, Ankle, Spine, Hip, Others), and By Region – Global Industry Overview, Statistical Data, Competitive Analysis, Share, Outlook, and Forecast 2023–2032 " report at https://www.custommarketinsights.com/report/cartilage-repair-regeneration-market/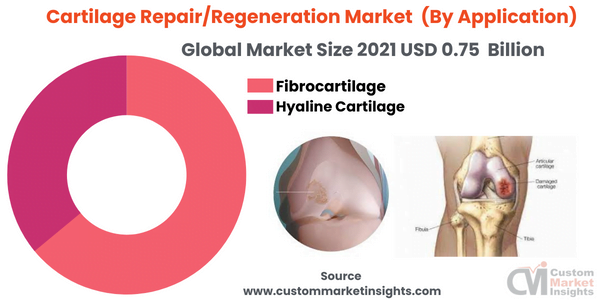 To learn more about this report, 
Growth Factors
Due to an aging population, rising obesity rates, rising healthcare costs, and increased sports-related injuries, the global Cartilage Repair/ Cartilage Regeneration market is expanding significantly. The market is also growing due to an increase in cutting-edge product introductions and the expansion of medical tourism, both raising awareness of cartilage treatment options worldwide. Due to the long-term effects of this treatment, the segment for cell-based therapies is predicted to increase at the quickest rate during the forecast period.
Global cartilage repair/regeneration product makers should benefit from the emerging economies' rapid economic expansion and the technological advancements in cartilage repair and regeneration products. The main barriers to the global market development, however, are the high cost of these medications and the absence of insurance coverage for these therapies.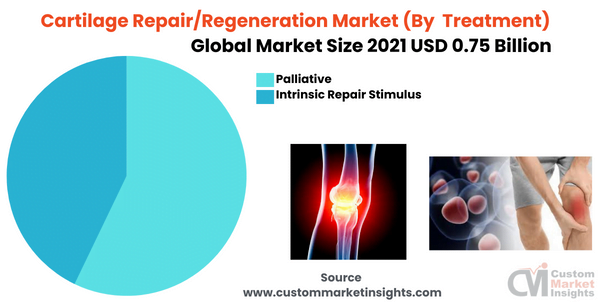 To learn more about this report, 
Segmental Overview
The Cartilage Repair/ Cartilage Regeneration market is segmented into treatment modality, application, and site. The two main applications of this market are hyaline and fibrocartilage. Due to an increase in cases of injuries connected to cartilage and an increase in cases of physical damage, hyaline cartilage is anticipated to expand the cartilage repair/regeneration market during the forecast period. Furthermore, defects in articular cartilage in the knees and other joints due to a sharp increase in sports-related injuries ultimately fuel the segment's expansion.
The market is divided into cell-based and non-cell-based, based on treatment modality. Due to the rising demand for autologous chondrocyte transplantation as an alternative to surgical treatment of injured articular cartilage, particularly chondral and osteochondral lesions, cell-based therapy modality is anticipated to dominate the market in the anticipated year. In contrast to cell-free composite, tissue scaffolds are used to stimulate the formation of bone and cartilage when utilized for knee or other transplants, increasing the need for them in medicine.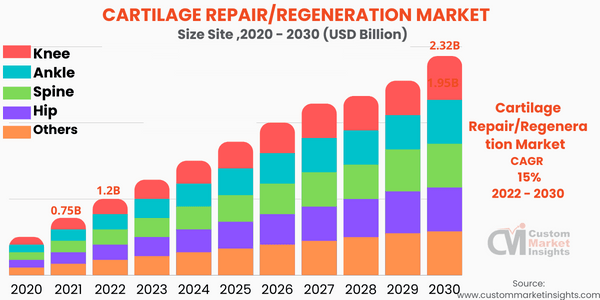 To learn more about this report, 
Regional Overview
According to the regional study, North America will maintain its market dominance over the forecast. The target market, progress in biomaterial studies, and rise in musculoskeletal illnesses are the driving forces behind the market's expansion. In addition, increased osteoporosis disorders cases brought on by changing lifestyles in nations like Germany and France contribute to the region's expansion.
Due to their recent adoption of cutting-edge and affordable medical procedures, Europe and Asia-Pacific are predicted to see a significant share rise during the projection period. Additionally, it is anticipated that increased R&D spending by different venture capitalists and investors will shape the Cartilage Repair/Regeneration market in the coming years.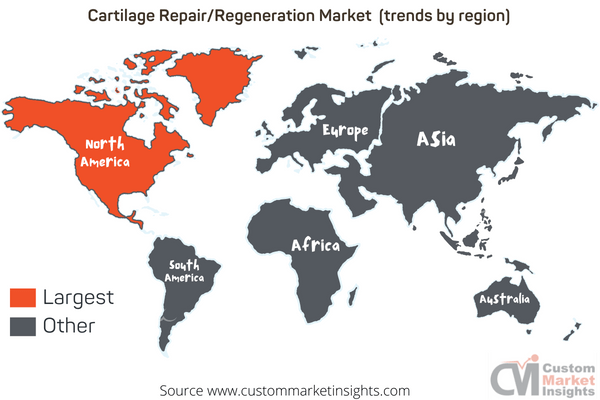 To learn more about this report, 
Report Scope
Feature of the Report
Details
Market Size in 2021
USD

0.75

Billion
Projected Market Size in 2030
USD

2.32

Billion
Market Size in 2022
USD 1.2 Billion
CAGR Growth Rate
15% CAGR (2022-2030)
Base Year
2022
Forecast Period
2023-2032
Prominent Players
Smith & Nephew plc, Zimmer Biomet, DePuy Synthes, Stryker Corporation, B. Braun Melsungen AG, Vericel Corporation, Anika Therapeutics, MEDIPOST Co.Ltd., RTI Surgical (RTI), Arthrex, Inc., CONMED CORPORATION, Regrow Biosciences PVT.LTD, Geistlich Pharma AG, Orthocell Ltd, AlloSource, Bio-Tissue, and Others
Key Segment
By Treatment Modality, Application, Treatment, Site, and Region
Report Coverage
Revenue Estimation and Forecast, Company Profile, Competitive Landscape, Growth Factors and Recent Trends
Regional Scope
North America, Europe, Asia Pacific, Middle East & Africa, and South & Central America
Buying Options
Request tailored purchasing options to fulfil your requirements for research.
Key Players Insights
Market participants in the global Cartilage Repair/ Cartilage Regeneration market are diversifying their product offerings as a part of their inorganic growth strategies, including partnerships, mergers, and acquisitions. Also, R&D efforts are carried out by both market businesses and research institutions. 
2021: The Georgia-based Arthritis Foundation announced the launching a new software (Vim, the Arthritis Foundation's mobile app), and the organization's primary patient research findings were released to mark the beginning of Arthritis Awareness Month.

2020: Helicoil Knotless, a suture anchor, was introduced by Smith & Nephew Plc. The Helicoil Knotless Suture Anchor's particular combination with Regenesorb Material is intended to dramatically speed up bone fusion and healing.

2019: a group of international scientists from the University of Granada (UGR) developed a novel hydrogel based on polymer microarray technology that effectively promotes cartilage regeneration.
Prominent Players
Smith & Nephew plc
Zimmer Biomet
DePuy Synthes
Stryker Corporation
Braun Melsungen AG
Vericel Corporation
Anika Therapeutics
MEDIPOST Co.Ltd.
RTI Surgical (RTI)
Arthrex, Inc.
CONMED CORPORATION
Regrow Biosciences PVT.LTD
Geistlich Pharma AG
Orthocell Ltd
AlloSource
Bio-Tissue
The global Cartilage Repair/ Cartilage Regeneration market is segmented as follows:
By Treatment Modality
Cell-Based
Non-Cell-Based
By Application
Fibrocartilage
Hyaline Cartilage
By Treatment
Palliative
Intrinsic Repair Stimulus
By Site
Knee
Ankle
Spine
Hip
Others
On the basis of Geography
North America
Europe
France
The UK
Spain
Germany
Italy
Rest of Europe
Asia Pacific
China
Japan
India
Australia
South Korea
Rest of Asia Pacific
The Middle East & Africa
Saudi Arabia
UAE
Egypt
Kuwait
South Africa
Rest of the Middle East & Africa
Latin America
Brazil
Argentina
Rest of Latin America