Asia Pacific to Witness a High CAGR in the Dental Consumables Market in 2021
According to Custom Market Insights (CMI), The Global Dental Consumables Market was estimated at USD 34 billion in 2021 and is anticipated to reach around USD 60 billion by 2030, growing at a CAGR of roughly 6% between 2022 and 2030. 
Our research report offers a 360-degree view of the Dental Consumables market's drivers and restraints, coupled with their impact on demand during the projection period. Also, the report examines global opportunities and competitive analysis for the Dental Consumables market.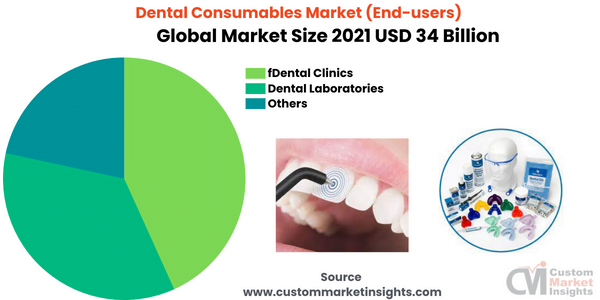 To learn more about this report, 
Dental Consumables Market: Overview
The global market for dental consumables is driven by an increase in the prevalence of oral illnesses. The success rate of dental implants and bone grafting surgeries has increased due to recent innovations such as personalized implants, quick loading, short implants, sinus elevation, and surface changes. Chronic disorders, including cancer, pneumonia, dementia, and Alzheimer's disease, can all be symptoms of or perhaps be caused by, poor dental health. Therefore, it is anticipated that the global market will grow throughout the projected period due to an increase in the focus on health, an increase in the elderly population, and an increase in knowledge of oral illnesses. Strategic alliances are being used by significant firms to increase their market share in dental consumables.
Browse the full "Dental Consumables Market Size, Trends and Insights By Product (Dental Restoration Products, Dental Implants, Titanium Implants, Zirconium Implants, Dental Prosthetics, Dental Bridges, Dental Crowns, Dentures, Others, Orthodontics, Clean Aligners, Fixed Braces, Periodontics, Dental Anesthetics, Dental Hemostats, Dental Sutures, Endodontics, Infection Control, Finishing & Polishing Products, Whitening Products, Others), By End-users (Dental Clinics, Dental Laboratories, Others), and By Region – Global Industry Overview, Statistical Data, Competitive Analysis, Share Outlook, and Forecast 2023–2032 " report at https://www.custommarketinsights.com/report/dental-consumables-market/
Growth Factors
In the coming years, the dental consumables market is anticipated to grow as people's awareness of oral health increases. Several campaigns are run worldwide to raise awareness of the importance of good dental hygiene. In addition, dental activities for young children raise knowledge of health issues and cutting-edge medical procedures, resulting in the provision of protective oral healthcare.
Dental implants are used to treat tooth loss brought on by periodontal disease, trauma, or tooth decay. These implants, however, can trigger several allergies. Fluids in the mouth constantly interact with artificial and metallic implants and numerous endodontic devices. Several substances—nickel, cobalt, and chromium—were common causes of allergic contact dermatitis. Due to their resilience, capacity to withstand stress, biocompatibility, and lack of susceptibility to corrosion or other galvanic reactions, gold and palladium have attracted increased attention in recent years.
Additionally, the rising dental tourism in emerging economies is boosting the dental consumables market. Travelling outside of one's own country to receive dental services that are typically more expensive there is known as dental tourism. Dental tourism rapidly expands in emerging economies due to rising healthcare expenses in affluent nations. The top countries for dental tourism are Mexico, India, Costa Rica, Thailand, the Philippines, Hungary, Colombia, Turkey, and Poland because they provide patients with cost-effective and high-quality care. In addition, India's multispecialty dental clinics are noted for having reasonable costs in the dental tourism industry.
Segmental Overview
The market for Dental Consumables is segmented into product and end-user. According to the product, the dental implants segment is anticipated to hold the most significant market share in 2021. The substantial market share of this industry sector is supported by the rising number of people without teeth and the growing significance of aesthetic dentistry. Additionally, the dental implants increasing popularity, such as detachable braces and clear aligners, are driven by the need for dental implantation operations. In addition to being easier to clean than set brackets, removable braces and transparent aligners also minimize the chance of developing periodontal disease in the future.
Regional Overview
In 2021, Asia Pacific had the second-largest market share worldwide. During the projection period, a significant market growth rate is anticipated in the area. The rising incidence of dental problems in the area might be blamed for the market's expansion. During the anticipated period, it is projected that changes in eating and lifestyle patterns and increased awareness of oral hygiene will propel the market in India. Owing to the surging number of dental patients, the availability of healthcare financing, and the country's growing awareness of oral health, the market in China is anticipated to experience rapid expansion over the next few years.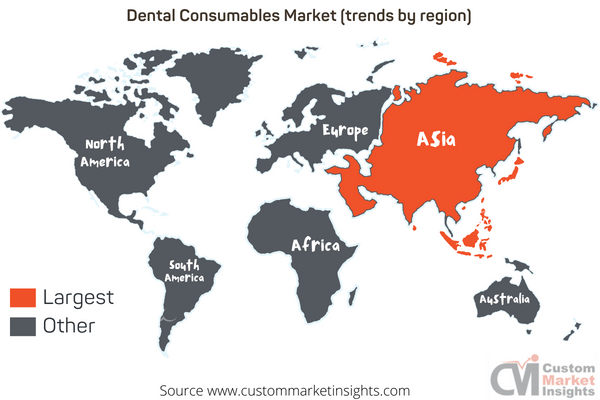 To learn more about this report, 
Report Scope
| | |
| --- | --- |
| Feature of the Report | Details |
| Market Size in 2021 | USD 34 Billion |
| Projected Market Size in 2030 | USD 60 Billion |
| Market Size in 2022 | USD 37 Billion |
| CAGR Growth Rate | 6% CAGR (2022-2030) |
| Base Year | 2022 |
| Forecast Period | 2023-2032 |
| Prominent Players | Myriad Genetics Inc., Exact Sciences Corporation, Personal Genome Diagnostics Inc., Guardant Health Inc., Bio-Rad Laboratories Inc., Agena Bioscience Inc., F. Hoffmann-La Roche Ltd., Exosome Diagnostics Inc., ANGLE Plc., and Others |
| Key Segment | By Product, End-users, and Region |
| Report Coverage | Revenue Estimation and Forecast, Company Profile, Competitive Landscape, Growth Factors and Recent Trends |
| Regional Scope | North America, Europe, Asia Pacific, Middle East & Africa, and South & Central America |
| Buying Options | Request tailored purchasing options to fulfil your requirements for research. |
Key Players Insights
A few primary strategies market participants use in the dental consumables market include product growth, acquisition, and expanding industrial activities. The global dental consumables market is very competitive, with numerous multinational and local rivals vying for the top spot in the industry. Leading companies are concentrating on new product releases and advancements to keep ahead of the competition. Using computer-assisted modelling and engineering technology to more efficiently create and manufacture endodontics, orthodontics, and periodontics is another method to improve accuracy and precision. Organizations must also follow through on their alliances and acquisitions with other businesses to obtain a competitive edge in the dental consumables industry. 
2022: OverdenSURE was introduced in Europe and North America by Zimmer Biomet Holdings, Inc. It is a brand-new system for attaching overdentures to Zimmer Biomet dental implants.

2021: Dentalpoint AG, a Swiss expert in ceramic dental implants, was purchased by CeramTec Group. The Xeal and TiUltra surfaces from Nobel Biocare were also introduced in the US during the same month. Applying the new product surfaces to implants and abutments enables tissue integration to be optimized at every stage.
Prominent Players
Myriad Genetics Inc.
Exact Sciences Corporation
Personal Genome Diagnostics Inc.
Guardant Health Inc.
Bio-Rad Laboratories Inc.
Agena Bioscience Inc.
Hoffmann-La Roche Ltd.
Exosome Diagnostics Inc.
ANGLE Plc.
The global Dental Consumables market is segmented as follows:
By Product
Dental Restoration Products

Dental Implants

Titanium Implants
Zirconium Implants

Dental Prosthetics

Dental Bridges
Dental Crowns
Dentures
Others

Orthodontics

Clean Aligners
Fixed Braces

Periodontics

Dental Anesthetics
Dental Hemostats
Dental Sutures

Endodontics
Infection Control
Finishing & Polishing Products
Whitening Products
Others
By End-users
Dental Clinics
Dental Laboratories
Others
On the basis of Geography
North America
Europe
France
The UK
Spain
Germany
Italy
Rest of Europe
Asia Pacific
China
Japan
India
Australia
South Korea
Rest of Asia Pacific
The Middle East & Africa
Saudi Arabia
UAE
Egypt
Kuwait
South Africa
Rest of the Middle East & Africa
Latin America
Brazil
Argentina
Rest of Latin America