Industrial Machinery Segment to Dominate System on Package Market 
According to Custom Market Insights (CMI), The Global Electric DC Motors market size was estimated at USD 18.6 billion and is anticipated to reach around USD 27.7 billion by 2030, growing at a CAGR of roughly 10% between 2022 and 2030. Our research report offers a 360-degree view of the Electric DC Motors market's drivers and restraints, coupled with their impact on demand during the projection period. Also, the report examines global opportunities and competitive analysis for the Electric DC Motors market.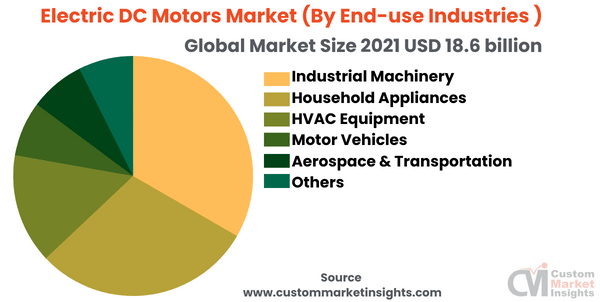 To learn more about this report, 
Electric DC Motors Market: Overview
Electric DC motors are frequently employed in various industrial applications to carry out various industrial operations. Electric DC motors are used for energy conversion in almost every mechanical advancement since they transform electrical energy into mechanical energy. The steady expansion of industrial automation primarily drives the market for electric DC motors.
Several industry sectors have incorporated industrial automation components in the past few years. Industries are changing their business procedures to compete in the fast-paced commercial environment. During the projected period, these factors are anticipated to support the expansion of the worldwide electric DC motor market. 
Browse the full "Electric DC Motors Market Size, Trends and Insights By Type (Brushed, Brushless), By Voltage (0 – 750 Watt, 750 Watts – 3 kW, 3kW – 75 kW, Above 75kW), By End-use Industries (Industrial Machinery, Household Appliances, HVAC Equipment, Motor Vehicles, Aerospace & Transportation, Others), and By Region – Global Industry Overview, Statistical Data, Competitive Analysis, Share, Outlook, and Forecast 2023–2032 " report at https://www.custommarketinsights.com/report/electric-dc-motors-market/
Growth Factors
Future demand for DC type is anticipated to be enormous because of factors including the concerted efforts of governments worldwide to promote manufacturing and the growing popularity of electric vehicles. Numerous countries have revised their energy regulation rules due to the excessive usage of conventional energy sources, such as fuels, and their quick depletion. Utilizing these motors results in cleaner consumption and cost-effective cost reduction.
The rate at which industrial industries are automating and modernizing their processes is dangerously high due to the increasing demand for goods. A significant level of modernization has also been achieved in conventional agricultural machinery, which makes considerable use of DC motors. Due to rising demand brought on by these factors, the electric DC motors market is anticipated to grow throughout the forecast period.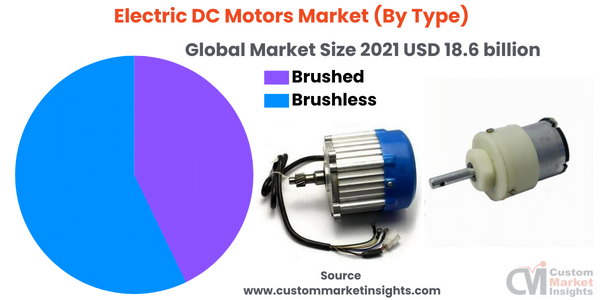 To learn more about this report, 
Segmental Overview
The market for Electric DC Motors is segmented into packaging type, voltage, and end-use industries. Based on the end-use industries, the market for the industrial machinery segment is anticipated to dominate throughout 2022-2030. The market for electric DC motors has been competitive for a long period. It has several applications in the bulk of industrial machinery due to its availability on the market before the industrial revolution. Due to its capacity to promote efficient operations and provide precise motion control, the DC type has been increasingly adopted in this industry due to the rise of building automation systems.
The motor vehicle segment is also anticipated to increase strongly during the projection period. The two main reasons propelling the global market growth are increased demand for electric vehicles and expanding automobile production.
Regional Overview
The Asia Pacific region will lead the electric DC motor market in 2021. Over the projection period, developed regions like North America and Europe are anticipated to experience consistent expansion. The demand for these motors is anticipated to increase over the next several years as the U.S. government encourages the production of electric vehicles. The industry in Europe is also being driven by government subsidy programs for electric vehicles to protect the environment from carbon emissions. 
To learn more about this report, 
Report Scope
| | |
| --- | --- |
| Feature of the Report | Details |
| Market Size in 2021 | USD 18.6 Billion |
| Projected Market Size in 2030 | USD 27.7 Billion |
| CAGR Growth Rate | 10% CAGR (2022-2030) |
| Base Year | 2022 |
| Forecast Period | 2023-2032 |
| Prominent Players | Allied Motion Inc., ABB, Ametek Inc, Minebeamitsumi Inc., Johnson Electric Holdings Limited, Yaskawa Electric Corp, Maxon Motor AG, NIDEC Corporation, Siemens AG, Regal Rexnord Corporation], and Others |
| Key Segment | By Type, Voltag, End-use Industries, and Region |
| Report Coverage | Revenue Estimation and Forecast, Company Profile, Competitive Landscape, Growth Factors and Recent Trends |
| Regional Scope | North America, Europe, Asia Pacific, Middle East & Africa, and South & Central America |
| Buying Options | Request tailored purchasing options to fulfil your requirements for research. |
Key Players Insights
The competitive landscape for the system in package (SIP) market includes information from competitors. The company's financials, revenue generated, market potential, investment in R&D, new market initiatives, production sites and facilities, global presence, production capacities, product launch, company strengths and weaknesses, product width and breadth, and application dominance are among the details that are included. The abovementioned data points are limited to the companies' system in package (SIP) market-related focus.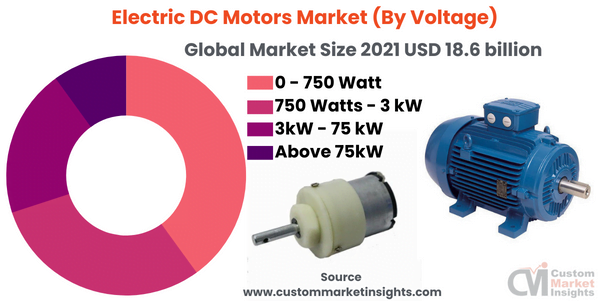 To learn more about this report, 
Some of the prominent players
Allied Motion Inc.
ABB
Ametek Inc
Minebeamitsumi Inc.
Johnson Electric Holdings Limited
Yaskawa Electric Corp
Maxon Motor AG
NIDEC Corporation
Siemens AG
Regal Rexnord Corporation
The global Electric DC Motors market is segmented as follows:
By Type
By Voltag0065
0 – 750 Watt
750 Watts – 3 kW
3kW – 75 kW
Above 75kW
By End-use Industries
Industrial Machinery
Household Appliances
HVAC Equipment
Motor Vehicles
Aerospace & Transportation
Others
On the basis of Geography
North America
Europe
France
The UK
Spain
Germany
Italy
Rest of Europe
Asia Pacific
China
Japan
India
Australia
South Korea
Rest of Asia Pacific
The Middle East & Africa
Saudi Arabia
UAE
Egypt
Kuwait
South Africa
Rest of the Middle East & Africa
Latin America
Brazil
Argentina
Rest of Latin America