The North American region witnessed a high CAGR in the Electric Kick Scooter market. 
According to Custom Market Insights (CMI), The Global Electric Kick Scooter Market size was worth around USD 3 billion in 2021 and is predicted to grow to around USD 6 billion by 2030 with a compound annual growth rate (CAGR) of roughly 10% between 2022 and 2030. 
The report analyses the Electric Kick Scooter market's drivers and restraints and the impact they have on-demand throughout the projection period. In addition, the report examines global opportunities in the global Electric Kick Scooters market.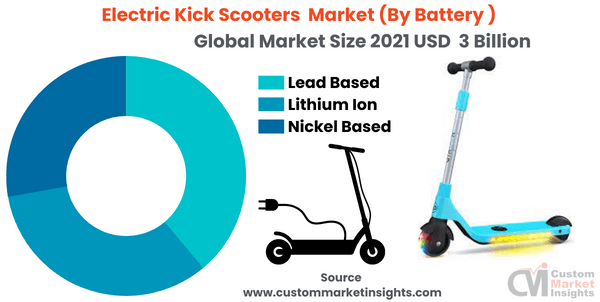 To learn more about this report, 
Electric Kick Scooter Market: Overview
Kick scooters powered by electricity are sustainable transportation options since they are environmentally beneficial. Kick scooters have become a viable option for urban commuting in recent years. This can be due to their modern design and simplicity of usage. Over the projection period, the market for kick scooters is anticipated to benefit from rapid improvements in electric scooter-sharing.
Browse the full "Electric Kick Scooters Market Size, Trends and Insights By Battery (Lead-Based, Lithium Ion, Nickel Based), By Voltage (Greater than 48V, 48V, 36V, Below 24V), and By Region – Global Industry Overview, Statistical Data, Competitive Analysis, Share, Outlook, and Forecast 2023–2032 " report at https://www.custommarketinsights.com/report/electric-kick-scooters-market/
Growth Factors
Due to rising public concern over carbon and greenhouse gas emissions, the market for electric kick scooters has a tremendous potential to expand between 2022 and 2030. Furthermore, the demand for electric kick scooters is also greatly influenced by the expanding acceptance of electric automobiles and more knowledge of the environmental benefits of these vehicles. Another factor boosting the market expansion for electric kick scooters is the rising use of sharing services and technological advancements in creating solar-powered electric cars. Additionally, kick scooters have become a viable alternative for urban transportation in recent years, contributing to the market's substantial rise throughout the aforementioned projected period.
However, some restrictions on the market for electric kick scooters could prevent its potential growth. These restrictions include the high cost of manufacturing and maintaining the electric scooters, while the absence of clear operating instructions for kick scooters could threaten the market's expansion during the forecast above period.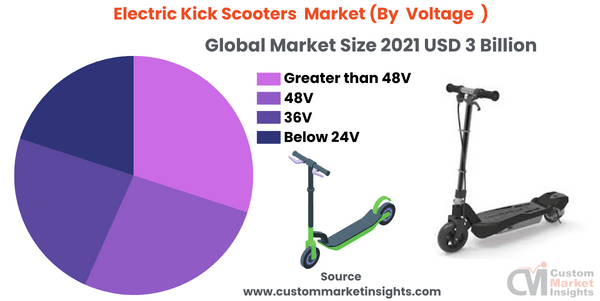 To learn more about this report, 
Additionally, the market for electric kick scooters will have several expansion opportunities between 2022 and 2030 due to the industry's rapid technological advancements, rising R&D expenditures for better battery technologies, and the government's increasing rules and regulations to reduce pollution levels.
Segmental Overview
The market for Electric Kick Scooters is segmented into battery and voltage. In 2022, the 36V segment led the market with a more than 55.0% revenue share. Due to their capacity, which extends the E-driving scooter's range, 36V batteries are popular. NiMH or Li-ion technology is used in 36V batteries since this voltage range necessitates a compact design and faster charging times. Compared to sealed lead-acid batteries, Li-ion batteries are more environmentally friendly in design and charging time.
A voltage greater than 48V is advantageous for electric kick scooters in range. This is because these kick scooters produce appropriate levels of carbon dioxide. Additionally, 48V models provide technologies like turbochargers and air conditioning compressors that are challenging to incorporate into 12V or 24V scooters. Therefore, over the forecast period, the demand for high-voltage electric kick scooters is anticipated to be driven by the need to minimize carbon footprints.
Regional Overview
The market for electric kick scooters in North America is anticipated to emerge as a very lucrative local industry due to the rising demand for an environmentally friendly alternative to traditional transportation and the quickly expanding charging infrastructure. During the next eight years, an incremental but steady shift toward electric kick scooters for short distances will likely result in broader acceptance.
Additionally, the industry is expected to expand shortly due to rising consumer awareness and acceptance and the need to reduce carbon emissions by replacing the scooters now on the market with electric alternatives.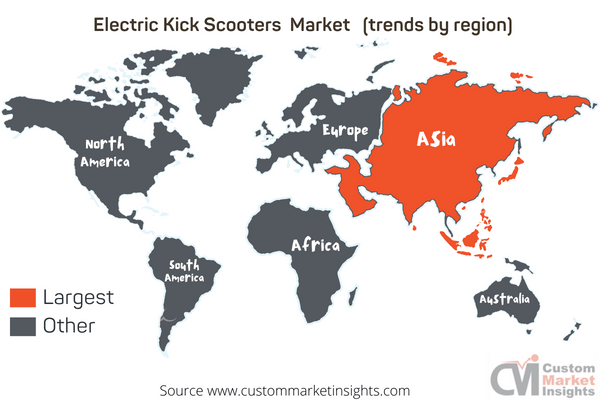 To learn more about this report, 
In 2022, the Asia Pacific region dominated the global market for electric kick scooters with a revenue share of more than 70.0%. The presence of several OEMs, including Xiaomi, Jiangsu Xinri E-Vehicle Co. Ltd., YADEA Technology Group Co., and SEGWAY INC., in China is attributed to expanding the local market.
Report Scope
| | |
| --- | --- |
| Feature of the Report | Details |
| Market Size in 2021 | USD 3 Billion |
| Projected Market Size in 2030 | USD 6 Billion |
| Market Size in 2022 | USD 3.33 Billion |
| CAGR Growth Rate | 10% CAGR (2022-2030) |
| Base Year | 2022 |
| Forecast Period | 2023-2032 |
| Prominent Players | Micro Mobility Systems AG, Bird Rides Inc., Golabs Inc., Segway Inc., AKTIVO Scooter, IconBIT Limited, Razor LLC, GOVECS AG, Xiaomi Corporation, SWAGTRON, YADEA Technology Group Co. Ltd, VOI Technology, Spin, Niu International, and Others |
| Key Segment | By Battery, Voltage, and Region |
| Report Coverage | Revenue Estimation and Forecast, Company Profile, Competitive Landscape, Growth Factors and Recent Trends |
| Regional Scope | North America, Europe, Asia Pacific, Middle East & Africa, and South & Central America |
| Buying Options | Request tailored purchasing options to fulfil your requirements for research. |
Key Players Insights
Companies that sell electric kick scooters are focusing on product developments to give the scooters' batteries a longer lifespan in addition to safety-enhancing features like regenerative braking systems. In addition, manufacturers are now concentrating on strategic partnerships to grow their businesses and global presence. 
The competitive landscape for electric kick scooters provides top competitors' details. The information includes an overview of the business, financials, revenue, market potential, investments in R&D, new market initiatives, regional presence, corporate strengths and weaknesses, product launches, product breadth and depth, and application domination. The information above only relates to the companies' market focus on electric kick scooters.
Prominent Players
Micro Mobility Systems AG
Bird Rides Inc.
Golabs Inc.
Segway Inc.
AKTIVO Scooter
IconBIT Limited
Razor LLC
GOVECS AG
Xiaomi Corporation
SWAGTRON
YADEA Technology Group Co. Ltd
VOI Technology
Spin
Niu International
The global Electric Kick Scooters market is segmented as follows:
By Battery
Lead Based
Lithium Ion
Nickel Based
By Voltage
Greater than 48V
48V
36V
Below 24V
On the basis of Geography
North America
Europe
France
The UK
Spain
Germany
Italy
Rest of Europe
Asia Pacific
China
Japan
India
Australia
South Korea
Rest of Asia Pacific
The Middle East & Africa
Saudi Arabia
UAE
Egypt
Kuwait
South Africa
Rest of the Middle East & Africa
Latin America
Brazil
Argentina
Rest of Latin America