The Asia Pacific region to dominate the Electric Vehicle Charging Station market in 2021
According to Custom Market Insights (CMI), The Global Electric Vehicle Charging Station Market size was worth around USD 35 billion in 2021 and is predicted to grow to around USD 420 billion by 2030 with a compound annual growth rate (CAGR) of roughly 32% between 2022 and 2030.
The report analyses the Electric Vehicle Charging Station market's drivers and restraints and the impact they have on-demand throughout the projection period. In addition, the report examines global opportunities in the global Electric Vehicle Charging Station market.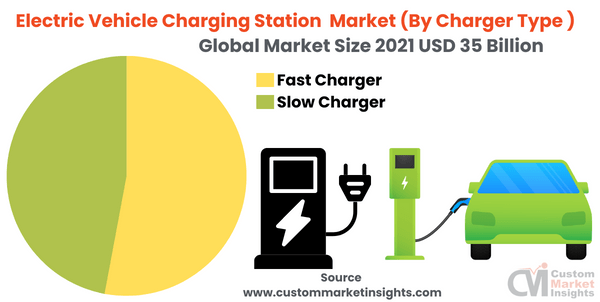 To learn more about this report, 
Electric Vehicle Charging Station Market: Overview
Due to the enormous environmental harm caused by gas-powered automobiles and concerns over greenhouse gas emissions, sales of electric vehicles are still rising quickly. As petrol prices surge to record highs, EV adoption is accelerating in the United States. According to an American Automobile Association survey, one-fourth of Americans said they planned to buy an EV. Additionally, 77% of those interested in buying a plug-in car noted that their desire to save money on gas was what sparked their interest. Such factors are likely to boost the market for EV charging station market.
Browse the full "Electric Vehicle Charging Station Market Size, Trends and Insights By Charger Type (Fast Charger, Slow Charger), By Connector (CHAdeMO, Combined Charging System (CCS), Others), By Application (Residential, Commercial), and By Region – Global Industry Overview, Statistical Data, Competitive Analysis, Share, Outlook, and Forecast 2023–2032 " report at https://www.custommarketinsights.com/report/electric-vehicle-charging-station-market/
Growth Factors
The requirement for the use of electric vehicles has been prompted by the rising levels of carbon emissions and other dangerous substances resulting from transportation. Subsequently, there is a growing need for an electric vehicle (EV) charging infrastructure in both business and residential settings. Additionally, expanding collaborations between automakers to provide charging stations using a subscription model is anticipated to fuel industry expansion.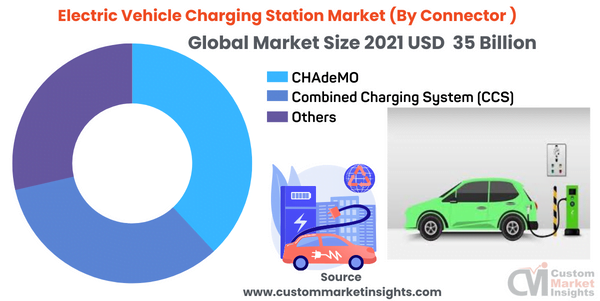 To learn more about this report, 
Furthermore, it is anticipated that green energy will substantially impact both public and private electric vehicle charging stations. The biggest issue for EV owners is carbon emissions. Companies are quickly advancing the charging technologies used in their electric vehicle charging networks to alleviate these issues.
Segmental Overview
The market for Electric Vehicle Charging stations is segmented into charger type, connector, and application. Due to initiatives and budget allocations by governments and automakers for extending public EVCI infrastructure, the commercial segment accounted for over 80% of revenue share in 2021. As overnight charging or charging at home would not be sufficient for long-distance travel, the construction of supporting infrastructure in public locations is required. The growth is further fueled by partnerships between several public transportation organizations and automakers to construct electric bus charging stations.
To learn more about this report, 
In 2021, the CHAdeMO market category dominated the market 2021. This is primarily because it is easy to handle and works with most electric cars, including those made by GM, BMW, and VW. Additionally, it allows for greater design freedom for electric vehicles because it only needs one charging port instead of two for CHAdeMO connectors, which can't handle AC charging. The current CHAdeMO connectors are also required by the Japan Electric Vehicle Standard and can deliver 62.5 kW of DC (JEVS).
Regional Overview
China, Japan, India, and South Korea are major countries considered in the Asia Pacific region. In addition, some of the world's economies that are growing the fastest are located in this area, including China and India. The governments of these developing nations have taken several steps to entice major OEMs to produce electric car charging infrastructure in their own countries after seeing the development potential of the global market for charging stations for electric vehicles. For instance, EV charging station network providers have teamed with several OEMs to offer free EV charging to EV drivers. Due to this, the production of electric vehicles has increased recently, satisfying both domestic and international demand.
To learn more about this report, 
Report Scope
Feature of the Report
Details
Market Size in 2021
USD 35

billion

Projected Market Size in 2030
USD 420

billion

Market Size in 2022
USD 77.78 billion
CAGR Growth Rate
32% CAGR (2022-2030)
Base Year
2022
Forecast Period
2023-2032
Prominent Players
AeroVironment Inc., BP Chargemaster, General Electric Company, ABB, Eaton Corp., ChargePoint Inc., ClipperCreek Inc., SemaConnect Inc., Leviton Manufacturing Co. Inc., Schneider Electric, Tesla Inc., Siemens AG, Webasto SE , and Others
Key Segment
By Charger Type, Connector, Application, and Region
Report Coverage
Revenue Estimation and Forecast, Company Profile, Competitive Landscape, Growth Factors and Recent Trends
Regional Scope
North America, Europe, Asia Pacific, Middle East & Africa, and South & Central America
Buying Options
Request tailored purchasing options to fulfil your requirements for research.
Key Players Insights
Due to rapidly shifting consumer preferences and ongoing technological advancement, the global electric vehicle charging stations market is highly competitive. Almost every market participant primarily focuses on installing fast and ultra-fast charging stations.
Prominent Players
AeroVironment Inc.
BP Chargemaster
General Electric Company
ABB
Eaton Corp.
ChargePoint Inc.
ClipperCreek Inc.
SemaConnec Inc.
Leviton Manufacturing Co. Inc.
Schneider Electric
Tesla Inc.
Siemens AG
Webasto SE
The global Electric Vehicle Charging Station market is segmented as follows:
By Level of Charging
By Charging Station Type
AC Charging
DC Charging
Wireless Charging
By Power Output
By Supplier Type
OE Charging Station
Private Charging Station
By Vehicle Type
Passenger Cars
Battery Electric Vehicle (BEV)
Plug-in Hybrid Vehicle(PHEV)
Heavy Commercial Vehicles
Light Commercial Vehicles
Two-wheelers & Scooters
By Installation Type
Fixed
Portable
Residential
Commercial
By Connector Type
Normal Charging
Type 2
CCS
CHAdeMO
Tesla SC
GB/T
By Application
By Mounting Type
Wall Mount
Pedestal Mount
Ceiling Mount
By Charging Service
EV Charging Service
Battery Swapping Service
By End User
Commercial EV Charging Stations

Commercial Public EV Charging Stations

On-Road Charging
Parking Spaces
Destination Chargers

Commercial Private EV Charging Stations

Fleet Charging
Captive Charging

Residential EV Charging Stations
On the basis of Geography
North America
Europe
France
The UK
Spain
Germany
Italy
Rest of Europe
Asia Pacific
China
Japan
India
Australia
South Korea
Rest of Asia Pacific
The Middle East & Africa
Saudi Arabia
UAE
Egypt
Kuwait
South Africa
Rest of the Middle East & Africa
Latin America
Brazil
Argentina
Rest of Latin America