Thermosets to Dominate the Electrical Insulation Materials Market in 2021
According to Custom Market Insights (CMI), The Global Electrical Insulation Materials Market size was estimated at USD 9.5 billion in 2021 and is anticipated to reach around USD 17 billion by 2030, growing at a CAGR of roughly 6.5% between 2022 and 2030.
Our research report offers a 360-degree view of the Electrical Insulation Materials market's drivers and restraints, coupled with their impact on demand during the projection period. Also, the report examines global opportunities and competitive analysis for the Electrical Insulation Materials market.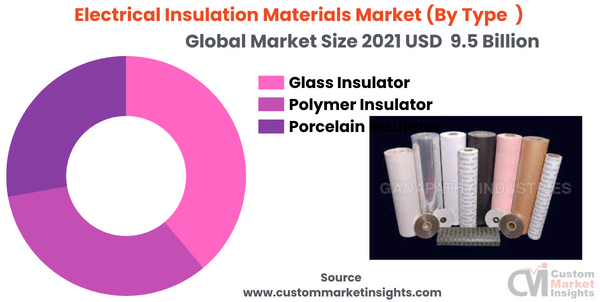 To learn more about this report, 
Electrical Insulation Materials Market: Overview
The demand for electrical insulating materials is rising in the energy, automotive, and construction industries. In addition, the growth of electrification in developing nations like China and India has raised the demand for electrical insulating materials as more and more power plants are being built, which is driving the market. Insulated wires that can tolerate high voltage levels are also necessary to manufacture microchips. Additionally, higher insulator manufacturing rates will be required due to the world's numerous areas' accelerated growth of wire distribution networks.
Browse the full "Electrical Insulation Materials Market Size, Trends and Insights By Type (Glass Insulator, Polymer Insulator, Porcelain Insulator), By Material (Thermoplastics, Thermosets, Fiber Glass, Mica, Cellulose, Cotton & Others), By Voltage (High Voltage, Medium Voltage, Low Voltage), By Application (Transformers and Bushings, Rotating Machines, Cables and Transmission Lines, Surge Protector and Circuit Breaker, Others), and By Region – Global Industry Overview, Statistical Data, Competitive Analysis, Share, Outlook, and Forecast 2023–2032 " report at https://www.custommarketinsights.com/report/electrical-insulation-materials-market/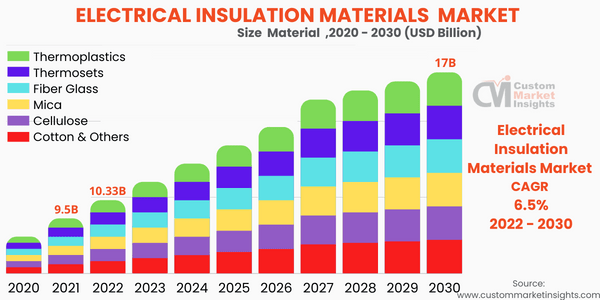 To learn more about this report, 
Growth Factors
The primary energy source for many processes employed worldwide is electrical. One of the key factors driving the market for electricity, which is the need for electrical insulating materials, is the increasing adoption of electrical equipment in both home and industrial applications. The International Energy Agency projects that the energy demand will increase by over 5% in 2021 and 4% in 2022. India's power demand is anticipated to increase by 8–8.5% in 2022, according to ICRA Ltd. Additionally, India's energy demand climbed by 12.7% to 707 billion units between April 2021 and September 2021. One of the critical elements driving India's increasing industrialization is the demand for energy, which in turn is going to the need for electrical insulation materials.
Energy Insulation materials utilized in producing various electrical components include thermoplastics, ceramics, thermosets, and porcelain. Power transformers, distribution transformers, electrical motors and generators, wires and cables, switchgear, batteries, circuit breakers, shackles, pin insulators, and other components are made from these materials. These parts are widely employed in infrastructure-related projects like residential, commercial, and industrial buildings. During the projection period, the market for electrical insulating materials will be driven by the expansion of safety measures and the increased installation of safety components in the construction sector.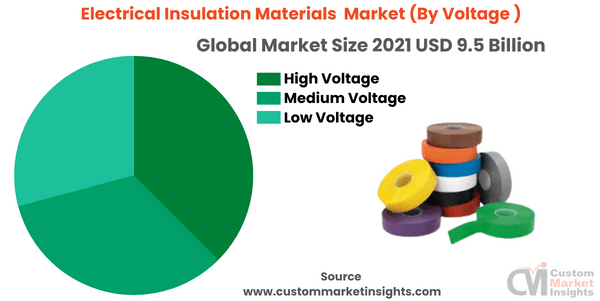 To learn more about this report, 
Segmental Overview
The market for Electrical Insulation Materials is segmented into type, material, voltage, and application. With a market share of over 25% in the Electrical Insulation Materials market in 2021, the thermosets segment is expected to expand at a considerable CAGR from 2022 to 2030. The materials used to create thermoset insulation typically get stronger when heated. Thermoset insulations have a more muscular endurance for high temperatures than other materials like thermoplastics. Therefore, thermosets like silicone rubber, epoxy resin, and polyimide are frequently chosen for electrical insulation.
The Association of Natural Rubber Producing Countries (ANRPC) reported that the world's natural rubber (NR) production increased by 13.6% annually in 2021 to reach 941,000 tons. While the expected annual growth rate for the global demand for NR is 0.3%, going 1.210 million tons in 2021. Therefore, the market for electrical insulating materials is expected to be driven by the rising production and consumption of rubber.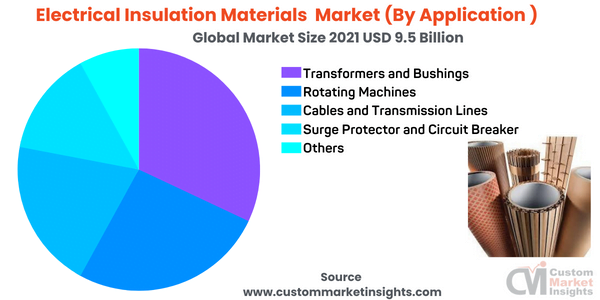 To learn more about this report, 
Regional Overview
With a revenue share of over 40% in 2021, the Asia Pacific region led the market for electrical insulation materials, and it is expected to continue to rule over the forecast period (2022-2030). The market expansion for electrical insulation materials in the Asia Pacific area is driven by prominent producers such as Nitto Denko Corporation, DuPont Teijin Films, and Vitar Insulation Manufacturers Ltd.
The demand for electrical insulating materials is also fueled by the region's expanding manufacturing of thermosets and thermoplastics and its abundant supply of raw materials. In addition, the expansion of the area is being aided by rising investments in the energy industry as well as China's and India's accelerating industrialization. In India, the manufacturing sector is anticipated to develop by 12.5% in 2021–2022; mining and quarrying by 14.3%; construction by 10.7%; and electricity, gas, and water supply by 8.5%. Therefore, over the projection period, the demand for electrical insulating materials will be driven by the increase in these industries.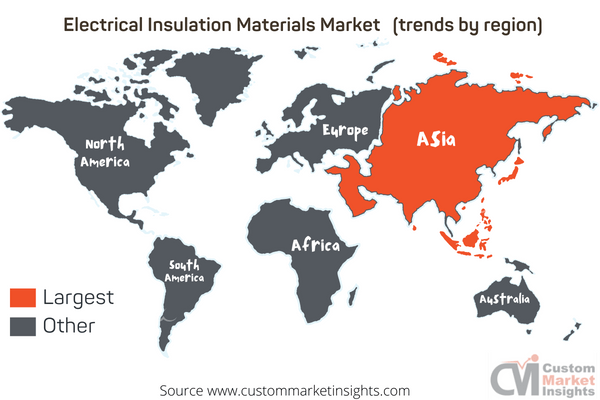 To learn more about this report, 
Report Scope
| | |
| --- | --- |
| Feature of the Report | Details |
| Market Size in 2021 | USD 9.5 Billion |
| Projected Market Size in 2030 | USD 17 Billion |
| Market Size in 2022 | USD 10.33 billion |
| CAGR Growth Rate | 6.5% CAGR (2022-2030) |
| Base Year | 2022 |
| Forecast Period | 2023-2032 |
| Prominent Players | Dupont, Weidmann (WICOR Group), Elantas Electrical Insulation, Krempel, Pucaro (ABB), 3M, Toray, Von Roll, Sichuan EM Technology, Nitto Denko Corporation, ISOVOLTA AG, Suzhou Taihu, Axalta (The Carlyle Group), Suzhou Jufeng, Zhejiang Rongtai, and Others |
| Key Segment | By Type, Material, Voltage, Application, and Region |
| Report Coverage | Revenue Estimation and Forecast, Company Profile, Competitive Landscape, Growth Factors and Recent Trends |
| Regional Scope | North America, Europe, Asia Pacific, Middle East & Africa, and South & Central America |
| Buying Options | Request tailored purchasing options to fulfil your requirements for research. |
Key Players Insights
The main business strategies in the electrical insulation materials market are technology releases, acquisitions, and R&D initiatives. 
Our market analysis includes a section specifically devoted to key players operating in the Electrical Insulation Materials market. Our analysts overview each player's financial statements, product benchmarking, and SWOT analysis. In addition, the competitive landscape section includes key development strategies, market share analysis, and market positioning analysis of globally mentioned competitors. 
2022: Asahi Kasei Plastics Singapore has obtained ISCC PLUS certification for the sustainability of polyphenylene ether (PPE).
Prominent Players
Dupont
Weidmann (WICOR Group)
Elantas Electrical Insulation
Krempel
Pucaro (ABB)
3M
Toray
Von Roll
Sichuan EM Technology
Nitto Denko Corporation
ISOVOLTA AG
Suzhou Taihu
Axalta (The Carlyle Group)
Suzhou Jufeng
Zhejiang Rongtai
The global Electrical Insulation Materials market is segmented as follows:
By Type
Glass Insulator
Polymer Insulator
Porcelain Insulator
By Material
Thermoplastics
Thermosets
Fiber Glass
Mica
Cellulose
Cotton & Others
By Voltage
High Voltage
Medium Voltage
Low Voltage
By Application
Transformers and Bushings
Rotating Machines
Cables and Transmission Lines
Surge Protector and Circuit Breaker
Others
On the basis of Geography
North America
Europe
France
The UK
Spain
Germany
Italy
Rest of Europe
Asia Pacific
China
Japan
India
Australia
South Korea
Rest of Asia Pacific
The Middle East & Africa
Saudi Arabia
UAE
Egypt
Kuwait
South Africa
Rest of the Middle East & Africa
Latin America
Brazil
Argentina
Rest of Latin America