Online sales of Moringa Products are driving the market growth
The size of the global Moringa Products market was worth around USD 5.6 billion in 2021 and is predicted to grow to around USD 10.4 billion by 2030 with a compound annual growth rate (CAGR) of roughly 8% between 2022 and 2030. The report analyses the moringa products market's drivers and restraints, as well as the impact they have on demand throughout the projection period. In addition, the report examines global opportunities in the global moringa products market.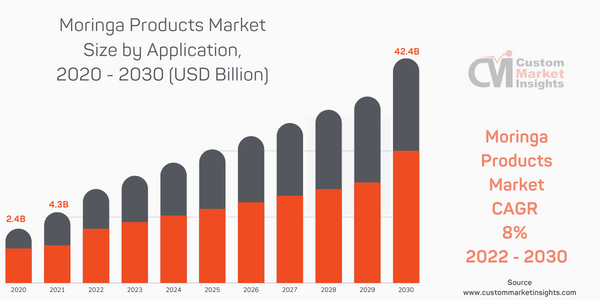 To learn more about this report,
Moringa Products Market: Overview
Moringa, also known as drumstick tree or horseradish tree, is a plant from the Moringa family. It is widely used and utilized for centuries, owing to its health benefits and medicinal properties, Moringa possesses anti-depressant, anti-inflammatory, antifungal, and antiviral properties. Additionally, this also consists of minerals, vitamins, and proteins. Owing to its nutritional properties, moringa is well-known among its consumers as a healthy food. The mentioned properties of moringa are influencing the demand for moringa-based products globally.
Browse the full "Moringa Products Market Size, Share, Growth Analysis Report By Product (Leaves and Leaf Powder, Seeds, Oil, Others), By Distribution Channel (Online, Offline), By Application (Food and Beverages, Personal Care, Pharmaceuticals, Others), and By Region – Global Industry Overview, Statistical Data, Competitive Intelligence, Trends, Outlook, and Forecast 2022–2030" report at https://www.custommarketinsights.com/report/moringa-products-market/
Growth Factors
The demand for moringa products in the cosmetic industry is witnessing growth, which is offering ample growth opportunities to the market players. The cosmetics and personal care applications of moringa products are further anticipated to rise attributed to the rising preference for plant-based products. The moisturizing properties of moringa-based products along with their capability of boosting collagen are influencing the demand for moringa products.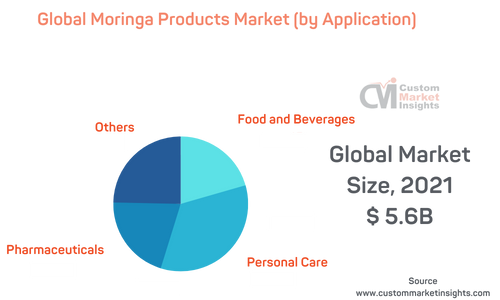 To learn more about this report,
Segmental Overview
The market for moringa products is segmented into product, distribution channel, and application. Based on the product, the market is categorized into leaves and leaf powder, oil, seeds, and others. The oil segment is expected to witness high growth during the coming years. Moringa oil is known for its anti-aging properties, which is boosting its demand in cosmetic applications. Further, the distribution channel, the market is bifurcated into online and offline.
Based on application, the market is categorized into food and beverages, personal care, pharmaceuticals, and others. The moringa products are considered high in medicinal value with anthelmintic activity, which is influencing its demand in pharmaceutical applications.
Regional Overview
The Asia Pacific is estimated to dominate the moringa product market in 2021. High consumption of moringa and its abundant availability is boosting the moringa products market in the region. However, the North American region is expected to witness high growth during the forecast period.
The high disposable income and rising awareness regarding health benefits are influencing the market growth. ConnOils LLC is one of the major supplement manufacturers and suppliers of Moringa oil in the North American region. Other key players include Moringa Malawi, among others. Europe is also experiencing market growth, with Germany, the UK, Italy, and the Netherlands, being the major revenue contributors to the moringa products market in Europe.
Report Scope
| | |
| --- | --- |
| Feature of the Report | Details |
| Market Size in 2021 | USD 5.6 Billion |
| Projected Market Size in 2030 | USD 10.4 Billion |
| CAGR Growth Rate | 8% CAGR |
| Base Year | 2021 |
| Forecast Period | 2022-2030 |
| Prominent Players | Green Era Food & Nutraceutics, Santan International, Earth Expo Company, KuliKuli, Inc., and Others |
| Key Segment | By Product, Distribution Channel, Application, and Region |
| Report Coverage | Revenue Estimation and Forecast, Company Profile, Competitive Landscape, Growth Factors and Recent Trends |
| Regional Scope | North America, Europe, Asia Pacific, Middle East & Africa, and South & Central America |
| Buying Options | Request tailored purchasing options to fulfill your requirements for research. Examine possible purchases |
Competitive Landscape/ Key Players Insights
The market for moringa products is highly fragmented. The large concentration of players operating in the moringa products market influences the overall pricing strategy of the product, as per prevailing market conditions. The manufacturers are involved in producing and supplying a large number of moringa ingredients for diversified application bases. The presence of a strong supplier base with a large customer base moderately limits the chances of competitive rivalry amongst the producers. Further, companies are focused on introducing new products with an aim to capture market share.
Some of the prominent players
Dominate Industries
Green Era Food & Nutraceutics
Santan International
Earth Expo Company
Kuli Kuli, Inc.
Bio Moringa Oleifera GmbH
The global Moringa Products market is segmented as follows:
By Product
Leaves and Leaf Powder
Seeds
Oil
Others
By Distribution Channel
By Application
Food and Beverages
Personal Care
Pharmaceuticals
Others
On the basis of Geography
North America
Europe
France
The UK
Spain
Germany
Italy
Rest of Europe
Asia Pacific
China
Japan
India
Australia
South Korea
Rest of Asia Pacific
The Middle East & Africa
Saudi Arabia
UAE
Egypt
Kuwait
South Africa
Rest of the Middle East & Africa
Latin America
Brazil
Argentina
Rest of Latin America