According to Custom Market Insights (CMI), The global Online Voting System market size was estimated at USD 267 million in 2021 and is anticipated to reach around USD 770 million by 2030, growing at a CAGR of roughly 7.5% between 2022 and 2030.
The global Online Voting System market research report offers an in-depth analysis of the global market size, which is further segmented into regional and country-level market size, and segmentation market growth. Also, it provides the market share, sales analysis, and competitive landscape, the impact of domestic and global market participants, trade regulations, value chain optimization, recent key developments, strategic market growth analysis, opportunities analysis, product launches, and technological innovations.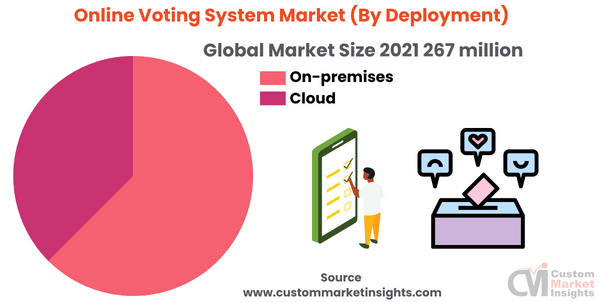 To learn more about this report, 
Online Voting System Market: Overview
An Online Voting System is a platform that providers the election authorities to conduct elections using the internet through various devices, such as kiosks and mobile phones. It's a digital platform where votes are cast online without the use of ballots and papers. With the help of such systems, a voter can cast his/her from any location with the accessibility of the internet. This helps in saving costs concerning setting up physical infrastructure and staff used in a traditional voting system.
Browse the full "Online Voting System Market Size, Share, Growth Analysis Report By Type (Remote Online Voting, On-site Online Voting), By Platform (Kiosks, Desktops/Laptops, Mobile Devices), By Deployment (On-premises, Cloud), By End-User (Government, Corporates, Educational Institutions, Others), and By Region – Global Industry Overview, Statistical Data, Competitive Intelligence, Trends, Outlook, and Forecast 2023–2032″ report https://www.custommarketinsights.com/report/online-voting-system-market/.
Growth Factors
Digitalization in Government Sector is anticipated to boost the Online Voting System market
The Online Voting System market is propelled by several significant supporting factors including more accessibility, time-saving, and enhanced voter experience, as well as transportation costs. Moreover, Online Voting systems s offer flexibility to voters with medical difficulties or physical disabilities, increase participation and need less physical infrastructure. These benefits delivered by Online Voting Systems are fueling the market growth. The physical infrastructure needed in traditional voting, such as ballots, printing, physical staff, or ballots, is not needed in the online voting process, which reduces the overall financial expenditure.
Segmental Overview
The Online Voting System market is categorized into type, platform, deployment, and End-User. The deployment, of the Online Voting System market, is bifurcated into on-premises and cloud.
The cloud segment is anticipated to witness a high CAGR. The growth is attributed to various factors, such as less initial capital requirement, and wide acceptance of clouds across the world. By platform, the market is classified into kiosks, mobile phones, and desktops/laptops.
Mobile phone is experiencing high growth attributed to rising internet and smartphone penetration. By End-User, the government segment is anticipated to hold the largest market share. The rising number of universities in the region is anticipated to support market growth.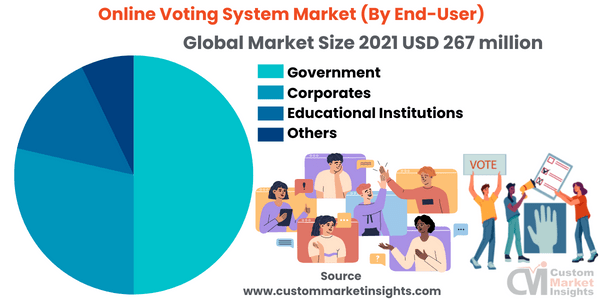 To learn more about this report, 
Regional Overview
Asia Pacific region to dominate the Online Voting System market
The Asia Pacific is estimated to be the fastest-growing region in the Online Voting System market. As per the studies conducted by the Center for Media, the estimated general election cost was over USD 7 billion in 2019. The high cost of these elections is expected to support the adoption of the Online Voting System in the coming years. Presently, the market is dominated by the North American region. Both the US and Canada are very early adopters of advanced technologies. In these countries, the demand for Online Voting systems is experiencing growth from varied End-Users. Academic institutions are the fastest growing segment, by the End-User, in North America.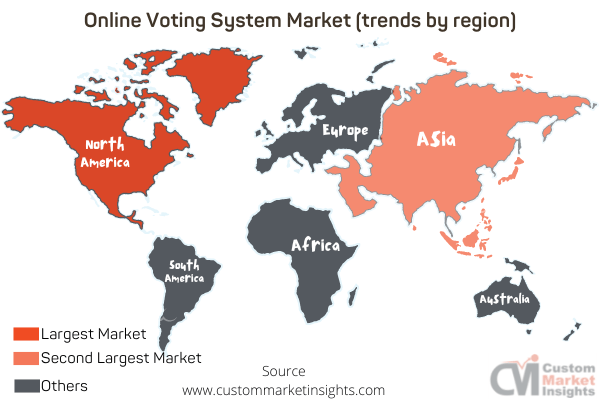 To learn more about this report, 
Report Scope
| | |
| --- | --- |
| Feature of the Report | Details |
| Market Size in 2021 | USD 267 Million |
| Projected Market Size in 2030 | USD 770 Million |
| CAGR Growth Rate | 7.5% CAGR (2022-2030) |
| Base Year | 2022 |
| Forecast Period | 2023-2032 |
| Prominent Players | Votebox, 21c Consultancy Ltd, Delib Ltd, Hart Intercivic Inc, Avante International Technology, Australian Election Company Corp., Association Technology Solutions and Dominion Voting Systems Corp., Benel Solutions Corp., Higher Logic Inc, Clear Ballot Inc., Microvote General Corp., and Others |
| Key Segment | By Type, Platform, Deployment, End-User, and Region |
| Report Coverage | Revenue Estimation and Forecast, Company Profile, Competitive Landscape, Growth Factors and Recent Trends |
| Regional Scope | North America, Europe, Asia Pacific, Middle East & Africa, and South & Central America |
| Buying Options | Request tailored purchasing options to fulfil your requirements for research. |
Competitive Landscape
Our market analysis of the Online Voting System also involves a separate section dedicated to major players operating in the market. Our analysts offer an understanding of the financial statements of all the key participants, together with their product portfolio and SWOT analysis. Moreover, the report also offers a competitive landscape chapter, including strategic key development, market share, as well as global market ranking analysis of the players mentioned. Additionally, we offer our clients leverage to modify the list of players mentioned in our report as a part of our free customization.
Some of the prominent players
Votebox, 21c Consultancy Ltd
Delib Ltd
Hart Intercivic Inc
Avante International Technology
Australian Election Company Corp.
Association Technology Solutions and Dominion Voting Systems Corp.
Benel Solutions Corp.
Higher Logic Inc
Clear Ballot Inc.
Microvote General Corp.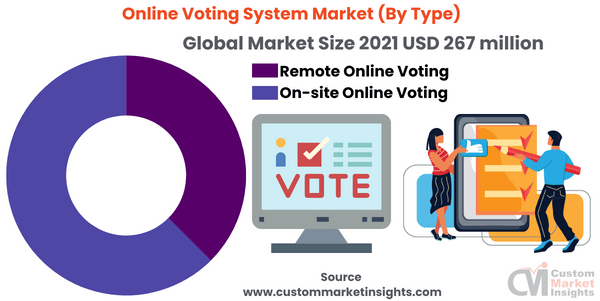 To learn more about this report, 
The global Online Voting System market is segmented as follows:
By Type
Remote Online Voting
On-site Online Voting
By Platform
Kiosks
Desktops/Laptops
Mobile Devices
By Deployment
By End-User
Government
Corporates
Educational Institutions
Others
By Geography
North America
The U.S.
Canada
Europe
France
The UK
Spain
Germany
Rest of Europe
Asia Pacific
Japan
India
Singapore
Rest of Asia Pacific
Africa
South Africa
Rest of Africa
Latin America
Brazil
Argentina
Rest of Latin America