According to Custom Market Insights (CMI), The Global Graphene Composites Market size was estimated at USD 13.89 million in 2021 and is expected to hit around USD 112.1 million by 2030, poised to grow at a compound annual growth rate (CAGR) of 38.8% from 2022 to 2030.
Graphene composites are nanostructured materials made of a single layer of flat sheet carbon atoms and polymers. It has excellent mechanical strength, conductivity, flexibility, and resistivity towards the flame, chemicals, corrosion, etc. Therefore, it has various applications in end-use industries such as automotive, sportswear, building & construction, electrical, aerospace, and many others.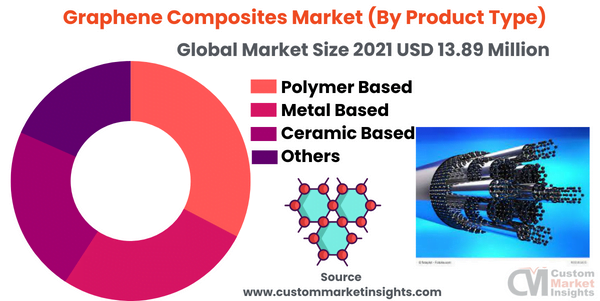 To learn more about this report, 
 Regional Snapshots. 
Region-wise, the market is studied across North America, Europe, Asia-Pacific, and LAMEA. 
Asia-Pacific is the dominant region in the graphene composites market. This region is also anticipated to maintain its dominance throughout the forecast period. Countries such as China, Japan, India, and others have significantly contributed to the graphene composites market growth in the region. In addition, critical factors for the growing automotive, electric vehicle, building and construction, aerospace, and other end-use industry has surged the demand for triclosan. 
Furthermore, the Indian automobile industry contributes almost 6.4% of India's GDP and 35% of the manufacturing GDP. Therefore, it is leading employers to provide where graphene composites are used extensively in the automobile sector as a substitute over metals, offering additional benefits such as increased strength and drastically reduced weight of vehicles, allowing better fuel efficiency and handling. These factors together increase the usage of graphene composites in the growing automotive industry. 
Market dynamics.
 Drivers.
Due to its good features, the massive use of graphene composites in various end-use industries is anticipated to drive demand for them during the forecast period.  
The demand for graphene composites proliferates in automotive and aerospace due to their high strength, lightweight, good electric conductivity, and many others. Furthermore,  
advanced materials, including graphene and its composites, are essential for reducing automobiles' fuel consumption without loss of performance and safety. This is projected to propel the growth of the graphene composites market in the automotive industry. 
Restraints.
However, the lack of skilled labour is restricting the global graphene composites market expansion during the forecast period. Furthermore, the high price of graphene polymers is restraining the market's overall growth. In addition, high production costs and the requirement for advanced machinery will slow down the market. On the other hand, manufacturers are switching to alternative substitutes for graphene composites due to high production costs and rising prices of raw materials.
 Opportunities. 
The factors such as the rise in population across the globe, rising infrastructure activity, increasing urbanization, industrialization, and others propelling the construction sector where graphene composites are used as a coating and protecting layer make the construction firm durable with the use of less concrete and reducing greenhouse gas emissions. The graphene composites market has witnessed significant growth owing to the construction industry's increased demand for paint and coatings. Together, these factors are projected to create remunerative opportunities for future graphene composites market expansion.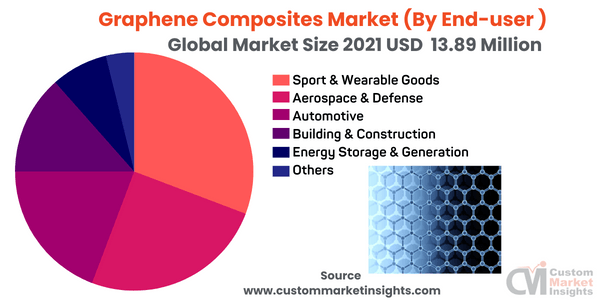 To learn more about this report, 
 Challenges.
 Over the forecast period, the non-availability of good production amenities in many regions and the lack of product supply is anticipated to challenge market growth in the years ahead. In addition, rising raw materials prices and high installation costs for nontechnology may be a challenging factor in the graphene composites market.
 Report highlights.
The segment includes polymer-based, metal-based, ceramic-based, and others based on type.
The polymer-based product type segment dominated the market in 2021 and is expected to grow over the forecast period. The addition of graphene into polymer makes the material superior, mechanically robust, thermal, and electrically conductive, due to which it is extensively used in gasoline tanks, plastic containers, sportswear, and many others. In addition, government investment and initiation in aerospace, building and construction, and the automotive sector have enhanced the growth of polymer-based graphene composites. This is anticipated to increase the demand for graphene composites in the market.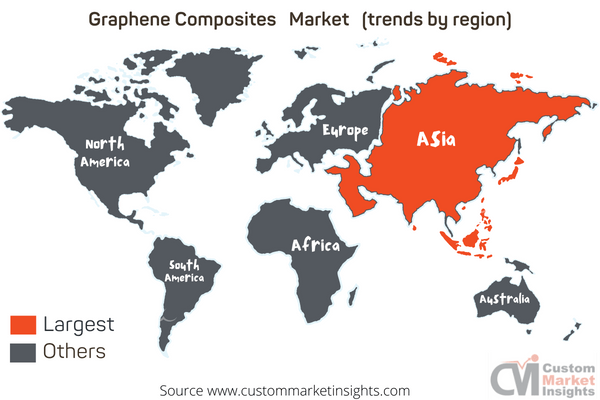 To learn more about this report, 
Report Scope
| | |
| --- | --- |
| Feature of the Report | Details |
| Market Size in 2021 | USD 13.89 Million |
| Projected Market Size in 2030 | USD 112.1 Million |
| CAGR Growth Rate | 38.8% CAGR |
| Base Year | 2021 |
| Forecast Period | 2022-2030 |
| Prominent Players | Ad-Nano Technologies Pvt. Ltd., (Ad-Nano Technologies), G6 Materials Corp (G6 materials), Haydale Graphene Industries plc, (Haydale Graphene), Graphene Composites (GC), Graphene One LLC., Graphenano Group (Graphenano), XG Sciences, NanoXplore Inc., Graphmatech AB (Graphmatech), Gnanomat., and Others |
| Key Segment | By Product Type, End-user, and Region |
| Report Coverage | Revenue Estimation and Forecast, Company Profile, Competitive Landscape, Growth Factors and Recent Trends |
| Regional Scope | North America, Europe, Asia Pacific, Middle East & Africa, and South & Central America |
| Buying Options | Request tailored purchasing options to fulfill your requirements for research. |
Based on application, the segment includes:
Sports & wearable goods.

Aerospace & defense.

Automotive, building & construction.

Energy storage and generation.

Others.
The graphene composites are used in combustion engines of vehicles as sensors, such as gas sensors that can be used to monitor air inlets and exhaust for improved engine operation, as well as in thermoelectric elements that can recover waste heat from the motor, which the demand for graphene composites is increasing by the growth of the automotive sector. For instance, according to a report published by for India Brand Equity Foundation in July 2022, India's annual production of automobiles in FY22 was 22.93 million. These factors are expected to enhance the demand for the graphene composites market.
Graphene composites are considered high-performance materials widely employed in construction to protect the infrastructure from UV radiation, sunlight, corrosion, and other factors. Mainly photocatalytic and graphene composites are used in buildings & exteriors to protect the substrate from UV radiations and moisture. These factors are escalating the growth of the graphene composites market.
On the basis of Geography
North America
Europe
France
The UK
Spain
Germany
Italy
Rest of Europe
Asia Pacific
China
Japan
India
Australia
South Korea
Rest of Asia Pacific
The Middle East & Africa
Saudi Arabia
UAE
Egypt
Kuwait
South Africa
Rest of the Middle East & Africa
Latin America
Brazil
Argentina
Rest of Latin America