Asia Pacific to Witness Exponential CAGR in the Higher Education Technology Market in 2021
According to Custom Market Insights (CMI), The Global Higher Education Technology Market size was estimated at USD 80 Billion in 2021 and is expected to hit around USD 175 Billion by 2030, poised to grow at a compound annual growth rate (CAGR) of 11% from 2022 to 2030.
Our research report offers a 4.5-degree view of the Higher Education Technology market's drivers and restraints, coupled with their impact on demand during the projection period. Also, the report examines global opportunities and competitive analysis for the Higher Education Technology market.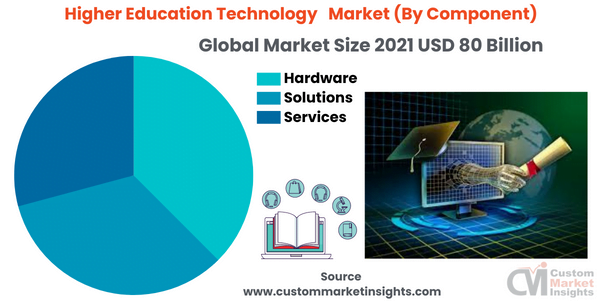 To learn more about this report, 
Higher Education Technology Market: Overview
A digital revolution is about to begin in the field of education. Traditional teaching methods are only one of many ways to educate students in the age of digitization and automation. It is projected that the most recent technological developments, such as artificial intelligence, augmented reality, virtual reality, and robotics, will revolutionize traditional teaching methods. Through practical and cross-curricular applications, these opportunities for cross-curricular learning can help schools and educators better manage their resource commitments while fostering students' intellectual growth. Additionally, MOOCs are exploding in popularity worldwide and are quickly becoming a viable option for online education.
Browse the full "Higher Education Technology Market Size, Trends and Insights By Component (Hardware (PCs/Laptops, Projectors, Tablets/Smartphones, Printers, Others) Solutions (Learning Management System, Student Information System, Performance Management, Student Response System, Campus Management, Others) Services (Community Colleges, Private Colleges, State Universities)), By Mode (Online Learning, Offline Learning), By End-user (State Universities, Community Colleges, Private Colleges), and By Region – Global Industry Overview, Statistical Data, Competitive Analysis, Share, Outlook, and Forecast 2022–2030 " report at https://www.custommarketinsights.com/report/higher-education-technology-market/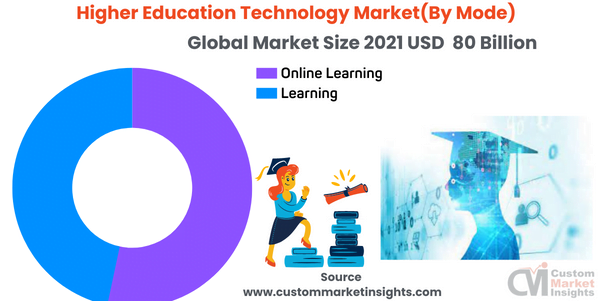 To learn more about this report, 
Growth Factors
Massive Open Online Courses (MOOCs) and virtual classroom adoption are pushing businesses and governments to engage in higher education technology, fueling the market's expansion. Over the long run, it is anticipated that the higher education technology business will be driven by the paradigm shift away from traditional educational systems and toward individualized and interactive learning. Adopting online training modules by corporations for their staff members to assist them in updating their skill sets is another benefit of digital learning.
Adopting new technologies like blockchain and artificial intelligence (AI) is helping higher educational institutions automate tasks like grading assignments and giving feedback. Additionally, it is anticipated that higher educational institutions will embrace gamification and immersive learning during the forecast period to deliver interactive learning experiences.
Comparing digital and printed literature, the former is more affordable and convenient. Additionally, these can be made available in various languages and audio formats to benefit visually impaired learners and increase vocabulary. Therefore, many opportunities are anticipated for higher education technology content suppliers.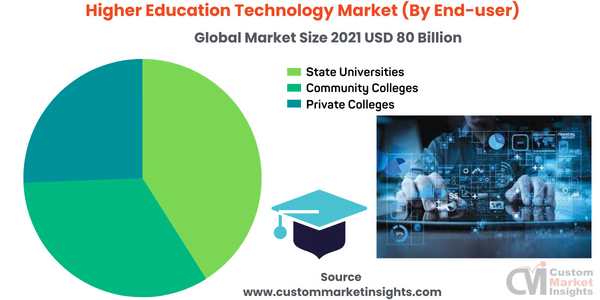 To learn more about this report, 
Segmental Overview
The market for Higher Education Technology is segmented into components, modes, and end-user. With almost 40% of global sales coming from the hardware segment, that segment dominated the market in 2021. The large percentage can be due to digital classrooms' rising popularity in the education sector. As a result, tab sales have grown exponentially, and laptop sales have followed suit. Around 40% of the tab sales were produced by Apple Inc., followed by players including Lenovo, Samsung, and Amazon.
Regional Overview
From 2022 to 2030, Asia Pacific is predicted to have the fastest CAGR. This expansion can be ascribed to the general public's increasing use of computing and intelligent devices. Recently, emerging nations like India have seen a wave of accessible broadband connectivity, which has led to many businesses reaching out to the public. Users should be able to experience education and learn with the help of internet connectivity owing to this trend. In addition, those involved in education in underdeveloped nations are increasingly thinking about using technology to close the gap between existing educational infrastructure and available teaching resources.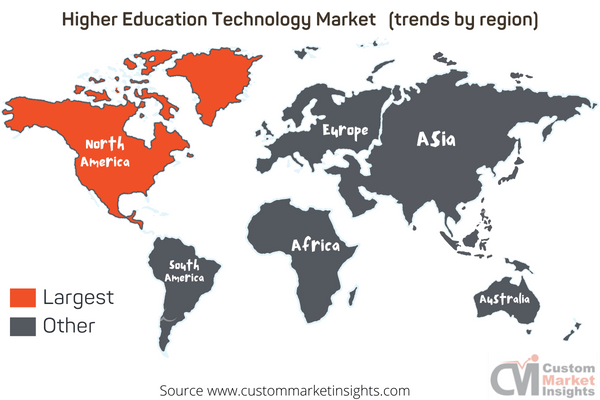 To learn more about this report, 
Report Scope
| | |
| --- | --- |
| Feature of the Report | Details |
| Market Size in 2021 | USD 80 Billion |
| Projected Market Size in 2030 | USD 175 Billion |
| CAGR Growth Rate | 11% CAGR |
| Base Year | 2021 |
| Forecast Period | 2022-2030 |
| Prominent Players | Blackboard Inc., Oracle Corporation, Astera Software, ServiceNow Inc., VMware Inc., Unifyed, Blackbaud Inc, Verizon, Cisco Systems Inc., CDW LLC. , and Others |
| Key Segment | By Component, Mode, End-user, and Region |
| Report Coverage | Revenue Estimation and Forecast, Company Profile, Competitive Landscape, Growth Factors and Recent Trends |
| Regional Scope | North America, Europe, Asia Pacific, Middle East & Africa, and South & Central America |
| Buying Options | Request tailored purchasing options to fulfil your requirements for research. |
Key Players Insights
Market participants who are engaged are putting much effort into growing their clientele and acquiring an advantage over their competition. As a result, they undertake a range of strategic activities, including joint ventures, mergers and acquisitions, partnerships, and the creation of new products and technologies.
Our report offers quantitative and qualitative insights into the Higher Education Technology market and significant development initiatives adopted by the key players. Further, it provides competitive details and market share analysis. The report further includes relevant financial information, products and services offered, SWOT analysis, and the players' recent developments. 
Key Players
Blackboard Inc.
Oracle Corporation
Astera Software
ServiceNow Inc.
VMware Inc.
Unifyed
Blackbaud Inc
Verizon
Cisco Systems Inc.
CDW LLC.
The global Higher Education Technology market is segmented as follows:
By Component
Hardware

PCs/Laptops
Projectors
Tablets/Smartphones
Printers
Others

Solutions

Learning Management System
Student Information System
Performance Management
Student Response System
Campus Management
Others

Services

Community Colleges
Private Colleges
State Universities
By Mode
Online Learning
Offline Learning
By End-user
State Universities
Community Colleges
Private Colleges
On the basis of Geography
North America
Europe
France
The UK
Spain
Germany
Italy
Rest of Europe
Asia Pacific
China
Japan
India
Australia
South Korea
Rest of Asia Pacific
The Middle East & Africa
Saudi Arabia
UAE
Egypt
Kuwait
South Africa
Rest of the Middle East & Africa
Latin America
Brazil
Argentina
Rest of Latin America