According to Custom Market Insights (CMI), The Global Infrastructure as a Service Market size was estimated at USD 54.1 Billion in 2021 and is expected to hit around USD 485.5 Billion by 2030, poised to grow at a compound annual growth rate (CAGR) of 28.1% from 2022 to 2030.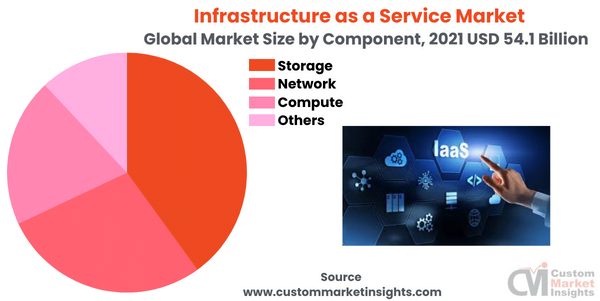 To learn more about this report, 
Our recently published report, "Infrastructure as a Service Market", offers a comprehensive and deep evaluation of the market stature. Also, the market report estimates the market size, revenue, price, market share, market forecast, growth rate, and competitive analysis. 
Infrastructure as a Service Market: Overview
IaaS is a standardized, highly automated service model in which computer resources held by a service provider are made available to consumers on demand, together with storage and networking capabilities. Resources are fluid and scalable in almost real-time, metered by consumption.
Customers have direct access to self-service interfaces, such as an API and a graphical user interface (GUI). Resources are hosted by the service provider or on-site in a customer's data center and can be single-tenant or multitenant. The key drivers of the growth in the Infrastructure as a Service Market revenue are the expansion in demand for low-cost IT infrastructure, speedier data accessibility, and an increase in cloud deployment across multiple industrial verticals. IaaS adoption is fueled by rising demand from businesses looking to reduce their IT workload, save expenses associated with setting up data centers and hiring qualified staff to manage IT infrastructures, and reduce the time and money spent on maintaining such infrastructures. High-speed network interaction is what businesses are seeking.
The worldwide Infrastructure as a Service (IaaS) Market is anticipated to be driven by Infrastructure as a Service (IaaS), which offers quick access to data.
Growth Factors
It is anticipated that more enterprises will embrace infrastructure as a service (IaaS) due to the growing volume of financial and corporate information and other essential data in various IT industries. The main goal of numerous agencies has been to lower the cost of managing their IT infrastructure and to concentrate more on their core functions. Increased accessibility, sophisticated working environments, growing mobility, and the rise of digitalization in many corporate sectors are all results of technological advancements. The main driving forces behind the market's expansion are the ease of implementation, adaptability, and scalability of services.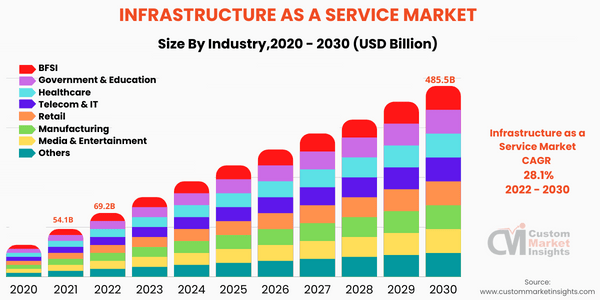 To learn more about this report, 
Organizations worldwide focus on building mobile workforces that can access data from remote locations through internet services, necessitating the virtualization of IT components, including servers, storage, networks, and others. Due to the adoption of a typical IT architecture, LaaS offers faster data access regardless of the data center's location. Due to the lack of a data center on-site or ongoing maintenance and servicing expenses, IaaS also offers a cheap initial investment cost. As part of their integrated cloud service offerings, managed service providers like IBM Corporation, Microsoft Corporation, and Amazon Web Services, Inc. offer constantly available cloud services throughout the year.
End customers consider laaS a substantial cost-saving since pooled cloud servers have the most responsive scalability feature. The client is only charged for what is actually used. The end users save the money that would have been spent on creating separate servers. This crucial element will likely fuel the IaaS market's growth for the predicted year.
Segmental Overview
The market for infrastructure as a service is segmented into components, deployment, and industry. According to the element, the compute segment is expected to increase at the quickest rate. Similar to cloud computing services, it provides access to the computer resource in a virtualized environment, the cloud, using a public connection, frequently the internet. In addition, cloud IaaS decreases complexity by doing away with software, servers, backups, and disaster recovery. 
According to IT and deployment, the public cloud segment is expected to increase at the quickest rate. The acceptance and use of public cloud services like Amazon Web Services (AWS), Microsoft Azure, and Google Cloud Platform (GCP) are skyrocketing. The various advantages of the public cloud, such as enhanced agility, flexibility, and scalability, fuel this market's expansion. Businesses may easily roll out new apps and services using the public cloud without spending money on pricey equipment. They may also quickly scale up or down as needed without spending more money.
According to the industry, the IT and telecommunication segment is expected to increase at the quickest rate. Furthermore, due to the industry's increasing adoption of cloud-based services, it is projected that the IT and telecommunications sectors will have considerable growth rates.
Regional Overview
The most significant market share was held by North America in the infrastructure as a service industry. However, due to the enormous IT infrastructure present and the resulting increase in demand for IaaS, the North American IaaS industry predominated in the worldwide market. The domination of this sector may be ascribed to innovations in software development and the advent of various cloud-based solutions.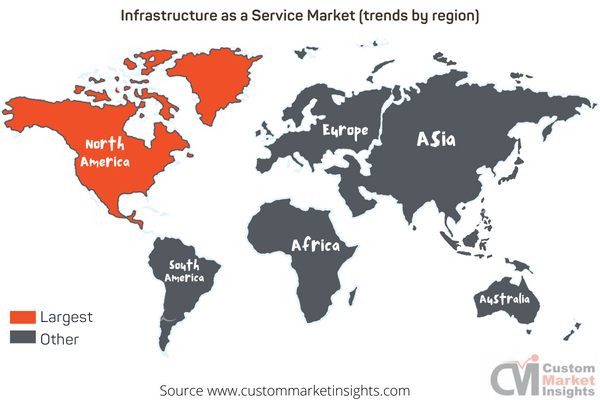 To learn more about this report, 
Report Scope
Feature of the Report
Details
Market Size in 2021
USD

54.1 Billion

Projected Market Size in 2030
USD

485.5 Billion

Market Size in 2022
USD 69.2 billion
CAGR Growth Rate

28.1

% CAGR
Base Year
2021
Forecast Period
2022-2030
Prominent Players
Amazon Web Services Inc., Computer Sciences Corporation (CSC), Fujitsu, Alibaba Group Holding Limited, Dell EMC, Google Inc., IBM Corporation, EMC Corporation, Oracle Corporation, Rackspace Hosting Inc., Red Hat Inc., Redcentric plc., VMware Inc., Profitbricks, Cisco Systems Inc., Microsoft Corporation, Hewlett Packard Enterprise, Profitbricks Inc., Mindtree Pvt. Ltd., and Others
Key Segment
By Component, Deployment, Industry, and Region
Report Coverage
Revenue Estimation and Forecast, Company Profile, Competitive Landscape, Growth Factors and Recent Trends
Regional Scope
North America, Europe, Asia Pacific, Middle East & Africa, and South & Central America
Buying Options
Request tailored purchasing options to fulfil your requirements for research.
Competitive Landscape
The players have implemented various strategies to expand the global advanced lithium batteries market. The study contains a thorough competitive analysis of the significantly advanced lithium batteries market participants and information on their company overviews, recent developments, and vital business strategies. 
Prominent Players
Amazon Web Services Inc.
Computer Sciences Corporation (CSC)
Fujitsu
Alibaba Group Holding Limited
Dell EMC
Google Inc.
IBM Corporation
EMC Corporation
Oracle Corporation
Rackspace Hosting Inc.
Red Hat Inc.
Redcentric plc.
VMware Inc.
Profitbricks
Cisco Systems Inc.
Microsoft Corporation
Hewlett Packard Enterprise
Profitbricks Inc.
Mindtree Pvt. Ltd.
The global Infrastructure as a Service market is segmented as follows:
By Component
Storage
Network
Compute
Others
By Deployment
By Industry
BFSI
Government & Education
Healthcare
Telecom & IT
Retail
Manufacturing
Media & Entertainment
Others
On the basis of Geography
North America
Europe
France
The UK
Spain
Germany
Italy
Rest of Europe
Asia Pacific
China
Japan
India
Australia
South Korea
Rest of Asia Pacific
The Middle East & Africa
Saudi Arabia
UAE
Egypt
Kuwait
South Africa
Rest of the Middle East & Africa
Latin America
Brazil
Argentina
Rest of Latin America