Europe to Witness a High CAGR in the Intimate Apparel Market in 2021
According to Custom Market Insights (CMI), The Global Intimate Apparel Market size was estimated at USD 80 billion in 2021 and is anticipated to reach around USD 98 billion by 2030, growing at roughly 2.5% between 2022 and 2030. 
Our research report offers a 360-degree view of the Intimate Apparel market's drivers and restraints, coupled with their impact on demand during the projection period. Also, the report examines global opportunities and competitive analysis for the Intimate Apparel market.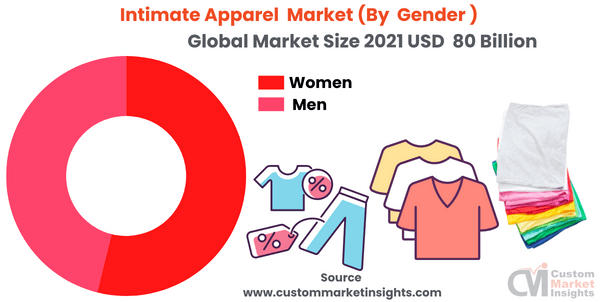 To learn more about this report, 
Intimate Apparel Market: Overview
Undergarments worn adjacent to the skin beneath outer clothing are known as intimate apparel. A corset is a sort of personal clothing worn as a foundation piece by men or women to change their body shape. A tight dress helps prevent bodily excretions from damaging or soiling outer clothing and reduces friction between outerwear and the skin. Additionally, intimate clothing shapes the body and supports or hides specific body components. Therefore, they go by the name of intimate apparel as well.
There are two main categories of intimate clothing: those used to cover the torso and those worn to protect the waist and legs, though there are also items that cover both. For example, underpants, drawers, and shorts cover the genital and buttocks, while an undershirt, often known as a vest, covers the torso. Although "lingerie" is often used to refer to underwear for both sexes, it is more often linked with women's intimate clothing. For women, the essential tight dress includes thermals, hosiery, sleep lingerie, bras, and underwear. As seasonal swings occur, intimate apparel also picks up steam among retail stocks.
Browse the complete "Intimate Apparel Market Size, Trends and Insights By Gender (Women, Lingerie, Shape Wear, Sleep Wear, Sports Wear, Maternity Wear, Men, Vests, Briefs, Regular Briefs, Boxer Briefs, Boxer Shorts, Trunks Briefs, Others), By Distribution Channel (Online , Offline), and By Region – Global Industry Overview, Statistical Data, Competitive Analysis, Share Outlook, and Forecast 2023–2032 " report at https://www.custommarketinsights.com/report/intimate-apparel-market/
Growth Factors
Rapid urbanization is taking place in several emerging nations worldwide. In addition, the working women population is increasing significantly in many parts of the world. As a result, most people worldwide now have a higher quality of life than they did a few years ago. All of these contribute to the moderate growth in demand for undergarment items. As a result, it is anticipated that the global undergarment intimate apparel market will increase sales during the next several years.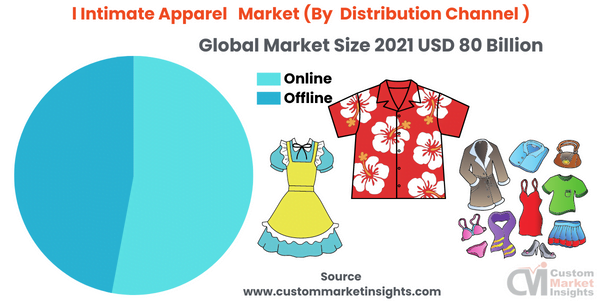 To learn more about this report, 
Because there are fewer restrictions for new entries, there is fierce competition among the major brands, which is one of the significant obstacles to the growth of the global intimate apparel industry. AEO Management, Berkshire Hathaway, Jockey International, Hanesbrands, PVH, and L Brands are a few of the market's leading companies. In addition, many start-ups, including ADOREME.COM, have joined the market and are offering affordable luxury underwear, mainly through e-retailing. Price wars have arisen as a result of the fierce competition brought on by a large number of participants. Important producers set apart their products depending on the level of comfort, fabric quality, cost, and diversity. As a result, manufacturers frequently compromise on quality due to pricing wars, ultimately harming consumers and market expansion.
Segmental Overview
The market for Intimate Apparel is segmented into gender and distribution channels. During the anticipated timeframe, the briefs segment's market share rise in intimate apparel will be substantial. The introduction of creative and sustainable briefs is credited with the increase.
One of the trends seen in the market for intimate apparel worldwide is the rising demand for bust-sized bras in response to consumers' preferences for comfortable undergarments. The top three recognizable brands that men purchase are Hugo Boss, Calvin Klein, and Emporio Armani. Victoria's Secret dominates market sales for women's underwear. In addition to bras and underwear, women's essential intimate clothing includes thermals, hosiery, and sleep lingerie. Boxers, briefs, and trunks are the three main items of personal clothing for men, with briefs being more popular in Europe than in North America.
Regional Overview
During the forecast period, Europe is anticipated to have faster CAGR growth than the rest of the world due to an increase in critical players' initiatives to address the rising consumer demand for lingerie. For instance, in 2018 European Lingerie Group purchased Avangard, a Russian distributor of lingerie and medical fabrics. As a result, the company hopes to increase fabric sales to its Russian lingerie customers with the acquisition.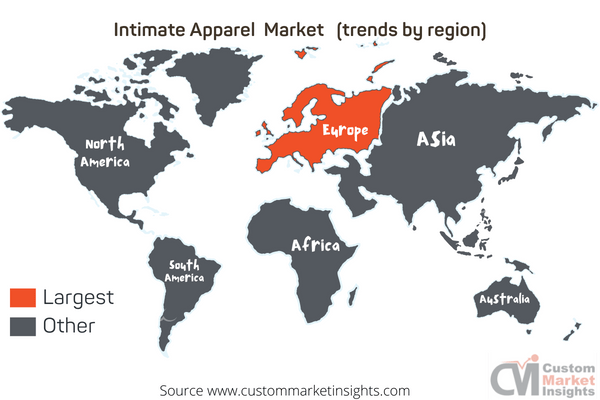 To learn more about this report, 
Report Scope
| | |
| --- | --- |
| Feature of the Report | Details |
| Market Size in 2021 | USD 80 Billion) |
| Projected Market Size in 2030 | USD 98 Billion |
| Market Size in 2022 | USD 82 Billion |
| CAGR Growth Rate | 2.5% CAGR (2022-2030) |
| Base Year | 2022 |
| Forecast Period | 2023-2032 |
| Prominent Players | Hanes Brands Inc., Berkshire Hathaway Inc., L Brand Inc., Jockey International Inc., MAS Holdings, American Eagle Outfitters (Aerie), Triumph International Ltd., Ann Summers, PVH Corporation, Hanky Panky Ltd., Marks & Spencer, Chantelle Group, LVMH, and Others |
| Key Segment | By Gender, Distribution Channel, and Region |
| Report Coverage | Revenue Estimation and Forecast, Company Profile, Competitive Landscape, Growth Factors and Recent Trends |
| Regional Scope | North America, Europe, Asia Pacific, Middle East & Africa, and South & Central America |
| Buying Options | Request tailored purchasing options to fulfil your requirements for research. |
Key Players Insights
By examining market segments and projecting market size, the reports also aid in understanding the dynamics and organizational structure of the global Intimate Apparel industry. The study serves as an investor's guide thanks to its clear depiction of competitive analysis of key companies by product, price, financial condition, product portfolio, growth plans, and regional presence in the worldwide access control market. 
2021: Digitally native, vertically integrated apparel firm recently introduced a performance underwear line in response to consumer demand. According to Lowenstein, the new Breath product line is constructed of a lighter fabric than its standard items and has a "mesh-like texture" that enhances flexibility, breathability, and stretchability. Additionally, the underwear is quick to dry, moisture-wicking, and has anti-odor features.

2019: A US-based company called Parfait has introduced plus-sized intimate wear in India. Parfait emphasizes its core and plus-sized consumers who fall within the 30 to 44 band sizes.
Prominent Players
Hanes Brands Inc.
Berkshire Hathaway Inc.
L Brand Inc.
Jockey International Inc.
MAS Holdings
American Eagle Outfitters (Aerie)
Triumph International Ltd.
Ann Summers
PVH Corporation
Hanky Panky Ltd.
Marks & Spencer
Chantelle Group
LVMH
The global Intimate Apparel market is segmented as follows:
By Gender
Women

Lingerie
Shape Wear
Sleep Wear
Sports Wear
Maternity Wear

Men

Vests
Briefs
Regular Briefs
Boxer Briefs
Boxer Shorts
Trunks Briefs
Others
By Distribution Channel
On the basis of Geography
North America
Europe
France
The UK
Spain
Germany
Italy
Rest of Europe
Asia Pacific
China
Japan
India
Australia
South Korea
Rest of Asia Pacific
The Middle East & Africa
Saudi Arabia
UAE
Egypt
Kuwait
South Africa
Rest of the Middle East & Africa
Latin America
Brazil
Argentina
Rest of Latin America