According to Custom Market Insights (CMI), The Global IoT Telecom Services Market size was estimated at USD 13.10 billion in 2021 and is expected to hit around USD 127 billion by 2030, poised to grow at a compound annual growth rate (CAGR) of 37.10% from 2022 to 2030.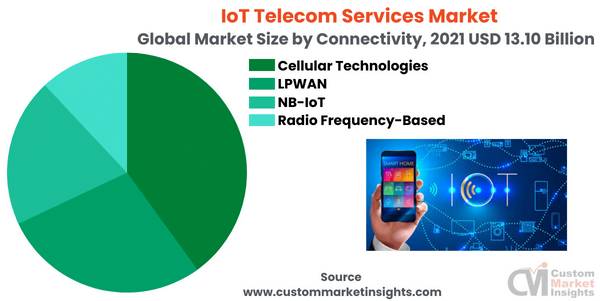 To learn more about this report, 
Our recently published report, "IoT Telecom Services Market", offers a comprehensive and deep evaluation of the market stature. Also, the market report estimates the market size, revenue, price, market share, market forecast, growth rate, and competitive analysis. 
IoT Telecom Services Market: Overview
The Internet of Things (IoT) telecom services is a group of products and services that telecom firms offer to their business clients to make it easier to integrate intelligent connectivity technologies into their networks and operational procedures. In addition, these services increase interoperability, real-time analytics, asset management, and data security and privacy. The telephone Company is heavily utilizing IoT communication services for its commercial clients to deliver the crucial machine-centric connection. The main areas of attention for IoT telecom services are intelligent network monitoring and continual contact.
Growth Factors
The need for more excellent connectivity has grown significantly over time due to technological advancements and rising ingenuity. IoT use in the telecom sector is projected to increase, as a result, aiding in market expansion. There will also be a greater need for solutions that enable better data management as the volume of data produced by telecoms rises. The market for IoT telecom services is anticipated to grow due to the increase in telco usage, the penetration of intelligent connected devices, the need for network bandwidth control, and the automation of communication operations. Additionally, it is anticipated that the development of 5G wireless networks, the adoption of intelligent technologies, and distributed applications will all greatly expand the telecom IoT market's opportunities throughout the projection period.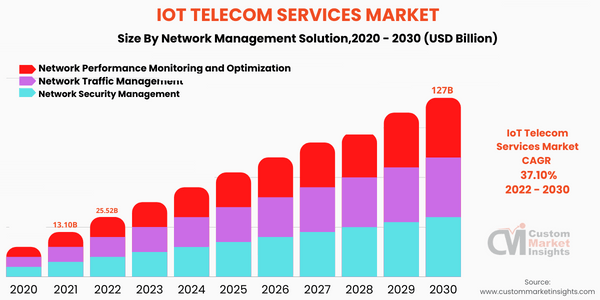 To learn more about this report, 
Moreover, security concerns may be genuine when expensive machinery is utilized in distant locations. The gear in remote areas is further powered by other resources like batteries and gasoline. Theft of consumable resources and equipment might be costly for telecom firms. Therefore, telecom companies must ensure that adequate security measures are in place. Telecom companies can deploy smart cameras with IoT capabilities at outlying locations. Intelligent cameras are equipped with the capacity to detect on-site tampering and immediately alert the required authorities. With the aid of a geofence, it is possible to construct an integrated barrier with IoT devices that only allows authorized persons to access it. IoT deployment in telecom companies might contribute to implementing more effective security standards.
The growing demand from the telecom cloud for intelligent network bandwidth management and communication operations automation is driving the Internet of Things telecom services industry. In addition, the telecom Internet of Things market is also driven by the growth of intelligent technologies and distributed applications.
Segmental Overview
The market for IoT Telecom Services is segmented into connectivity and network management solution. According to the connectivity, the narrowband-IoT segment is expected to increase at the quickest rate. The benefit of NB-IoT is that it uses less power because of its simpler waveform. Cost is another significant benefit. The total component cost can be decreased using chipsets designed especially for NB-IoT protocols since they have a more straightforward structure. Finally, NB-IoT may be advantageous for applications related to smart cities. Compared to other technologies, NB-IoT may have superior building penetration.
The global market is divided into network performance monitoring and optimization, network traffic management, and network security management solutions on the manner of network management solution. In 2021, the network security management solutions category led the market and was anticipated to expand quickly over the forecast period. They safeguard data and resources in a network using firewalls and other IoT-enabled security solutions for effective network management.
A network administrator may operate physical and virtual firewalls on a single network from a single place by using network security management. Administrators require network security management solutions to monitor network activity, automate device configuration, enforce global policies, analyze firewall traffic, give reports, and offer a unified administration interface for physical and virtual systems.
Regional Overview
The most significant market share was held by North America in the IoT telecom services industry. Increased demand for connected cars, increased acceptance of IoT-based goods and services, and the rapid rollout of 5G network infrastructure are all contributors to the growth. Increasing industrial automation across various sectors, including healthcare, is also predicted to support regional development throughout the projection period. Additionally, rising industrial automation in some industries, including healthcare, is anticipated to fuel regional growth during the projected period.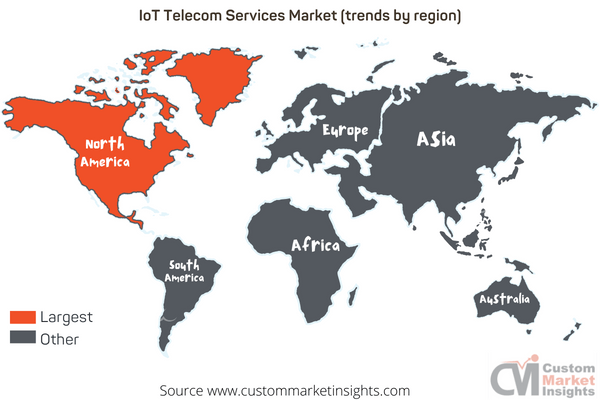 To learn more about this report, 
Report Scope
Feature of the Report
Details
Market Size in 2021
USD

13.10 billion

Projected Market Size in 2030
USD

127 billion

Market Size in 2022
USD 25.52 billion
CAGR Growth Rate

37.10

% CAGR
Base Year
2021
Forecast Period
2022-2030
Prominent Players
AT&T Inc., Ericsson, Deutsche Telekom AG, SAP SE, Singapore Telecommunications Ltd., Softbank Group Corp., Telefonica SA, T-Mobile USA Inc., Verizon Communications Inc., Vodafone Group PLC, Huawei Technologies Co. Ltd., Sprint Corporation (U.S.), Entrust Datacard Corp., HARMAN International Industries Inc., IBM Corp., Modius Inc., Nippon Telegraph & Telephone Corp., Panorama Software, and Others
Key Segment
By Connectivity, Network Management Solution, and Region
Report Coverage
Revenue Estimation and Forecast, Company Profile, Competitive Landscape, Growth Factors and Recent Trends
Regional Scope
North America, Europe, Asia Pacific, Middle East & Africa, and South & Central America
Buying Options
Request tailored purchasing options to fulfil your requirements for research.
Competitive Landscape
The players have implemented various strategies to expand the global IoT Telecom Services market. The study contains a thorough competitive analysis of the significant IoT Telecom Services market participants and information on their company overviews, recent developments, and vital business strategies. 
Prominent Players
AT&T Inc.
Ericsson
Deutsche Telekom AG
SAP SE
Singapore Telecommunications Ltd.
Softbank Group Corp.
Telefonica SA
T-Mobile USA Inc.
Verizon Communications Inc.
Vodafone Group PLC
Huawei Technologies Co. Ltd.
Sprint Corporation (U.S.)
Entrust Datacard Corp.
HARMAN International Industries Inc.
IBM Corp.
Modius Inc.
Nippon Telegraph & Telephone Corp.
Panorama Software
The global IoT telecom services market is segmented as follows:
By Connectivity
Cellular Technologies
LPWAN
NB-IoT
Radio Frequency-Based
By Network Management Solution
Network Performance Monitoring and Optimization
Network Traffic Management
Network Security Management
On the basis of Geography
North America
Europe
France
The UK
Spain
Germany
Italy
Rest of Europe
Asia Pacific
China
Japan
India
Australia
South Korea
Rest of Asia Pacific
The Middle East & Africa
Saudi Arabia
UAE
Egypt
Kuwait
South Africa
Rest of the Middle East & Africa
Latin America
Brazil
Argentina
Rest of Latin America