According to Custom Market Insights (CMI), The Global IP Intercom Market size was estimated at USD 2.53 billion in 2021 and is expected to hit around USD 5.13 billion by 2030, poised to grow at a compound annual growth rate (CAGR) of 9.67% from 2021 to 2030.
IP intercoms are a device that connects to a computer server across a Local Area Network (LAN). It is an audio and video-transmitting device that connects to the internet. The growing usage of intercoms in the corporate, government, and household for communication and security purposes. 
Increasing adoption of IP intercoms in all sectors, including government, residential, and others, is projected to propel the Market forward. The benefits of using IP intercom are that it is easy to set and configure without requiring major rewiring owing to ease of operation, and the demand for IP intercom networks has increased the market growth. In addition, it has various applications in end-use industries such as commercial, government, residential, hospitals, and others.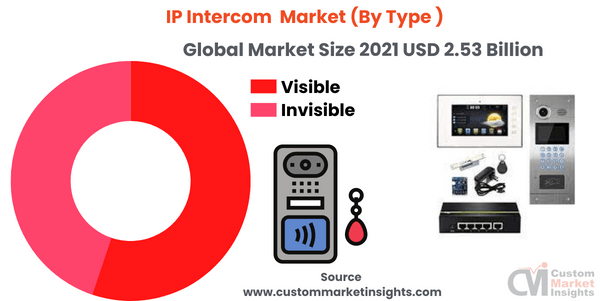 To learn more about this report, 
 Browse the full "IP Intercom Market Size, Trends and Insights By Type (Visible, Invisible), By Application (Government, Commercial, Industrial, Residential, Others), and By Region – Global Industry Overview, Statistical Data, Competitive Analysis, Share, Outlook, and Forecast 2022–2030" report at https://www.custommarketinsights.com/report/global-ip-intercom-market/
Market Dynamics.
 Drivers.
Organizations are becoming increasingly aware of the benefits of IP intercoms outside the more conventional door access role. Target situations are emerging in various industries, necessitating technology to assist employees in wireless connectivity and interaction. Furthermore, an innovative invention such as telemedicine is expected to grow in healthcare sectors owing to the high-resolution video and bi-directional audio features of IP intercoms. Several patients benefit from IP intercoms in rural areas and are expected to open new opportunities for the market.
Restraints.
Wired, video, wireless intercoms, apartment-based intercoms, and two-way radios are all options for intercom system communication. The IP intercoms are costly and time-consuming for multi-dwelling buildings. IP intercoms include high-resolution cameras, which add to the system's cost, and advanced security software is more expensive than traditional intercom software. The loudspeakers and sensors are commonly employed in IP intercoms, increasing the system's cost. In addition, the IP intercom contains functions that include a scan monitor, remote control, audio trigger, and more to facilitate communication; however, owing to high network issues, lack of accessibility in rural areas, and security concerns of IP intercoms may hamper the market growth.
 Opportunities.
IP intercom adoption is increasing in all sectors, including commercial and government, for custom-configured communications, security objectives, and others. Intercom devices are a significant aspect of communications and security in both the governments of developed and developing economies. 
In addition, it also provides security to manage access through doors. IP intercoms allow security professionals to maintain safety and manage guests from a centralized location and off-premises in the commercial and government sectors. It can also be integrated with a corporate or security phone system and addressed on a regular reception phone, or it can be displayed on displays in the security office of government and commercial offices via an audio and video management system.
Furthermore, increasing the use of IP intercoms in corporate, residential, hospitals, and others will open lucrative opportunities for the Market to grow during the forecast period.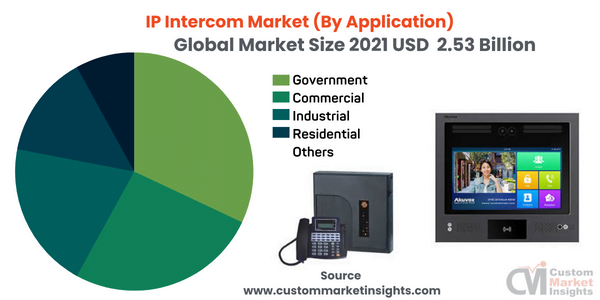 To learn more about this report, 
 Challenges.
Over the forecast period, the complexity related to IP intercom installations is more challenging. In addition, the high-cost production rate of devices such as wired devices, traditional software, scan monitoring devices, and others requires huge capital expenditure, which will hamper the market's growth. 
 Report Highlights.
Based on type, the invisible segment is the leading segment and is expected to make the largest contribution to the IP Intercom market. The invisible intercoms are significant components of security and safety. In addition to this, several key market players are increasingly investing in the development of various advanced solutions for invisible intercoms and hence, contributing to the growth of the invisible segment as well as to the market. 
Based on Application, the segment includes commercial, residential, government, industrial, and others. The commercial segment is expected to hold the largest market share during the forecast period. The IP intercoms are used in places of business where information and communication need to be kept confidential, including warehouses, manufacturing plants, office buildings, retail stores, restaurants, and hotels. By using commercial IP Intercom systems instead of visible walkie-talkies or telephone lines (PSTN), companies can communicate more efficiently with their employees for better productivity.
Regional Snapshots. 
The United States, Mexico, and Canada are early adopters of technologies and has mobility of big data and others. These countries have developed economies, allowing them to make significant investments in R&D and given opportunities for employment generation in IP intercom sectors. Furthermore, compared to other regions, the start-up culture in the region is rising at a faster rate; this region has a large presence of IP intercoms, which helps the market grow.
The Asia-Pacific and Europe region is expected to develop fastest during the forecast period. China and Russia dominate the IP intercom in the Market owing to the rise in technological advancements, rise in R&D activities, adoption of AI, and others that have escalated the market growth. In addition, favorable government regulations in countries such as India, China, Japan, and others are also creating opportunities for the growth of the IP intercom market in the region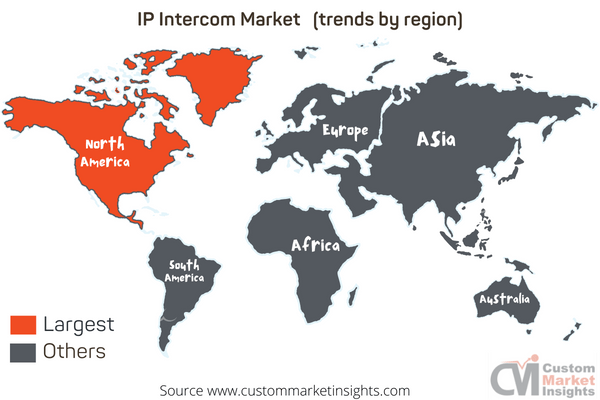 To learn more about this report, 
Report Scope
Feature of the Report
Details
Market Size in 2021

USD 2.53 billion

Projected Market Size in 2030

USD 5.13 billion

CAGR Growth Rate

9.67

% CAGR
Base Year
2021
Forecast Period
2022-2030
Prominent Players
Axis Communications, Barix, AIPhone, TCS AG, Legrand, Panasonic, Commend, Comelit Group, TOA Corporation, Fermax, and Others
Key Segment
By Type, Application, and Region
Report Coverage
Revenue Estimation and Forecast, Company Profile, Competitive Landscape, Growth Factors and Recent Trends
Regional Scope
North America, Europe, Asia Pacific, Middle East & Africa, and South & Central America
Buying Options
Request tailored purchasing options to fulfill your requirements for research.
Key Players
Axis Communications

Barix

iPhone

TCS AG

Legrand

Panasonic

Comment 

Comelit Group

TOA Corporation

Fermax
 Recent developments.
The Aiphone entered a strategic product launch by unveiling its touchless sensor for the IX Series door station. This new product sensor enables suppliers, guests, and workers, to commence a contactless call with a classic gesture. This strategic product launch enhanced the product portfolio of the Aiphone in May 2021.

TOA Canada Corporation entered into a strategic partnership with Access Direct Sales. This partnership is aimed to combine TOA's IP and SIP intercom systems within ADSI's line card by building another depiction channel for intercom security items; it would grow transparency across Canada and reach markets that don't automatically have access. This strategic partnership will enhance the potential sales of TOA Corporation in the North American region in September 2019.
Segments covered in the report
By Type
By Application
Government 

Commercial

Industrial

Residential

Others 
On the basis of Geography
North America
Europe
France
The UK
Spain
Germany
Italy
Rest of Europe
Asia Pacific
China
Japan
India
Australia
South Korea
Rest of Asia Pacific
The Middle East & Africa
Saudi Arabia
UAE
Egypt
Kuwait
South Africa
Rest of the Middle East & Africa
Latin America
Brazil
Argentina
Rest of Latin America