The Asia Pacific dominates the second-life EV Battery market
According to Custom Market Insights (CMI), The Global Second-life EV Battery Market size was estimated at USD 255 Million in 2021 and is expected to hit around USD 92000 Million by 2030, poised to grow at a compound annual growth rate (CAGR) of 45.2% from 2022 to 2030. 
The report examines the Second-life EV Battery market's drivers and restraints and their impact analysis. Also, the report mentions global opportunities prevailing in the Second-life EV Battery market.
Second-life EV Battery Market: Overview
Batteries with a second life are those whose lifespan has ended but can still be utilized in stationary systems in conjunction with renewable energy sources like wind and solar. After six to eight years, lithium batteries used in EVs still have more than two-thirds of their usable energy storage. Old electric vehicle batteries can provide an additional five to eight years of service in a different application, depending on their condition. Effective recycling or recovery of vital elements from spent batteries is a requirement for EV battery second life.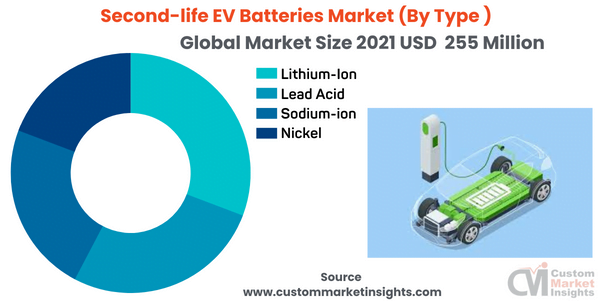 To learn more about this report, 
 Growth Factors
Batteries for electric vehicles are frequently employed in harsh environments. As a result, it loses 20% to 30% of its initial capacity after a few years. Due to rising environmental consciousness and strict government requirements, these batteries are frequently reused or recycled. Several businesses worldwide seek efficient ways to employ these batteries for stationary energy storage. Emerging nations like India and China have signed the Paris Agreement, which mandates that countries reduce their dependence on fossil fuels to reduce their carbon footprint and greenhouse gas emissions.
The need for second-life EV batteries is anticipated to increase as a result. As a result, the second-life EV battery sector has a bright future.
For those who live in urban and rural regions, second-life battery storage can serve as a dependable and economical power source.
The endeavours of growing economies like China and India to meet the COP26 goals of expanding the use of renewable energy and lowering carbon emissions are responsible for the growth of the second-life EV battery market. However, several developing nations currently need to have adequate regulations for managing end-of-life batteries. These nations must create rules that address the viability of using second-hand EV batteries. This might be accomplished by pushing startups and OEMs to research and develop second-life EV batteries.
The use of second-hand EV batteries is also anticipated to be fueled by the implementation of testing requirements for recycling and reusing second-hand batteries and an increase in the deployment of the blockchain traceability management platform.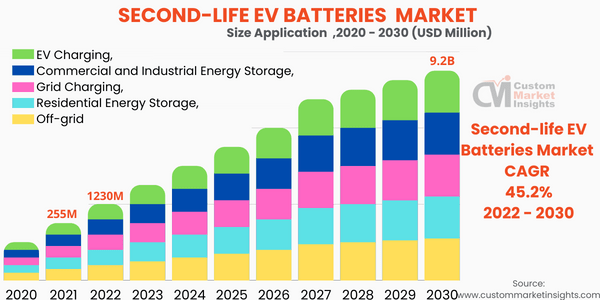 To learn more about this report, 
Segmental Overview
The global Second-life EV Battery market is categorized into type and application. Second-life batteries are those whose "automotive" life has ended but have roughly 70–80% of their original capacity. They can therefore be employed in stationary systems in conjunction with the production of renewable energy sources like wind and solar, or they can provide services to the power network. Increasing the amount of renewable energy on the grid and extending battery life together result in lower carbon emissions. Additionally, it reduces the price of electric vehicles by converting waste disposal expense into residual value. 
Regional Overview
During the anticipated period, Asia Pacific is expected to witness significant growth opportunities for the second-life EV battery market. The rapid rise of the region's electric vehicle industry is one of several factors contributing to this growth, including a spike in the sales of used EV batteries.
Due to the rising demand for energy storage systems across a range of industries and the increased focus on environmental preservation in these countries, the market in North America and Europe is projected to expand considerably during the projected period. The majority of the market in North America is dominated by the United States. However, throughout the forecast period, Canada is expected to have moderate growth in demand for second-hand EV batteries.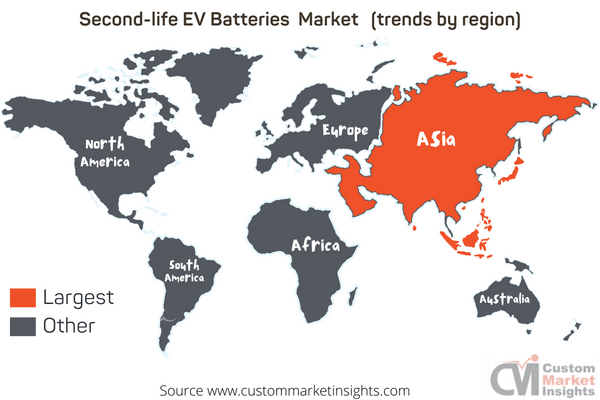 To learn more about this report, 
Report Scope
Feature of the Report
Details
Market Size in 2021
USD

255

Million
Projected Market Size in 2030
USD

92000 Million

Market Size in 2022
USD 1230 Million
CAGR Growth Rate

45.2

% CAGR
Base Year
2021
Forecast Period
2022-2030
Prominent Players
Enel X S.r.l., Fortum, Nissan Motors Corporation, Renault Group, Mercedes-Benz Group, BeePlanet Factory, RWE, Hyundai Motor Company, Mitsubishi Motors Corporation, BELECTRIC, and Others
Key Segment
By Type, Application, and Region
Report Coverage
Revenue Estimation and Forecast, Company Profile, Competitive Landscape, Growth Factors and Recent Trends
Regional Scope
North America, Europe, Asia Pacific, Middle East & Africa, and South & Central America
Buying Options
Request tailored purchasing options to fulfil your requirements for research.
Key Players Insights
Our market analysis includes a section specifically devoted to key players operating in the Second-life EV Batteries market. Our analysts overview each player's financial statements, product benchmarking, and SWOT analysis. In addition, the competitive landscape section includes key development strategies, market share analysis, and market positioning analysis of the mentioned competitors globally. 
Prominent Players
Enel X S.r.l.
Fortum
Nissan Motors Corporation
Renault Group
Mercedes-Benz Group
BeePlanet Factory
RWE
Hyundai Motor Company
Mitsubishi Motors Corporation
BELECTRIC
The global Second-life EV Battery market is segmented as follows:
By Type
Lithium-Ion
Lead Acid
Sodium-ion
Nickel
By Application
EV Charging
Commercial and Industrial Energy Storage
Grid Charging
Residential Energy Storage
Off-grid
On the basis of Geography
North America
Europe
France
The UK
Spain
Germany
Italy
Rest of Europe
Asia Pacific
China
Japan
India
Australia
South Korea
Rest of Asia Pacific
The Middle East & Africa
Saudi Arabia
UAE
Egypt
Kuwait
South Africa
Rest of the Middle East & Africa
Latin America
Brazil
Argentina
Rest of Latin America