The North American region to dominate the Smart Electric Drive market in 2021
According to Custom Market Insights (CMI), The Global Smart Electric Drive Market was worth around USD 0.9 billion in 2021 and is predicted to grow to around USD 14.5 billion by 2030 with a compound annual growth rate (CAGR) of roughly 35% between 2022 and 2030. 
The report analyses the Smart Electric Drive market's drivers and restraints and their impact on demand throughout the projection period. In addition, the report examines global opportunities in the global Smart Electric Drive market.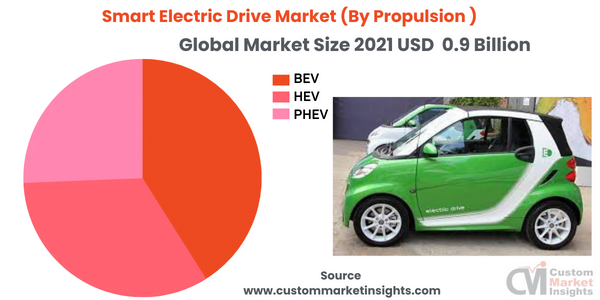 To learn more about this report, 
Smart Electric Drive Market: Overview
A smart integrated electric drive system is known as a smart e-drive. Driving is comfortable and safe on the road with the help of a smart e-drive, which uses the battery as a power source and offers direct transmission in the car. A battery, electric brake booster, motor generator, and power booster are all components of the smart e-drive. By saving energy, it makes driving better. Daimler AG introduced a smart electric drive car featuring smart e-drive technology.
Browse the full "Smart Electric Drive Market Size, Trends and Insights By Propulsion (BEV, HEV, PHEV), By Application (E-Axle, E-Wheel Drive), By Component (EV Battery, Inverter System, Electric Motor, E-Brake Booster, Power Electronics), By Drive Type (Front Wheel Drive, All-Wheel Drive, Rear Wheel Drive), By Vehicle Type (Commercial, Private), and By Region – Global Industry Overview, Statistical Data, Competitive Analysis, Share, Outlook, and Forecast 2022–2030 " report at https://www.custommarketinsights.com/report/smart-electric-drive-market/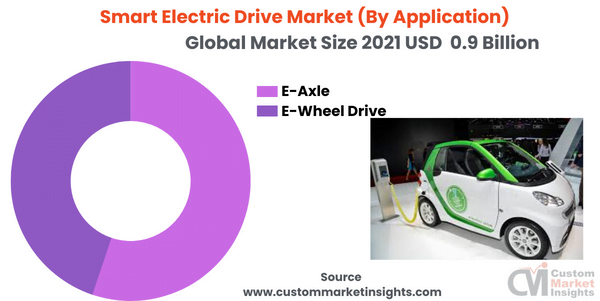 To learn more about this report, 
Growth Factors
Due to the surging number of electric vehicles on the road worldwide, demand for smart drive systems is rising. Smart electric motors, which draw their power from batteries and can transfer power effectively in cars, are advancements and replacements for conventional power drive systems. Smart power drives are more swift than conventional electrical machinery and enhance driving dynamics. Due to increasing highway security and comfort standards, there is a growing global need for complex drive systems. Furthermore, using cutting-edge components like electrical machines, e-breaks boosters, and others, such motors ensure optimized power utilization, leading to cheaper running action costs than typical e-drives.
Additionally, it was predicted that the market for the best feature would grow in the upcoming years due to increased powered mobility due to stronger environmental regulations and a push by the government to embrace EVs by providing subsidies and discounts for EV purchases. The efficiency of a driver is increased by good integration, which is lighter and smaller than conventional motors.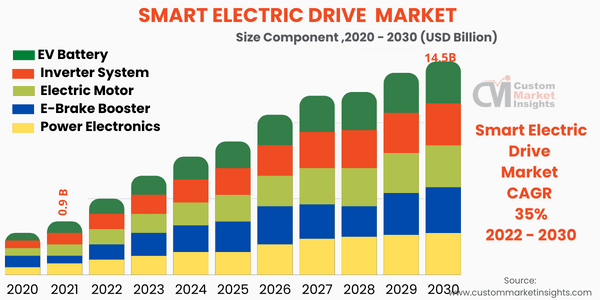 To learn more about this report, 
Segmental Overview
The market for Smart Electric Drive is segmented into propulsion type, application, component, and vehicle type. Based on the drive type, the front-wheel drive segment is estimated to lead the market in 2021. FWD cars have a single unit that houses the engine, transmission, final drive gears, and differential. On average, FWD vehicles are lighter than either of their competitors. Since FWD vehicles are typically lighter and have most of their weight on the front wheels, most modern sedans, especially those in the medium and lower price categories, have this feature. This offers a stable balance for good traction.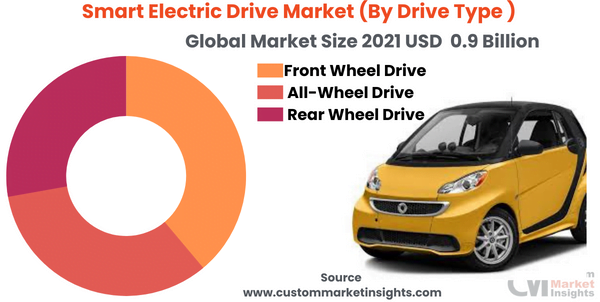 To learn more about this report, 
Additionally, it aids in braking. They also consume fuel more effectively, regardless of engine size, thanks to better traction. FWD also offers more room for both freight and passengers. Due to these benefits, the front-wheel smart electric drive market for electric and hybrid vehicles now has the biggest market share among the three segments.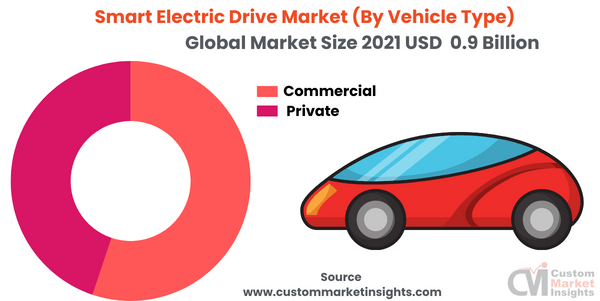 To learn more about this report, 
Regional Overview
The North American region led the market in 2021. The region's automobile market would be dominated by the best-selling EVs from the United States and Canada due to the huge need in a number of its locations. Leading OEMs like GM and Ford are working with businesses like Hitachi, ZF, LG, BorgWarner, Magna, and others because of their powered mobility. As a result, the industry would gradually require more complex driving systems in the following years. Forecasts indicate that within the anticipated timeframe, its European regional industry will dominate the global industry and account for merely a strong competitive position.
Report Scope
| | |
| --- | --- |
| Feature of the Report | Details |
| Market Size in 2021 | USD 0.9 Billion |
| Projected Market Size in 2030 | USD 14.5 Billion |
| CAGR Growth Rate | 35% CAGR |
| Base Year | 2021 |
| Forecast Period | 2022-2030 |
| Prominent Players | Robert Bosch GmBH, Siemens AG, GKN PLC, ZF Friedrichshafen AG, Continental AG, Magna International Inc., AISIN SEIKI Co. Ltd., Schaeffler AG, ACTIA Group, SMR, Magnetic Systems Technology, AVL List Gmbh, BorgWarner, ABM Greiffenberger, and Others |
| Key Segment | By Propulsion, Application, Component, Drive Type, Vehicle Type, and Region |
| Report Coverage | Revenue Estimation and Forecast, Company Profile, Competitive Landscape, Growth Factors and Recent Trends |
| Regional Scope | North America, Europe, Asia Pacific, Middle East & Africa, and South & Central America |
| Buying Options | Request tailored purchasing options to fulfil your requirements for research. |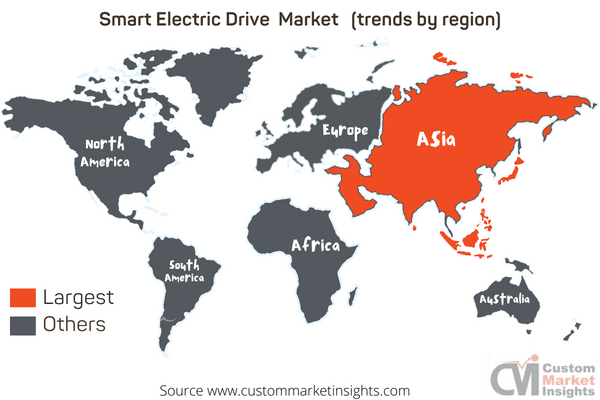 To learn more about this report, 
Key Players Insights
An in-depth investment analysis has been performed, providing forecast and prevailing opportunities for the market participants. The market report focuses on significant characteristics of the market that comprise historic data, present market revenues, PEST analysis, technological investments, and competitive analysis in the related industry.
Key Players
Robert Bosch GmBH
Siemens AG
GKN PLC
ZF Friedrichshafen AG
Continental AG
Magna International Inc.
AISIN SEIKI Co., Ltd.
Schaeffler AG
ACTIA Group
SMR
Magnetic Systems Technology
AVL List Gmbh
BorgWarner
ABM Greiffenberger
The global Smart Electric Drive market is segmented as follows:
By Propulsion
By Application
By Component
EV Battery
Inverter System
Electric Motor
E-Brake Booster
Power Electronics
By Drive Type
Front Wheel Drive
All-Wheel Drive
Rear Wheel Drive
By Vehicle Type
On the basis of Geography
North America
Europe
France
The UK
Spain
Germany
Italy
Rest of Europe
Asia Pacific
China
Japan
India
Australia
South Korea
Rest of Asia Pacific
The Middle East & Africa
Saudi Arabia
UAE
Egypt
Kuwait
South Africa
Rest of the Middle East & Africa
Latin America
Brazil
Argentina
Rest of Latin America