Custom Market Insights (CMI) states that the Global Solar PV (Photovoltaic) Market Size was valued at USD 161.15 Billion in 2021 and is expected to reach USD 253.11 Billion in 2022, and is estimated to reach USD 306.16 Billion by the end of 2030 at a CAGR of approximately 8.3% during the forecast period 2022-2030.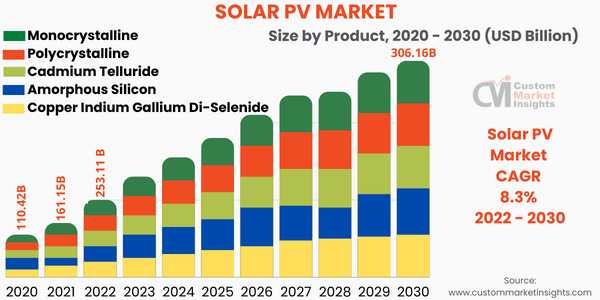 To learn more about this report, 
Photovoltaic (PV) cells or solar cells convert solar energy into a flow of electrons that leads to generating electricity. The heat energy from the sunlight is directly extracted and converted into electrical energy, which is used for charging the equipment's batteries. Initially, photovoltaic (PV) cells were used in spacecraft and organic satellites. Over the past few years, they have generated electricity through a grid connection. The solar panel consists of a photovoltaic system made of crystalline silicon cells. These cells can generate light energy into electric energy. The crystalline silicon cells are mostly used in most solar panels accounting for 95%. The rest 5% relies upon the experimental organic photovoltaic cells.
Browse the full "Solar Photovoltaic (PV) Market Size, Trends and Insights By Technology (Thin film, Crystalline), By Product (Monocrystalline, Polycrystalline, Cadmium Telluride, Amorphous Silicon, Copper Indium Gallium Di-Selenide), By Connectivity (On-Grid, Off-Grid), By Mounting (Ground-mounted, Rooftop), By End-use (Residential, Commercial & Industrial, Utility), and By Region – Global Industry Overview, Statistical Data, Competitive Analysis, Share, Outlook, and Forecast 2022–2030" report at https://www.custommarketinsights.com/report/solar-photovoltaic-market/
 Market Dynamics
Growth Drivers
Increasing energy production through solar panels is driven by multiple factors. The rise in awareness of the pollutant-free environment and the increasing industry potential ultimately leading to cost-competitiveness is the driving factor for its industrial growth. It is a valuable substitute for fossil fuels which take more than 1000 years to become a useful resource. Meanwhile, the photovoltaic (PV) system ensures low-carbon-intensive technologies, which is a major factor in implementing the solar PV system in the residential, commercial, and industrial sectors.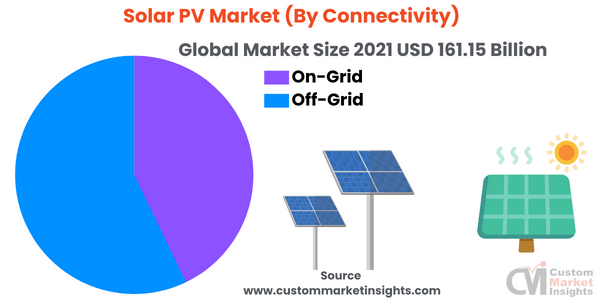 To learn more about this report, 
Silicone cells are the major components of the PV system. Silicone is ideally used in this system in huge quantities as it is cheap as a material and durable. The investments in solar panels can be durable for the long term as silicone has a long lifespan. 
Restraints
The deployment of solar power panels requires a huge area of land for their industrial set-up and power generation. Some constraining factors associated with environmental concerns may hinder the industrial growth of solar PV panels. Using such lands maybe not be ideal regarding environmental or technical parameters. Some of the restricted areas, including unstable land such as wetlands, water bodies, forests, etc., hamper the industrial growth of solar panels. 
Opportunities
The government is introducing several schemes and incentives, including tariffs, auctions, and tax exemptions associated with technological advancements and the increasing demands of smart customers. The environmentally driven factors, with the reduction of the usage of pollution-producing substances, industrial competitiveness, and reduced price, account for the huge industrial growth for solar PV panels. 
Segmental Highlights
Regarding technology, the market is segmented into thin-film and crystalline silicon. The thin film segment holds a dominant position in the global PV market. It is lightweight and flexible in nature. Thin film solar panels play a significant role in the commercial and utility sectors due to their narrow, lightweight design and low installation costs.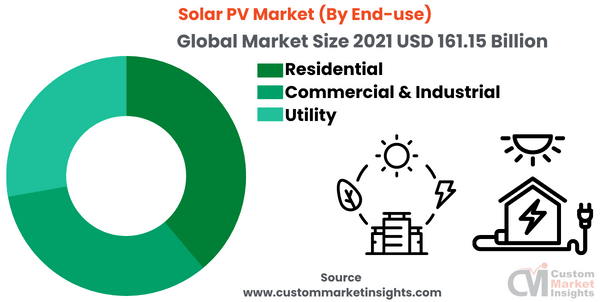 To learn more about this report, 
Based on mounting, the market is categorized into ground-mounted and rooftop segments. The ground-mounted segment dominated the market by holding the largest market share and is projected to witness high growth during the forecast period. The attributing factors can be the growing installation of high-capacity ground-mounted panels has enhanced the solar PV mounting Systems.
Based on the grid analysis, Based on connectivity or grid type, the solar panel market is segmented into on-grid and off-grid. The off-grid segment is projected to dominate during the forecast period. The increasing demand for isolated locations for electricity is expected to positively influence the off-grid type segment in the forecast period. The on-grid solar panels are connected to the utility grid and generate electricity using solar photovoltaics. The off-grid segment is expected to have significant growth. This is attributed to the fact that low-cost operational maintenance. The electricity is generated at a low cost and transmitted to the power grids without requiring a storage battery.
Based on the end-user, the solar PV market is segmented into residential, commercial &industrial, and utility. The utility sector is expected to dominate during the forecast year. This is attributed to the fact that the largest number of shares and increasing investments from government and commercial sectors are enhancing demand for the solar PV market in the utility sector. Multiple investments were made toward constructing solar power plants, parks, and other solar structures. The investment projects have a lower Levelized Cost of Energy (LCOE) for revenue, leading to high-efficiency solar projects with low manufacturing and installation cost.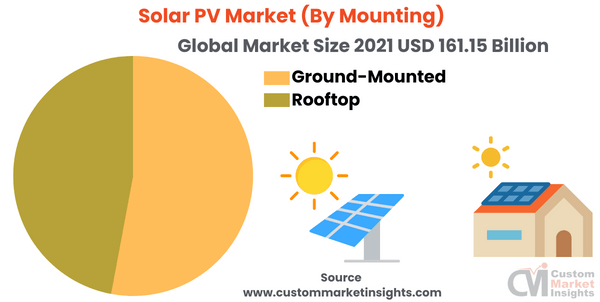 To learn more about this report, 
Regional Snapshots
The Asia Pacific region holds the largest market share in 2022-2030. The rise in the solar panel market across the Asia Pacific region is attributed to the multiple government initiatives and rapid installation of solar power plants in India and China. 
North America witnessed significant growth during the forecast period for the solar panel market. The solar PV market expanded due to high competition among the key players and is actively launching various solar panels with reduced manufacturing costs.
Government schemes and initiatives such as Feed-in tariffs, net metering, self-consumption schemes, investment subsidiaries, and other similar reforms helped expand the solar PV market. These factors together anticipate enhancing the overall market in the APAC region. 
Mexico has witnessed increasing solar panel installations under the announced LTA project between 2015-2018. It is projected to continuously increase energy production using solar panels in the forecasting period. The decision to use solar panels is beneficial for the planet.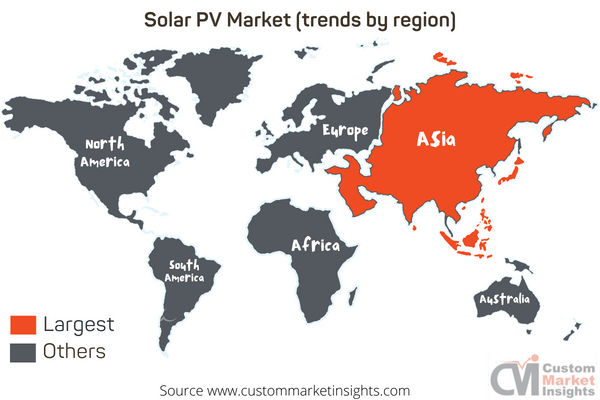 To learn more about this report, 
In regions like Africa and the Middle East, a huge quantity of solar power plants is set up and is expected to function over the coming years. There have been multiple industrial sets up across different regions.
Report Scope
Feature of the Report
Details
Market Size in 2021

USD 161.15 Billion

Projected Market Size in 2030

USD 306.16 Billion

CAGR Growth Rate

8.3

% CAGR
Base Year
2021
Forecast Period
2022-2030
Prominent Players
SunPower Corporation, First Solar, Jinko Solar, JA Solar, Trina Solar, Hanwha Q-Cells, Risen Energy, Talesun, LONGI Solar, and Others
Key Segment
By Technology, Product, Connectivity, Mounting, End-use, and Region
Report Coverage
Revenue Estimation and Forecast, Company Profile, Competitive Landscape, Growth Factors and Recent Trends
Regional Scope
North America, Europe, Asia Pacific, Middle East & Africa, and South & Central America
Buying Options
Request tailored purchasing options to fulfil your requirements for research.
Key Market Players in Solar PV Market
The global market is occupied by various companies that are expanding the solar panel industries both on a regional as well as global scale. The attributing factors like strong R&D, skilled manpower, and technology sourcing can be among the factors responsible for their industrial growth.
SunPower Corporation
First Solar
Jinko Solar
JA Solar
Trina Solar
Hanwha Q-Cells
Risen Energy
Talesun
LONGI Solar
Recent Developments
The global market is highly competitive with the emergence of diverse key players in the market. In March 2021, JA Solar took the initiative to launch 415 W PV modules with an efficiency of 21.3 %. They were used for both residential and commercial sectors. In August 2021, JA Solar Panel enhanced the company's portfolio by launching 8W solar panels with higher efficiency. These strategies enhanced production which proved to be valuable for the company.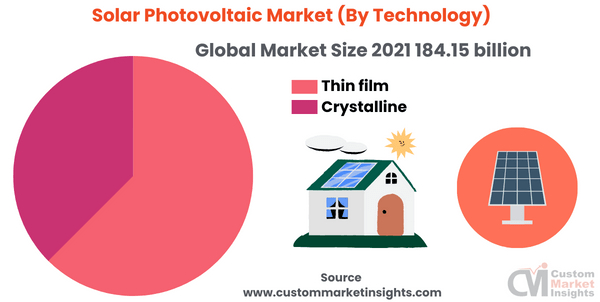 To learn more about this report, 
Segments covered in the report
By Technology
By Product
Monocrystalline
Polycrystalline
Cadmium Telluride
Amorphous Silicon
Copper Indium Gallium Di-Selenide
By Connectivity
By Mounting
By End-use
Residential
Commercial & Industrial
Utility
On the basis of Geography
North America
Europe
France
The UK
Spain
Germany
Italy
Rest of Europe
Asia Pacific
China
Japan
India
Australia
South Korea
Rest of Asia Pacific
The Middle East & Africa
Saudi Arabia
UAE
Egypt
Kuwait
South Africa
Rest of the Middle East & Africa
Latin America
Brazil
Argentina
Rest of Latin America